PREVIOUS SHOWS:
---
FRIDAY 13th MARCH 2020
TRAVELIN' MAN - THE RICKY NELSON ROCK N ROLL SHOW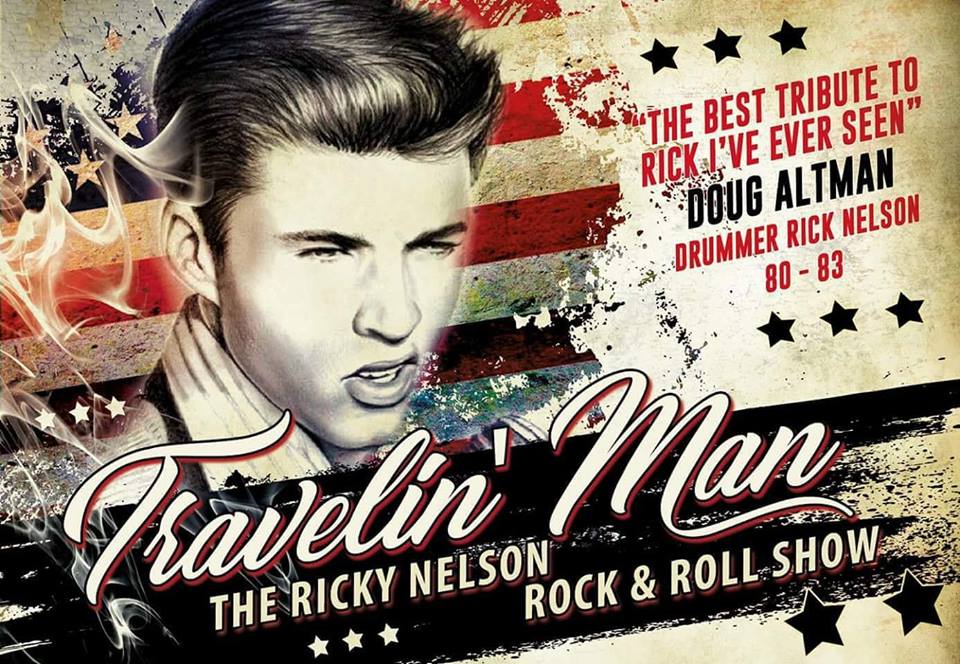 Travelin' Man - The Ricky Nelson Rock n Roll Show, the UK's 1st and only dedicated tribute to rock n roll legend Ricky Nelson. 2nd only to Elvis Presley in record sales between 1957-1962, this authentic show brings you all the hits and more, including...
"It's Late", "Hello Mary Lou", "Garden Party", "Poor Little Fool", "Travelin' Man", "Fools Rush In", "Lonesome Town", "I'm Walkin'" and many more!
Starring Dave B as Ricky
"The best tribute to Ricky I've ever seen" - Doug Altman drummer Ricky Nelson 1980-83
"Dave B is more than passed muster in the vocal department as Ricky Nelson" - Vintage Rock Magazine
Featuring the fantastic Travelin' Man Band and guest star Peter Gill. Don't miss out on one night of 50s n 60s classics. Come and join us for a rockin' feast.
CLICK HERE FOR THEIR FACEBOOK PAGE
---
FRIDAY 28th FEBRUARY 2020
SIMPLY reRED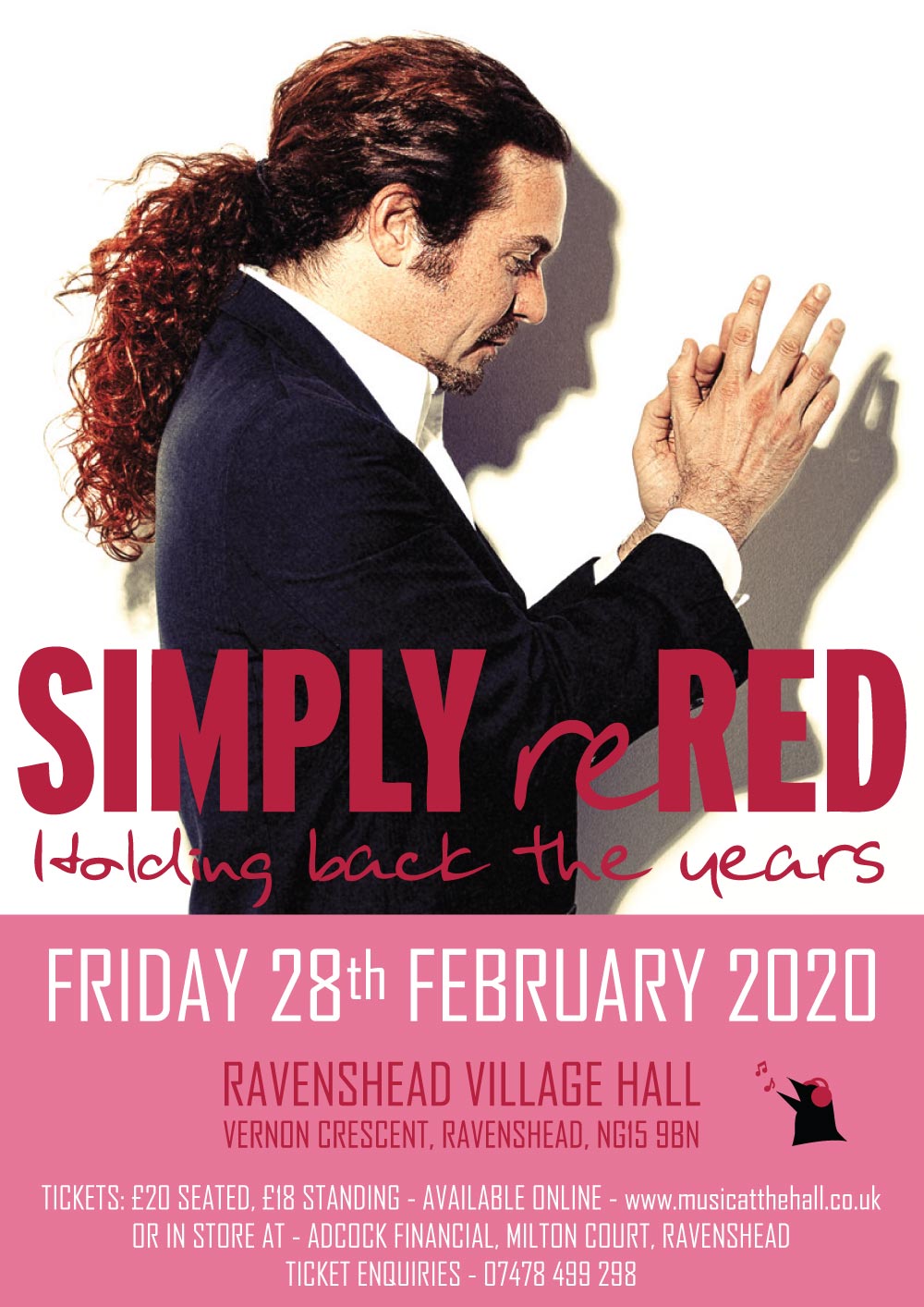 WINNER - 'OFFICIAL UK NO.1' - NATIONAL TRIBUTE MUSIC AWARDS
With more than thirty Top 40 singles and several of the best-selling albums of the last four decades to choose from, this world class seven-piece band recreates every slick groove and perfect melody from Mick Hucknall's remarkable global career in an unparalleled display of authenticity and style, guaranteed to keep the audience singing and dancing all night.
Money's Too Tight To Mention
Stars
If You Don't Know Me By Now
Fairground
Something Got Me Started
and many more!
CLICK HERE FOR THE BAND'S WEBSITE
---
FRIDAY 7th FEBRUARY 2020
THE CHRISTIANS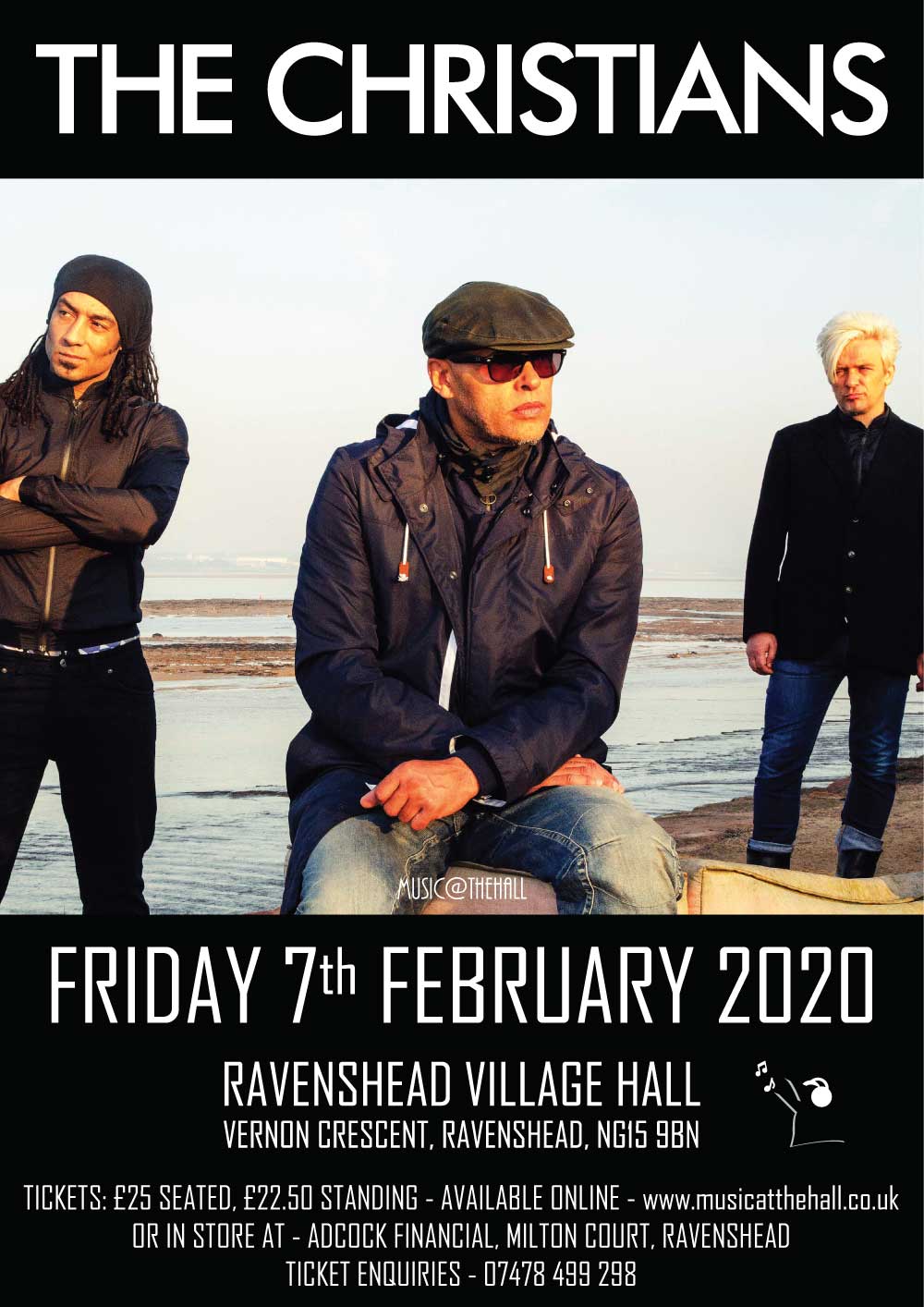 CLICK HERE FOR THE BAND'S WEBSITE
---
FRIDAY 31st JANUARY 2020
THE HALEY SISTERS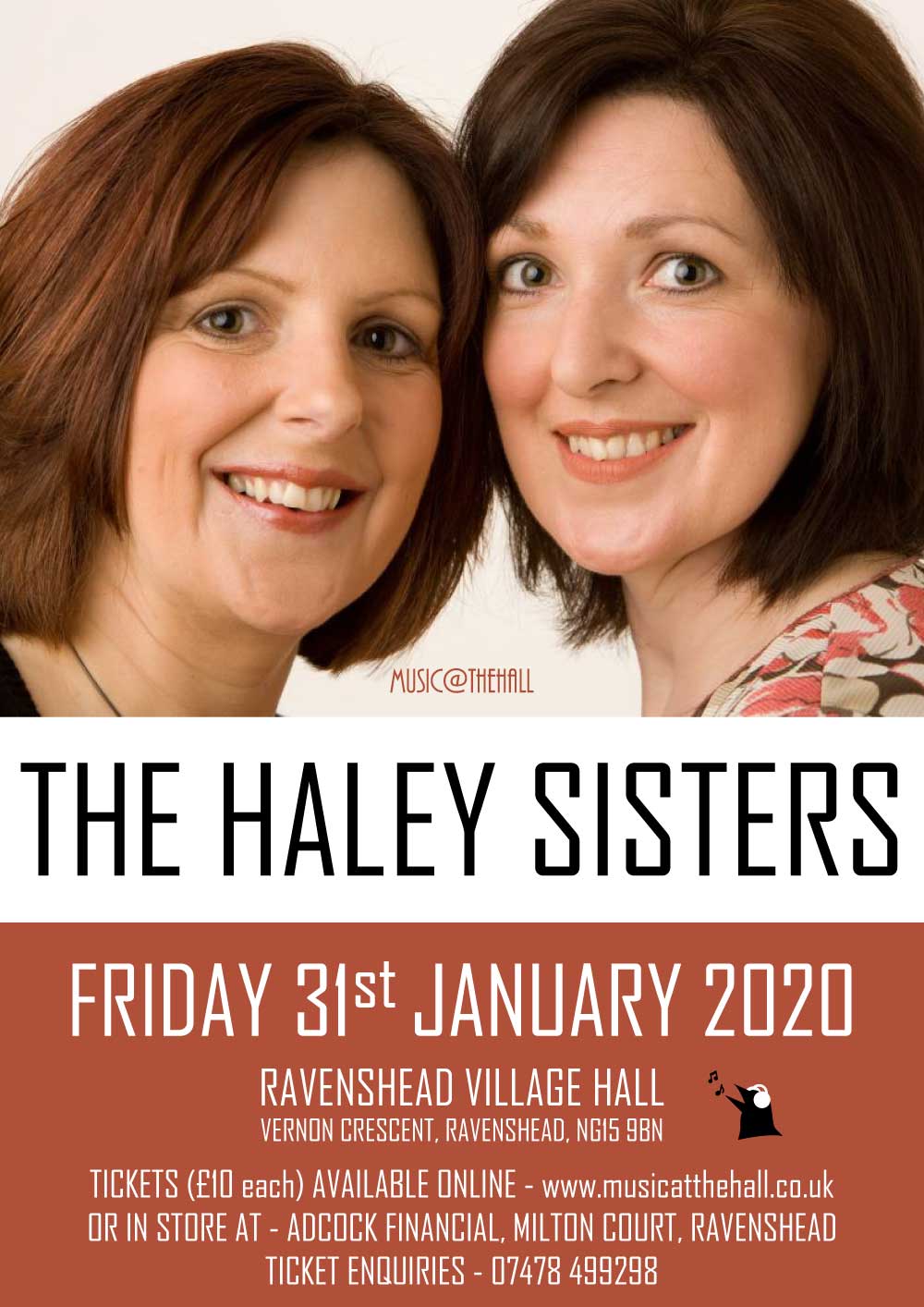 CLICK HERE FOR THE BAND'S WEBSITE
---
SATURDAY 14th DECEMBER 2019
MARMALADE - Plus Special Guest AUDREY O'CONNOR
CLICK HERE FOR THE BAND'S WEBSITE
---
FRIDAY 29th NOVEMBER 2019
THE KARPENTERS
Beautiful music, fond memories and nostalgic moments – it really is all about "Yesterday Once More" with the Award winning, UK's No. 1 Carpenters tribute show "The Karpenters". The Karpenters travel worldwide - every note from the smallest percussion part has been meticulously transcribed, recreating the unique sounds of the Carpenters to perfection. A show not to be missed!
CLICK HERE FOR THE BAND'S WEBSITE
---
FRIDAY 15th NOVEMBER 2019
THE RAGDOLLS
CLICK HERE FOR THE BAND'S TWITTER PAGE
---
SATURDAY 9th NOVEMBER 2019
1940s CABARET NIGHT
with The Daisy Belles & Steve Barclay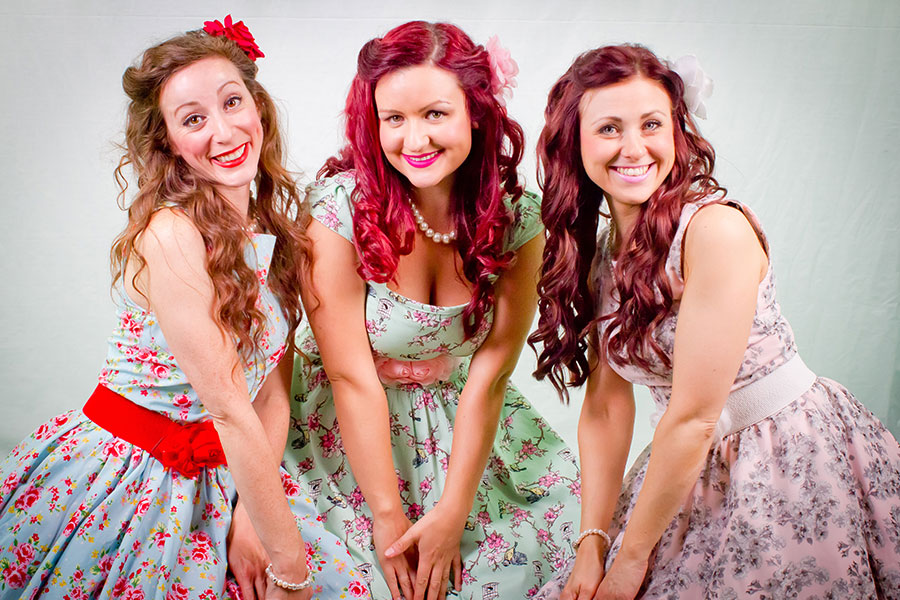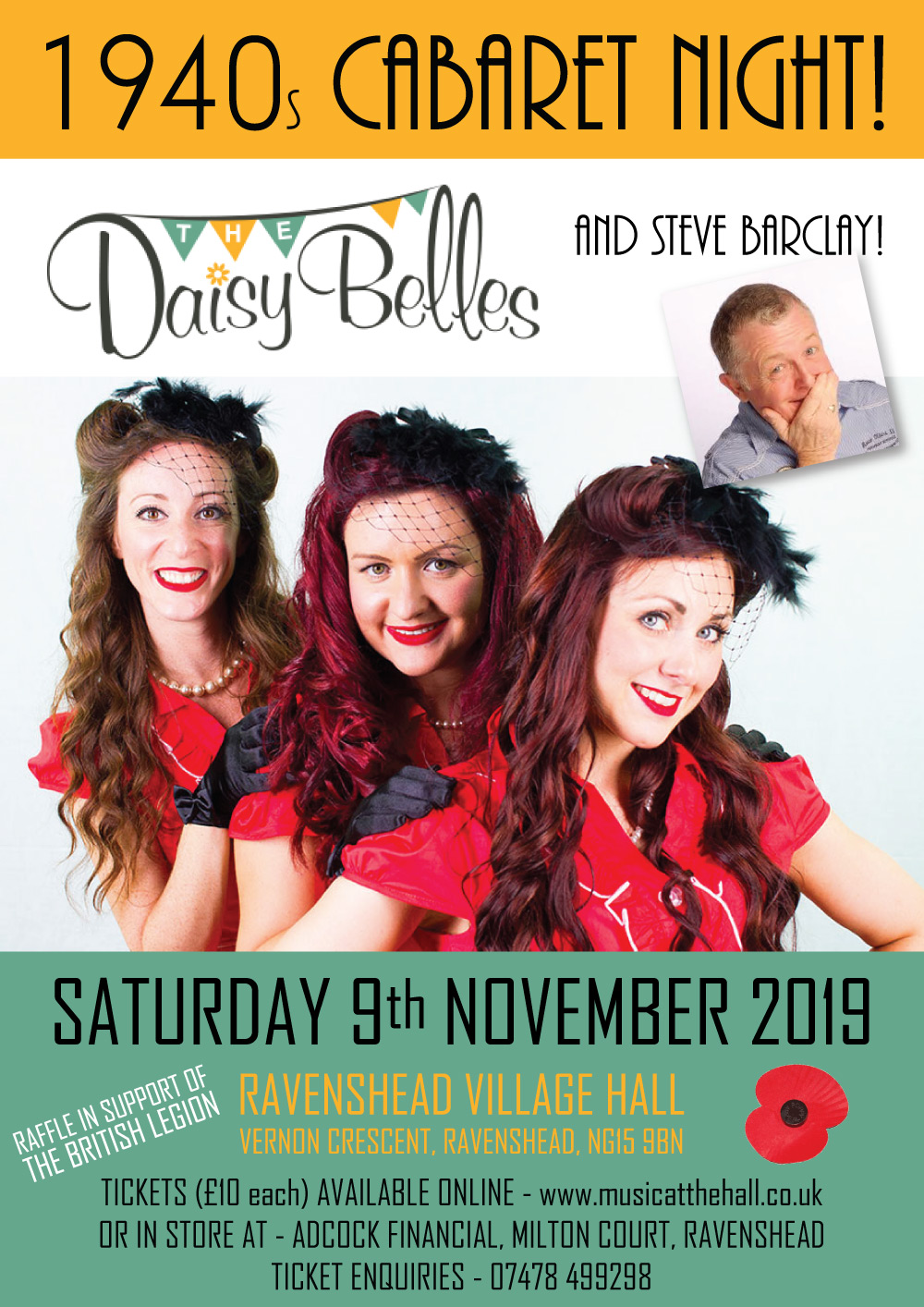 CLICK HERE FOR THE DAISY BELLES' WEBSITE
---
FRIDAY 25th OCTOBER 2019
CHINA CRISIS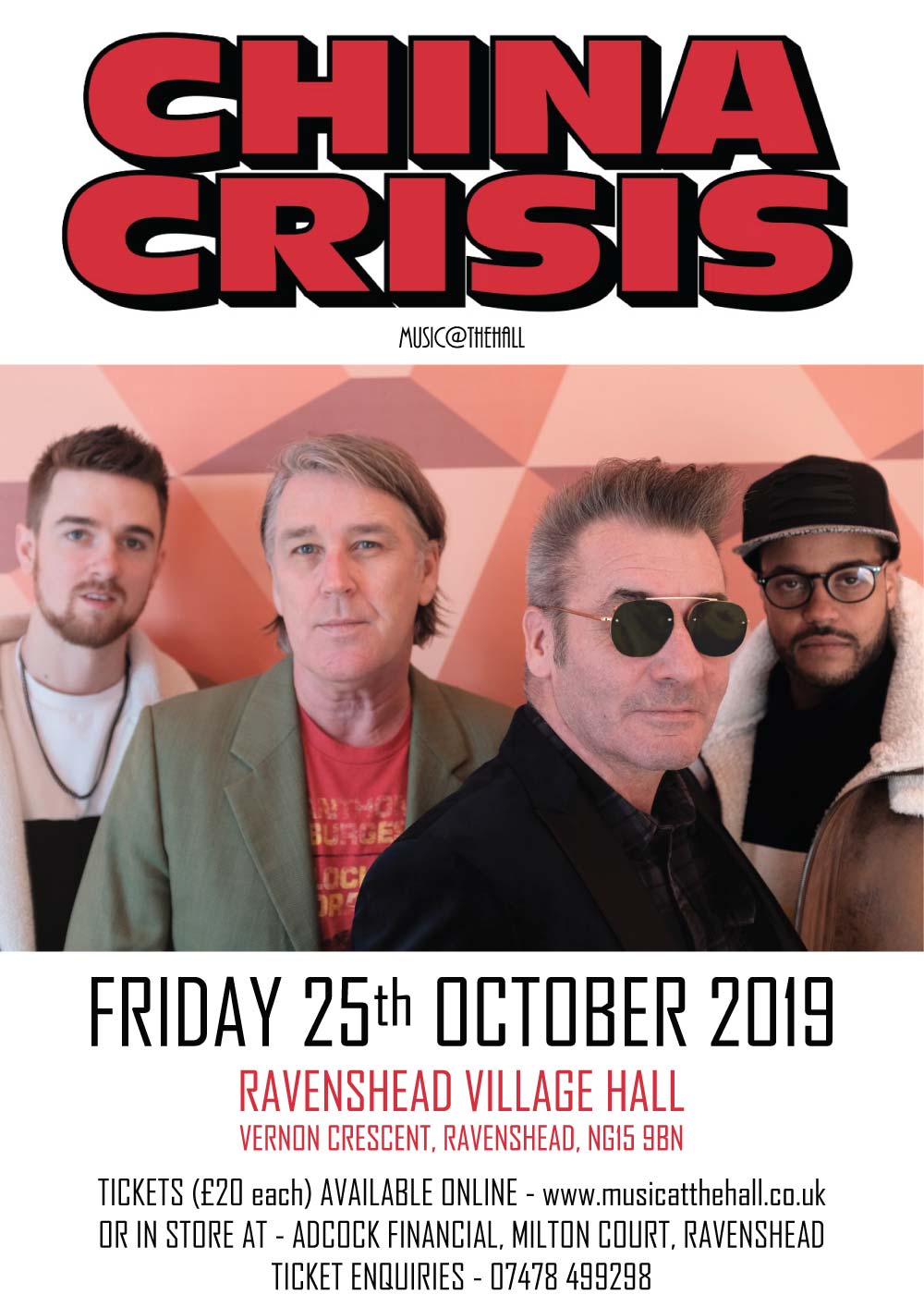 RETROspective Tour 2019
Eddie Lundon and Gary Daly are the founder members of the band which started in Kirkby, Merseyside back in 1979. China Crisis found major success in the UK with five Top 40 singles, ten Top 50 singles and three Top 40 albums and hits across Australia, Europe and the Americas. The band are known for their string of hit singles, including African & White, Christian, Working with Fire and Steel, Black Man Ray and Wishful Thinking. The RETROspective tour will see the band performing these classics alongside songs from all of their seven studio albums.
Eddie Lundon
Gary Daly
Jack Hymers (keys)
Eric Animan (sax)
CLICK HERE FOR THE BAND'S FACEBOOK PAGE
---
FRIDAY 11th OCTOBER 2019
ALWAYS 4 - TAKE THAT TRIBUTE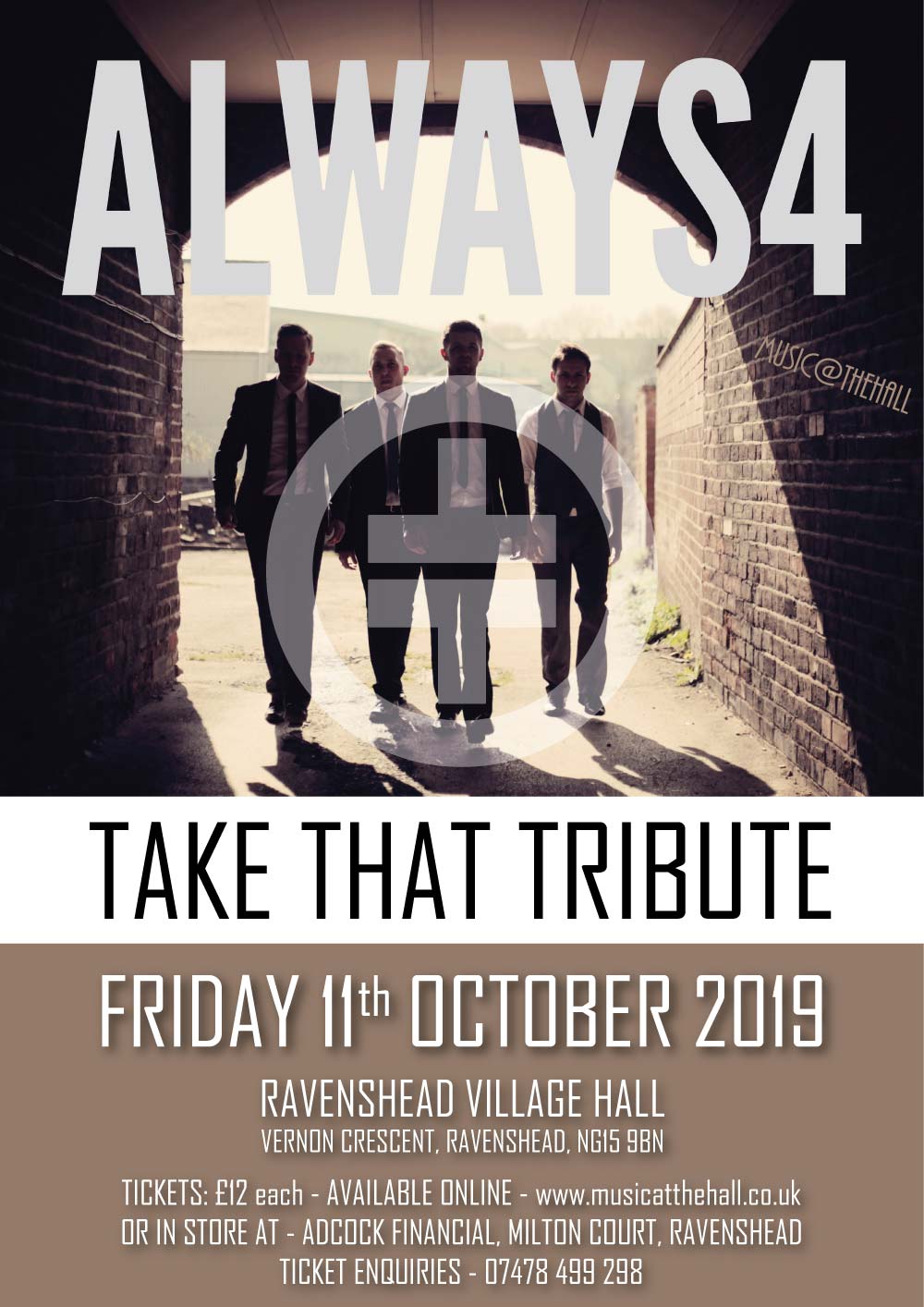 CLICK HERE FOR THE BAND'S WEBSITE
---
FRIDAY 27th SEPTEMBER 2019
SNAKE DAVIS & BAND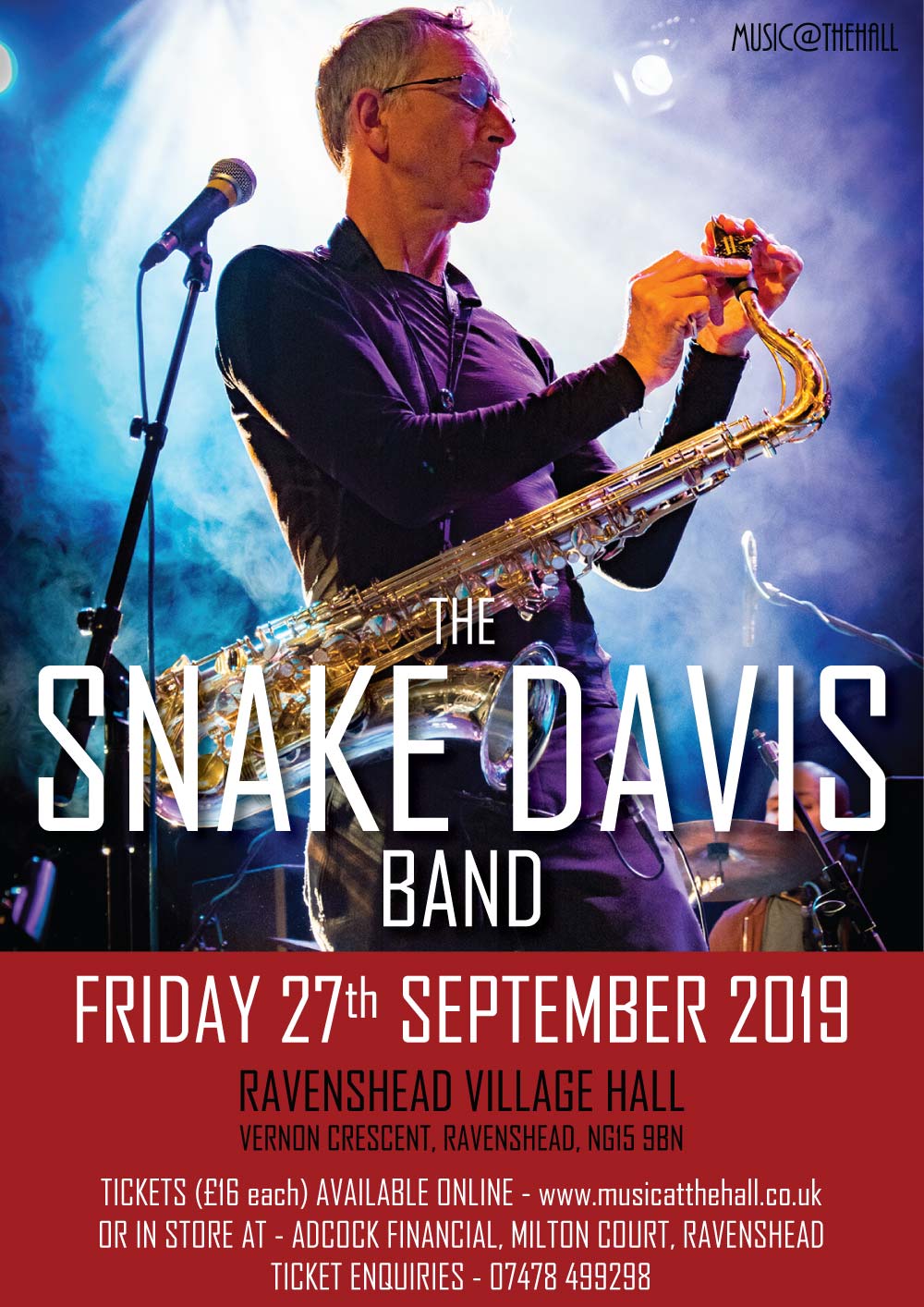 CLICK HERE FOR THE SNAKE'S WEBSITE
---
FRIDAY 28th JUNE 2019
THE KAST OFF KINKS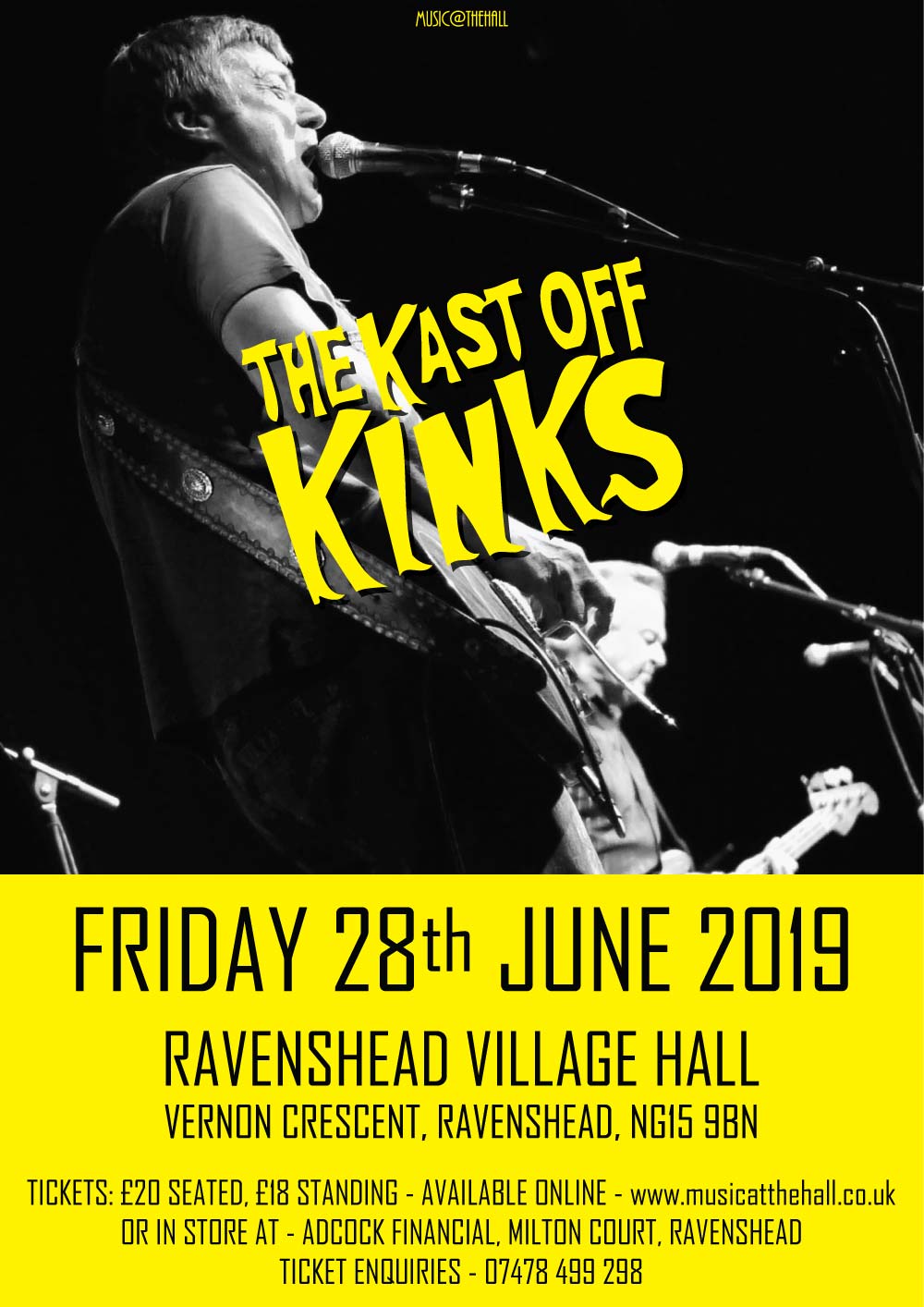 CLICK HERE FOR THE BAND'S WEBSITE
---
FRIDAY 7th JUNE 2019
TALON - ACOUSTIC, IN THE RAW
This year, "In The Raw" will feature breathtakingly beautiful acoustic arrangements of their own personal favourites from such artistes as... James Taylor, Simon & Garfunkel, 10cc, Michael Jackson, Billy Joel, Eagles, Pink Floyd, Toto, Bee Gee's and many more in a brand new show for 2019. Following the massive success of their critically acclaimed studio and 'LIVE' acoustic albums, "Talon – The Acoustic Collection" is back. If you have not seen this show before then you are in for a real treat. Sat on bar stools and armed with no more than their trademark four part vocal harmony, acoustic instruments and laid back banter, Jonny, Chris, Peter and Keith will leave you simply spellbound.
"Essential listening if you appreciate great musicianship, major label production standards and the tightest harmonies you will hear this side of Crosby, Stills & Nash" - "MAVERICK" (The UK's Leading Country Music Magazine)
CLICK HERE FOR THE BAND'S WEBSITE
---
FRIDAY 24th MAY 2019
DR. FEELGOOD - PLUS SUPPORT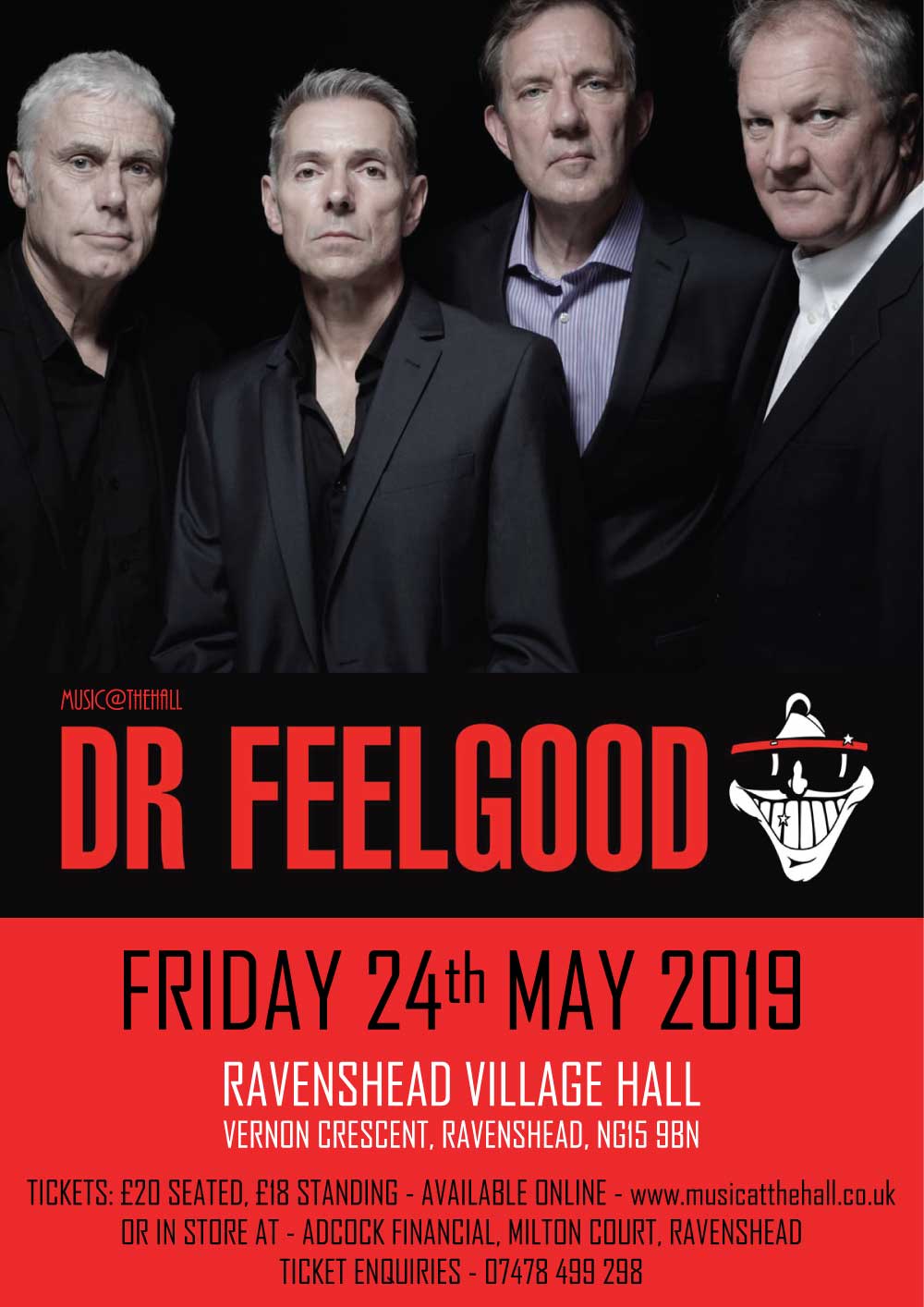 Formed on Canvey Island in Essex in the early 1970's, Dr. Feelgood remains one of the most popular and exciting live rhythm and blues acts in the world. The raw and uncompromising style of their performance resulted in the album Stupidity that immediately went to the number one position in the U.K. charts.
Dr. Feelgood have also enjoyed global success with a string of hit singles including Roxette, Back in the Night, Milk and Alcohol, Down at the Doctors, She Does it Right, Going Back Home and See You Later Alligator – which gave the group their first gold record.
The current line-up features the rhythm section Kevin Morris on drums, Phil Mitchell on bass (both 33 years), Steve Walwyn on guitar (26 years), and Robert Kane (formerly of The Animals) the most recent addition – joining in 1999.
The band continues to tour extensively throughout the world.
CLICK HERE FOR THE BAND'S WEBSITE
---
FRIDAY 10th MAY 2019
CHRIS BANNISTER - THE MUSIC OF JOHN DENVER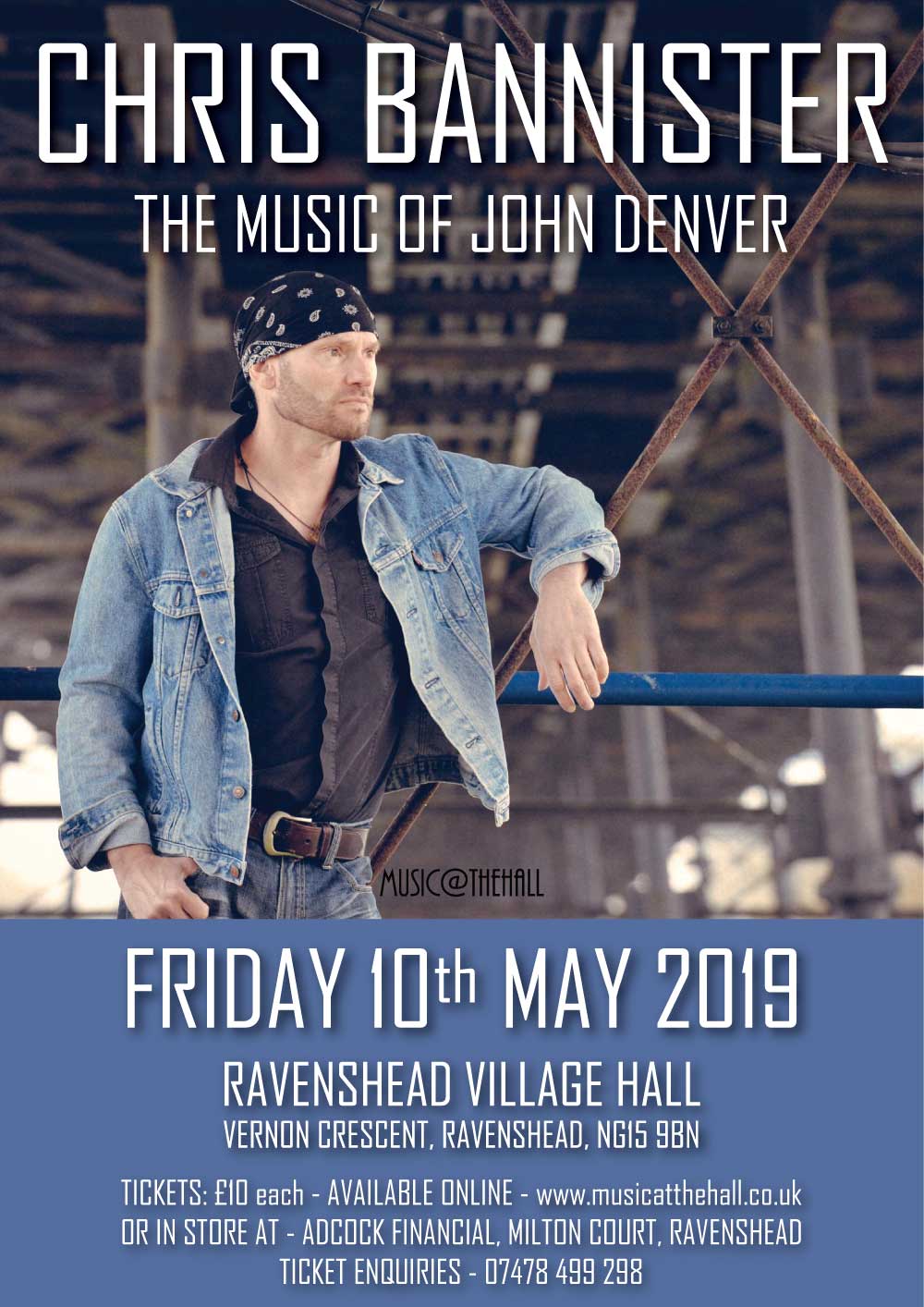 An evening with Chris Bannister is an evening of rare quality. Whether it is showcasing the exceptional talent of this singer-songwriter with his self-penned collection of songs, his covers of much-loved classics or undiscovered folk songs or his simply stunning tribute to the music of John Denver, it is easy to see how he has gained an international reputation which has delighted fans for over two decades.
CLICK HERE FOR CHRIS'S WEBSITE
---
SATURDAY 27th APRIL 2019
BURLINGTON JAZZ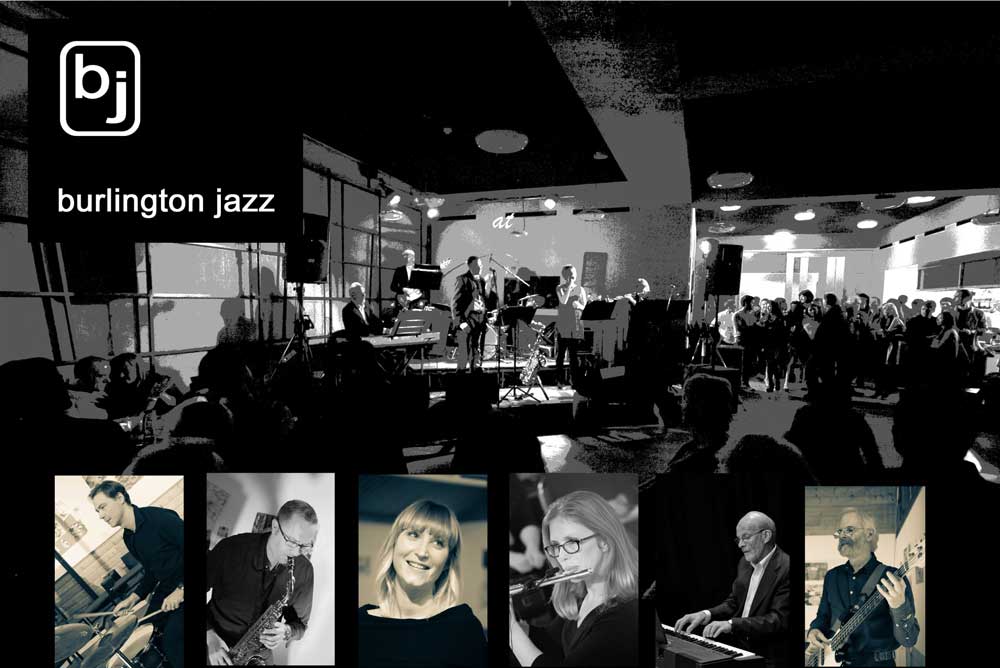 ---
FRIDAY 12th APRIL 2019
LOS PACAMINOS ft. PAUL YOUNG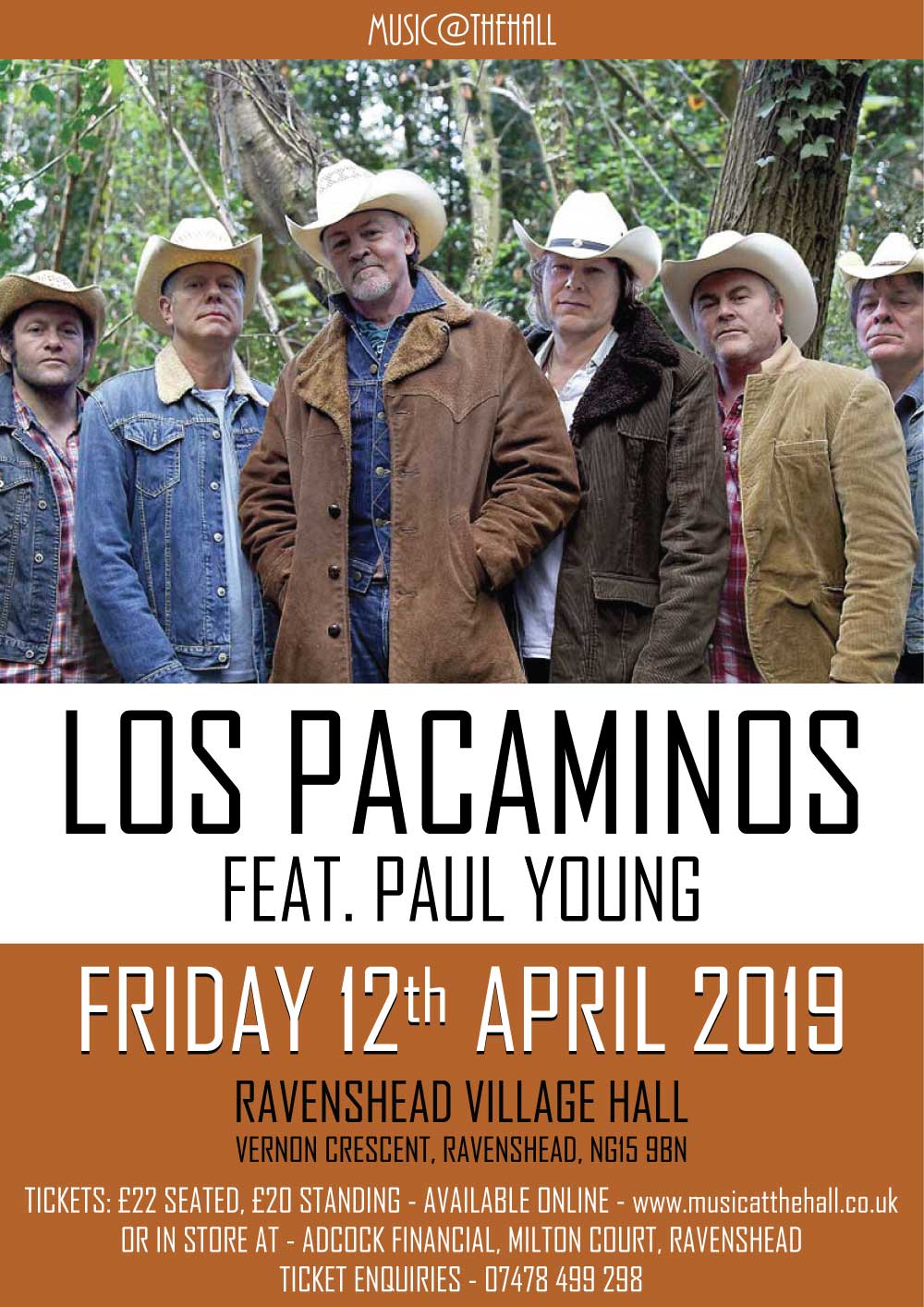 CLICK HERE FOR THE BAND'S WEBSITE
---
FRIDAY 29th MARCH 2019
TOYAH WILLCOX - ACOUSTIC, UP CLOSE AND PERSONAL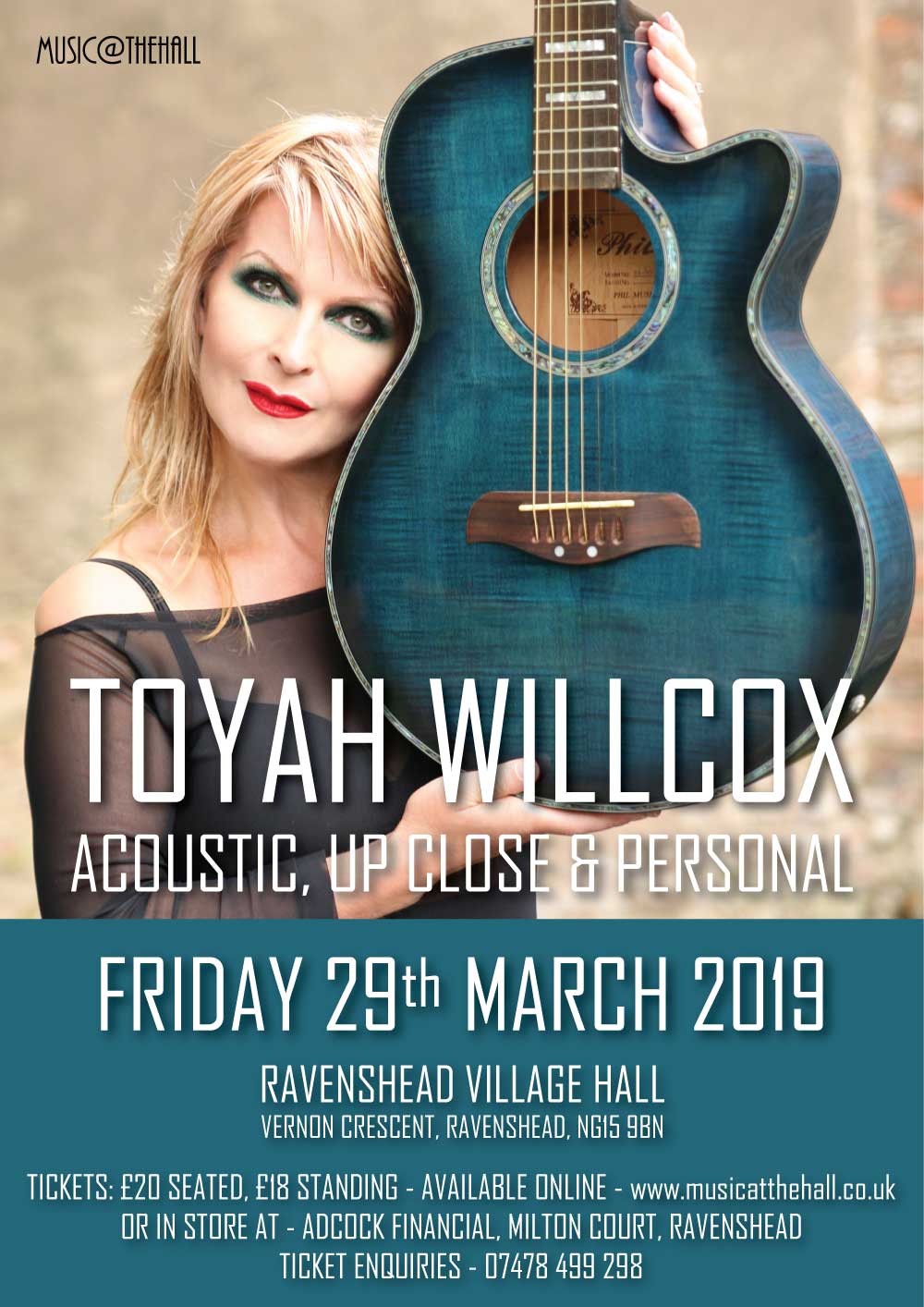 CLICK HERE FOR THE TOYAH'S WEBSITE
---
FRIDAY 8th MARCH 2019
CHIQUITITAS - ABBA SPECIAL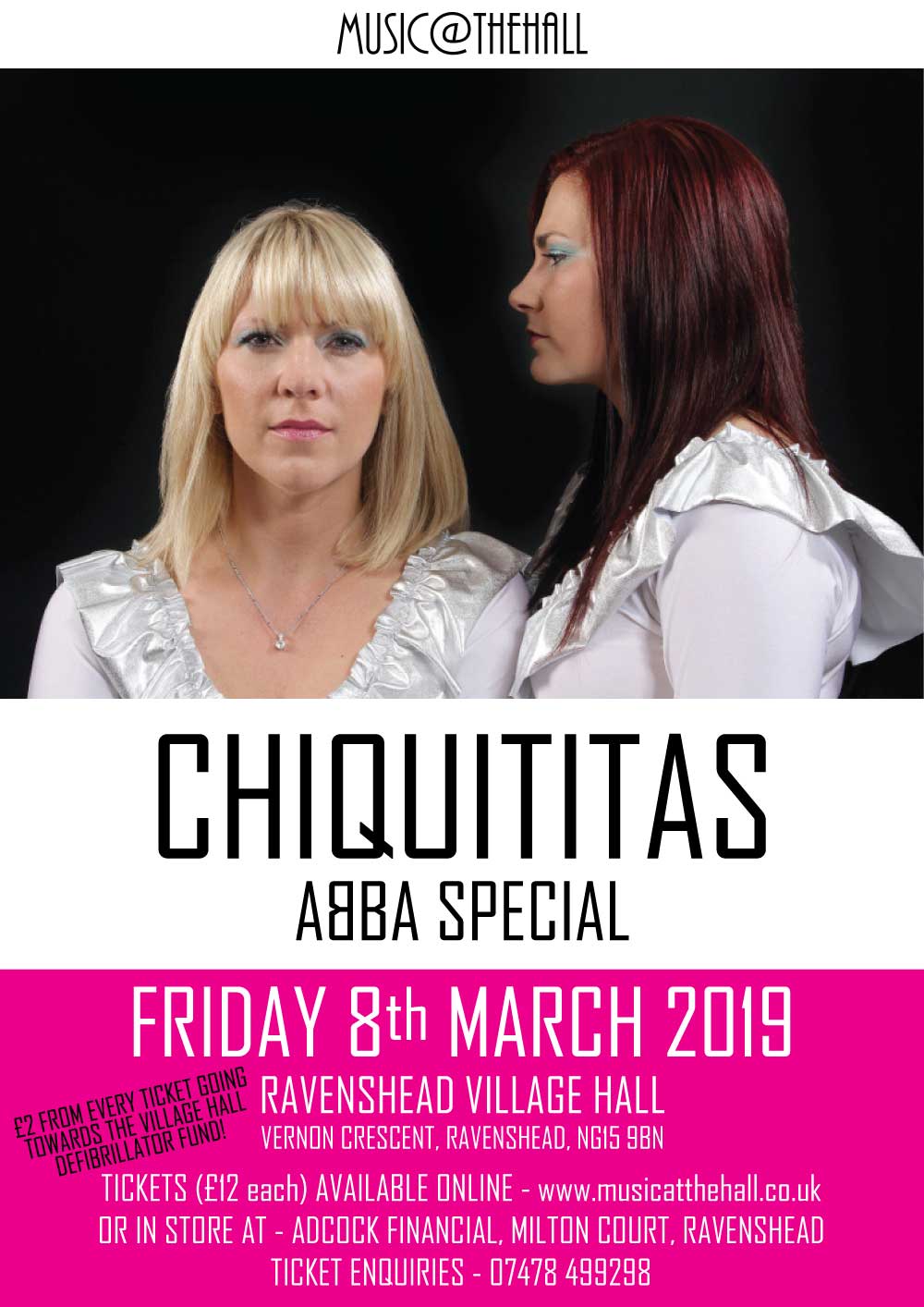 £2 from every ticket sale went towards the Ravenshead Village Hall Defibrillator Fund.
---
SATURDAY 9th FEBRUARY 2019
THE E.L.O. ENCOUNTER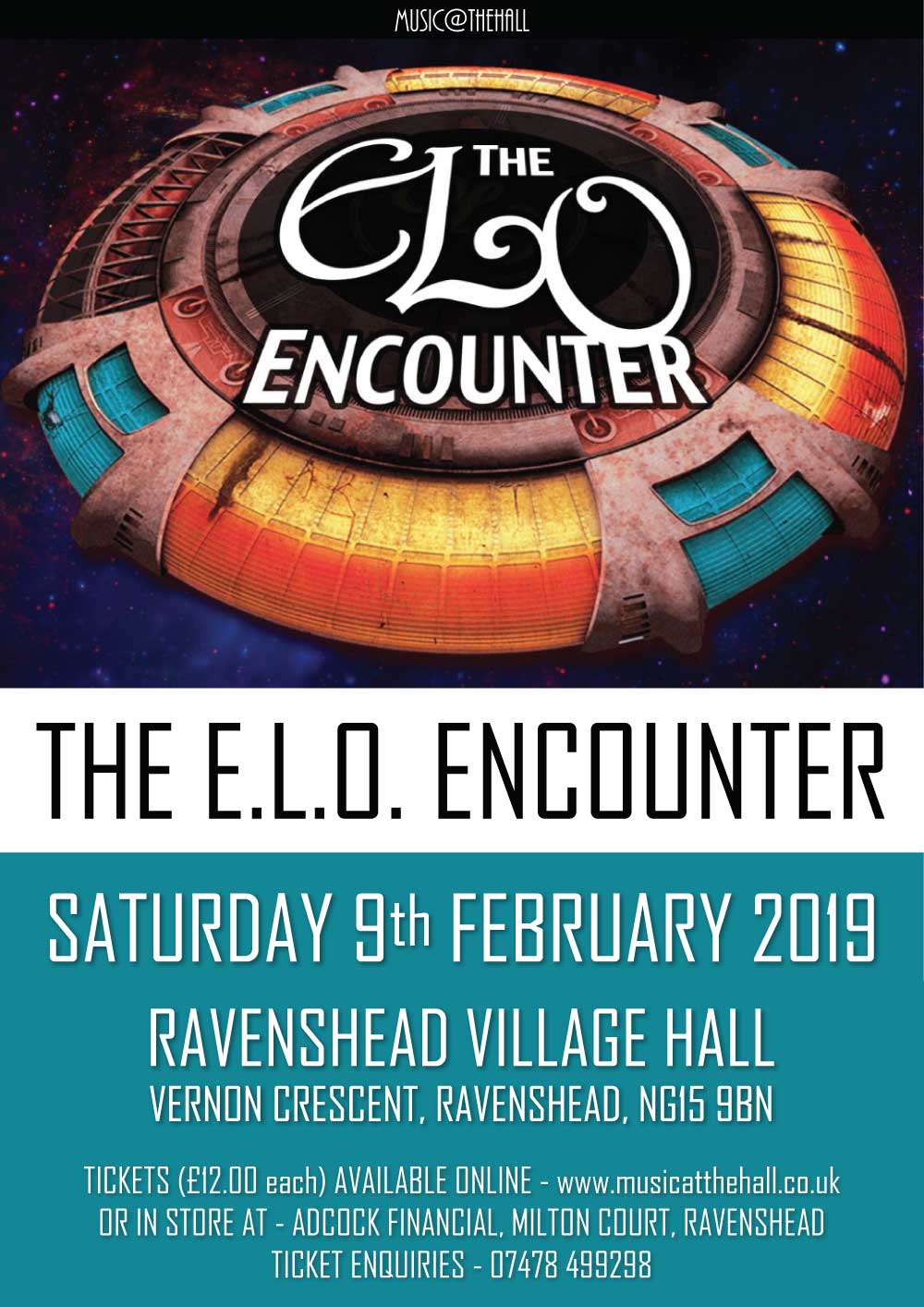 CLICK HERE FOR THE BAND'S WEBSITE
---
FRIDAY 14th DECEMBER 2018
MARMALADE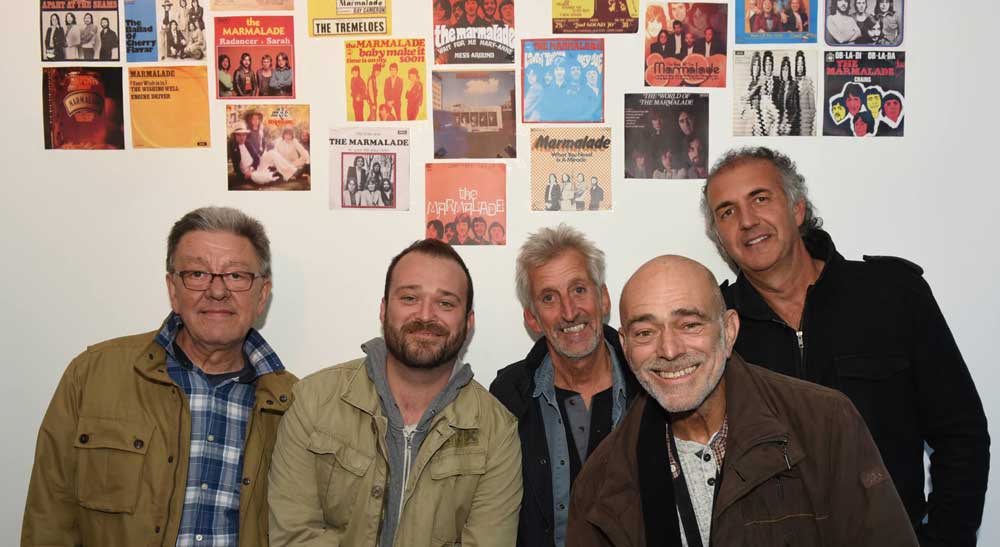 It's over 50 years since Marmalade's first Uk hit "Lovin' Things", and the guys are still, as the song goes, "Rockin' All Over The World".
With the personnel changes over the years, their catalogue and styles of songs have always pinpointed attention to their high-class harmonies and lively stage performances as you will be aware if you have seen them in concert.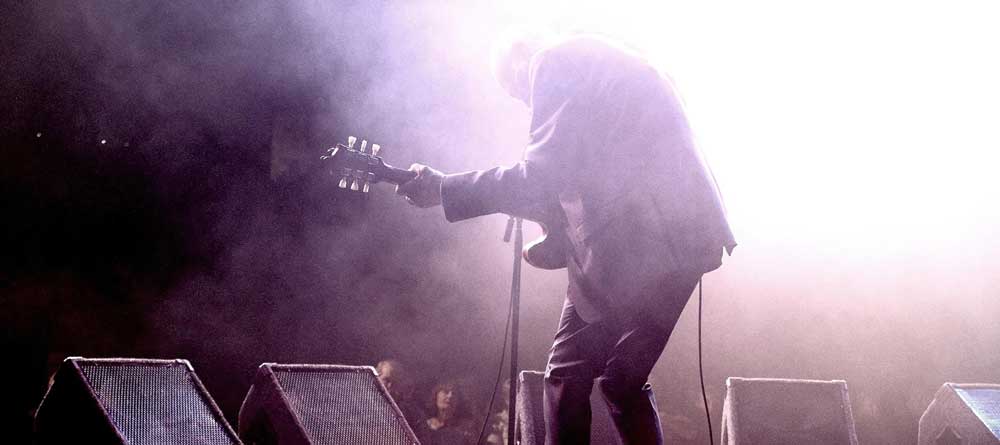 CLICK HERE FOR THE BAND'S WEBSITE
---
FRIDAY 16th NOVEMBER 2018
THE RAGDOLLS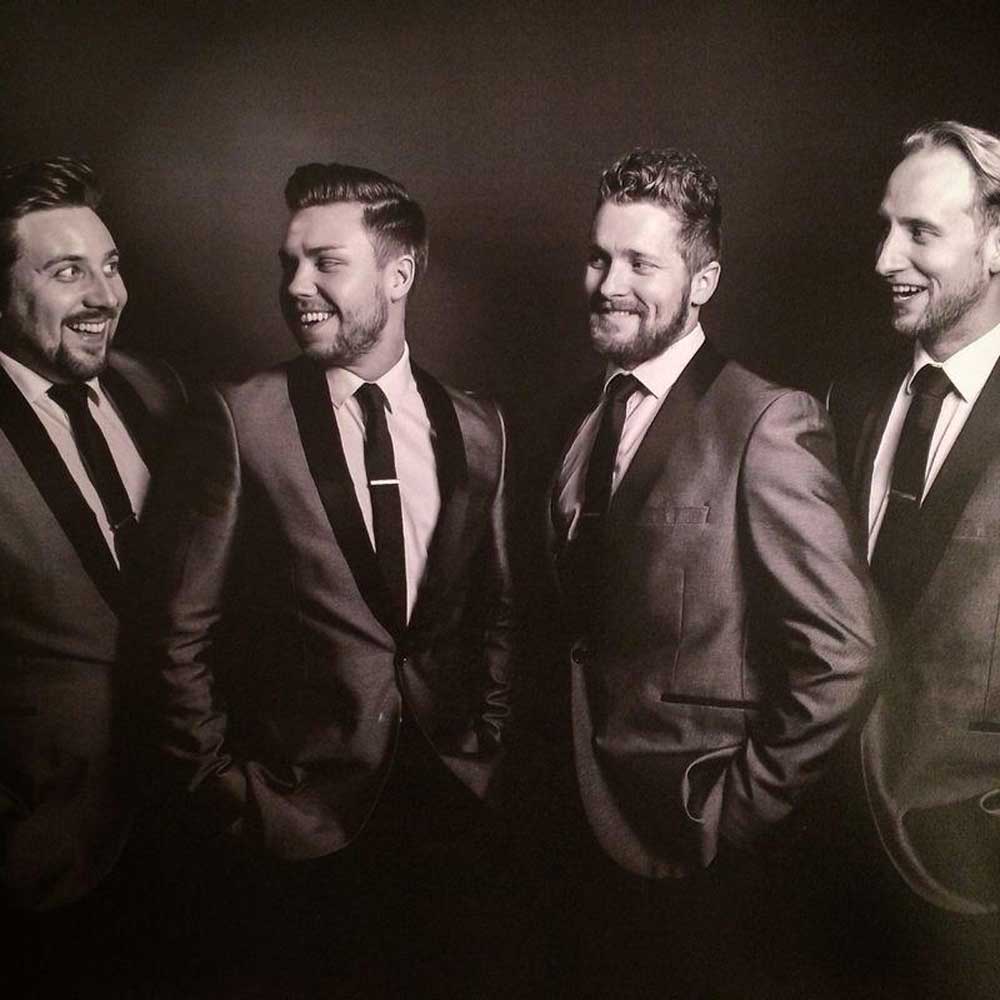 You asked for it... You got it! The Ragdolls - The ultimate Frankie Valli & The Four Seasons Tribute Act will be back in Ravenshead by popular demand!
With slick choreography and the recognisable falsetto this really sets the scene for a great night. Acoustic versions of songs are a highlight in this part of the show which demonstrate the diversity and harmonic sounds as once done by the great band themselves.
CLICK HERE FOR THEIR TWITTER PAGE
---
FRIDAY 26th OCTOBER 2018
THE RAT PACK BOYS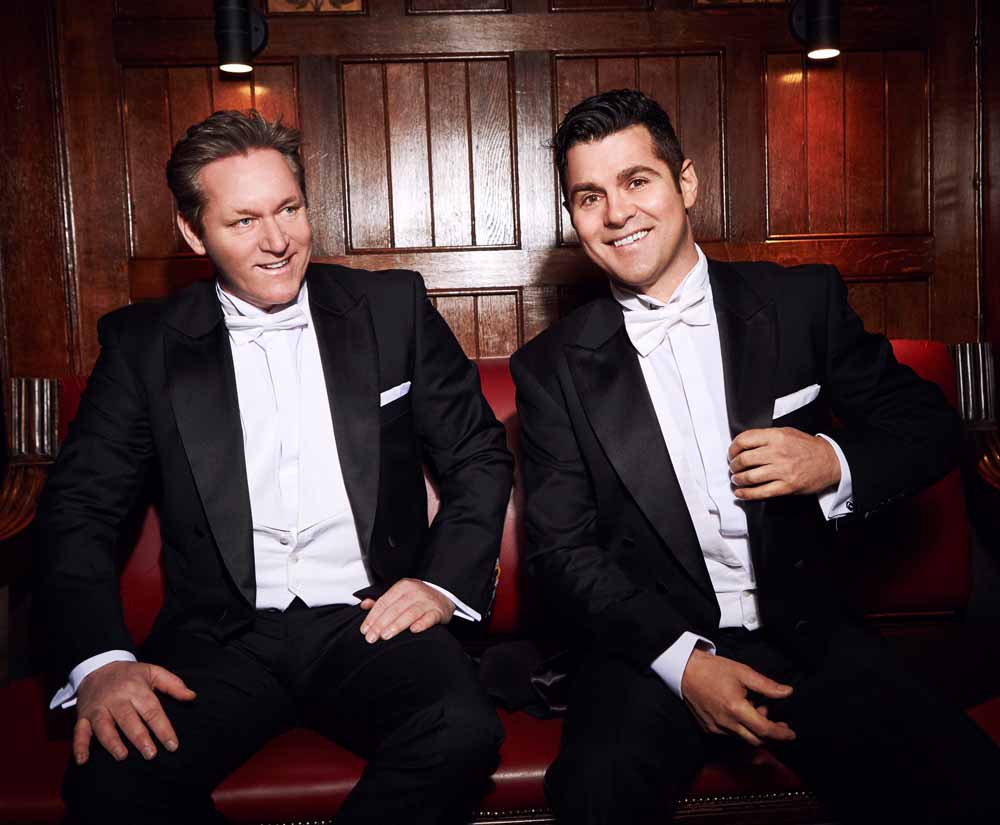 Warren & Gray supported by their three piece band performing a fabulous blend of romantic ballads and upbeat songs made famous by the Legends of Swing and Rock & Roll. Songs by Sinatra, Dean Martin, Tony Bennett, Michael Buble, Elvis Presley and more delivered with melodic harmonies in a style they've made very much their own. Recreating the music of halcyon days reminiscent of those kings of cool.
CLICK HERE FOR THE BAND'S WEBSITE
---
FRIDAY 12th OCTOBER 2018
STAYIN' ALIVE - BEE GEES TRIBUTE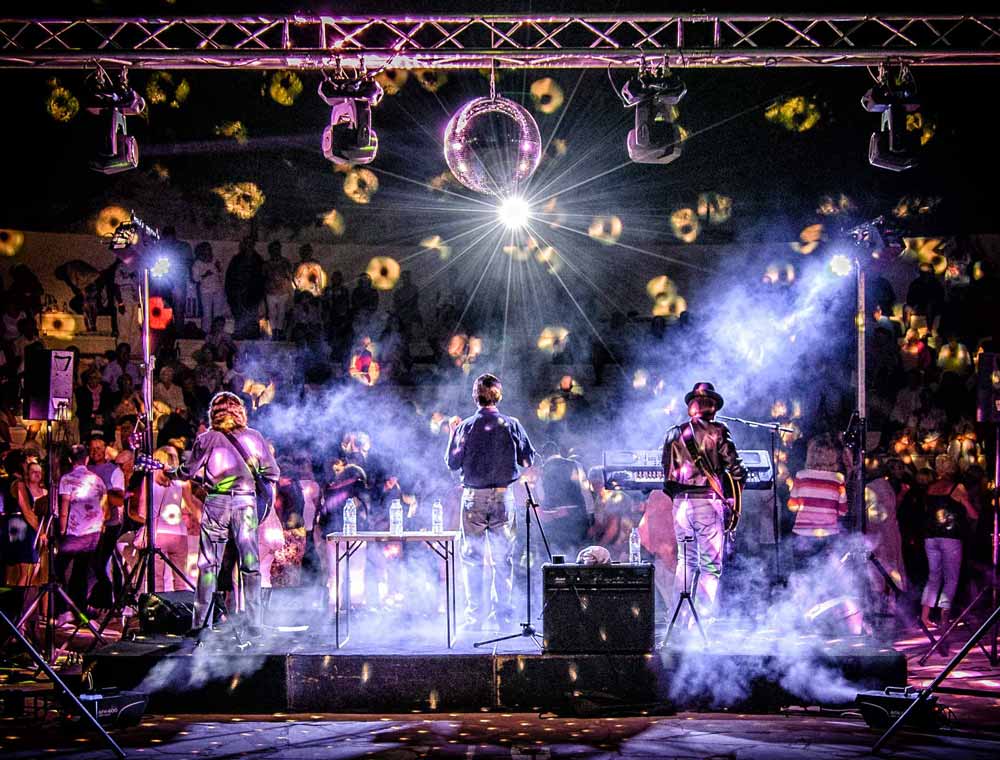 Bee Gees Tribute Band, Stayin Alive UK, re-create the most accurate portrayal of The Brothers Gibb, covering hits from all decades. Their uncanny resemblance has to be seen to be believed and has gained them the respect of many clients who at this present time include: Bollywood Film Director Gurinder Chadha, Warner Leisure, P&O Cruises, Park Resorts, Butlins, Haven, Eastbourne Council....to name but a few.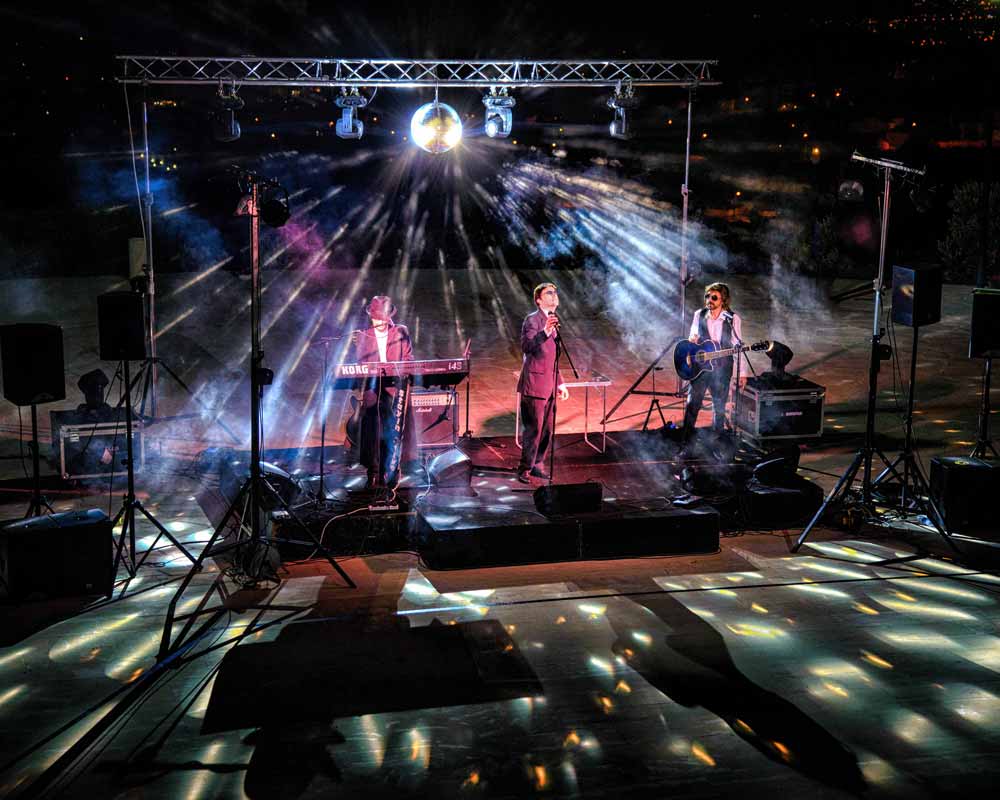 ---
FRIDAY 14th SEPTEMBER 2018
LISA STANLEY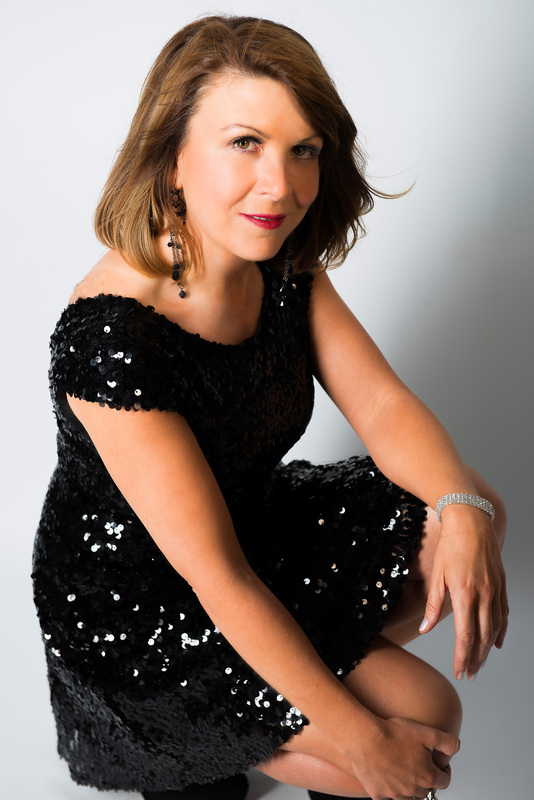 Irish country singer Lisa Stanley has fast become a well known face on the country music scene throughout Ireland and the U.K. over the past few years. Although Lisa was born into the business (both her parents were entertainers Maisie McDaniel and Fintan Stanley), she is already a successful artist on the Irish country music scene, and her weekly appearances as presenter on Sky TV's The Phil Mack International Country Show and Keep It Country Music have made her a well known face on the U.K. country music scene now also.
Most Recently Lisa has started her own country music tv show called THE LISA STANLEY SHOW which goes out three times a week on Keep It Country TV (Sky 389, Freeview 87, FreeSat 516). With the TV show still in its infancy, the viewing figures are already tremendous.
Lisa now divides her time between Ireland and the U.K. and although she's kept busy with THE LISA STANLEY SHOW, Lisa has her own band and performs all across the U.K. and Ireland.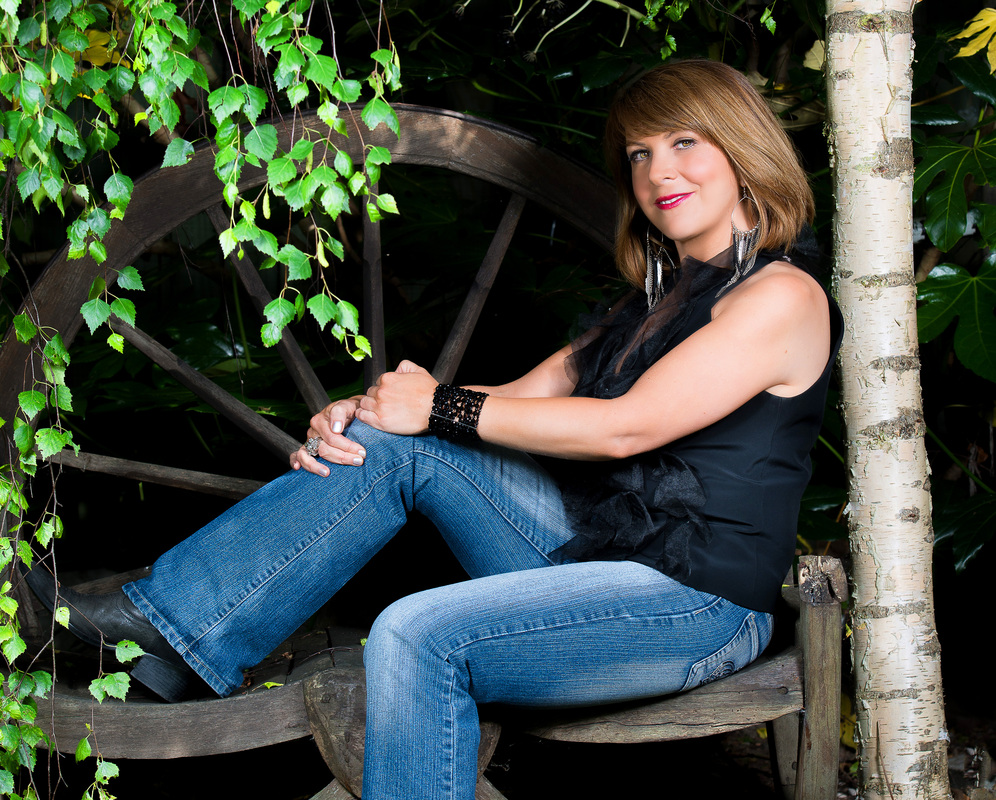 ---
SATURDAY 1st SEPTEMBER 2018
THE ROBIN HOOD ONE-DAY FOLK FESTIVAL / RAVENSHEAD VILLAGE HALL'S 50th ANNIVERSARY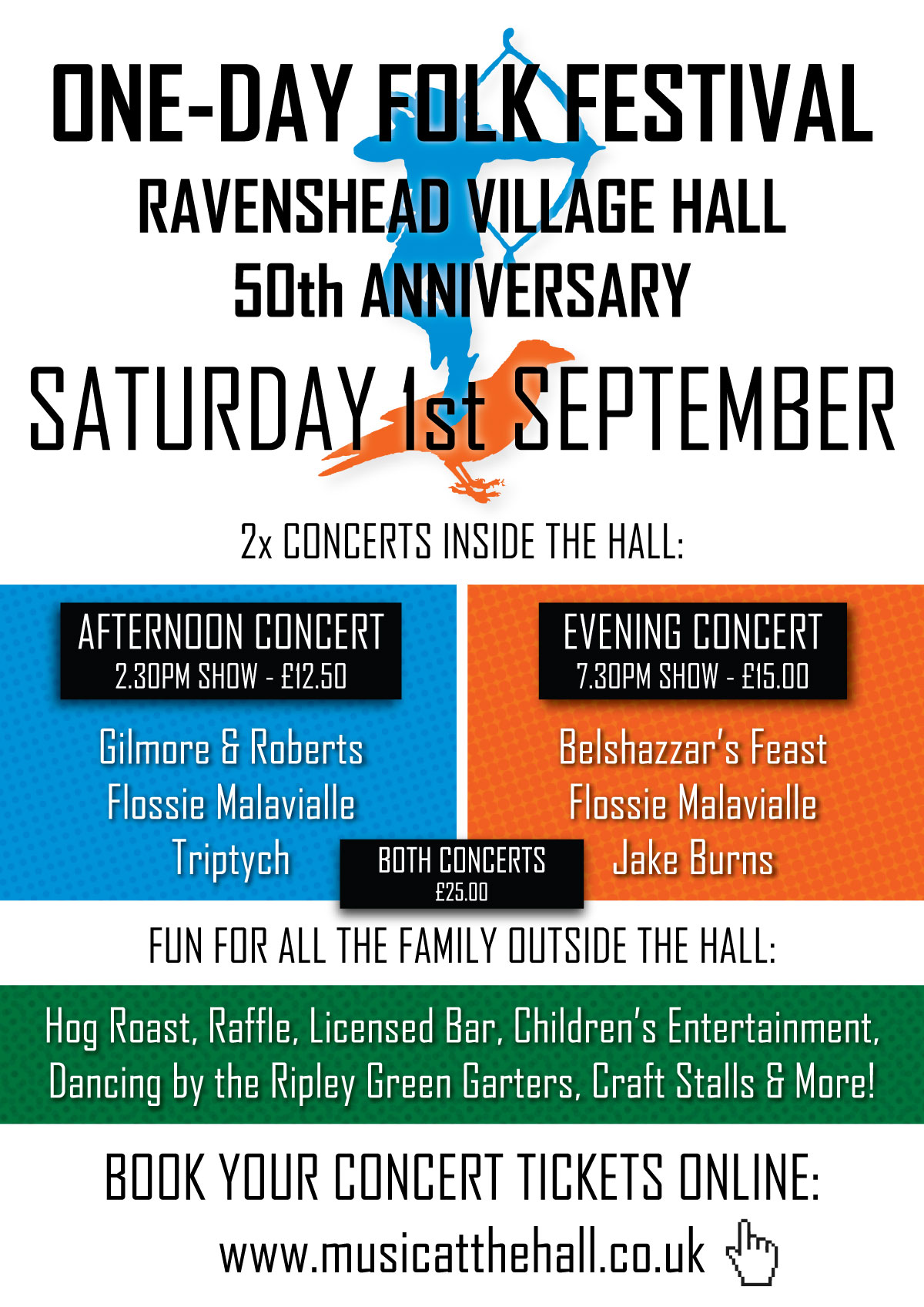 The Robin Hood Folk Festival will be returning for a special one-day event to coincide with and to celebrate the 50th anniversary of Ravenshead's Village Hall (1968-2018).
A fabulous day in prospect at the Village Hall on Saturday 1st September. 2x Concerts inside the hall with the 1st starting at 2.30pm and the 2nd at 7.30pm - but the day's activities start outside the Hall from Midday to 6.00pm...
...At least 10 craft stalls will be set up from 10.00am and the Hog Roast will be wafting a wonderful aroma from midday. Extra to the usual bar facilities there will be craft beers available (being served from midday also). The Ripley Green Garters will perform at 1.00pm and 2.00pm and the Ravenshead Fun Chorus will be singing at 5.30pm. There will also be children's attractions to hopefully make a fun family day!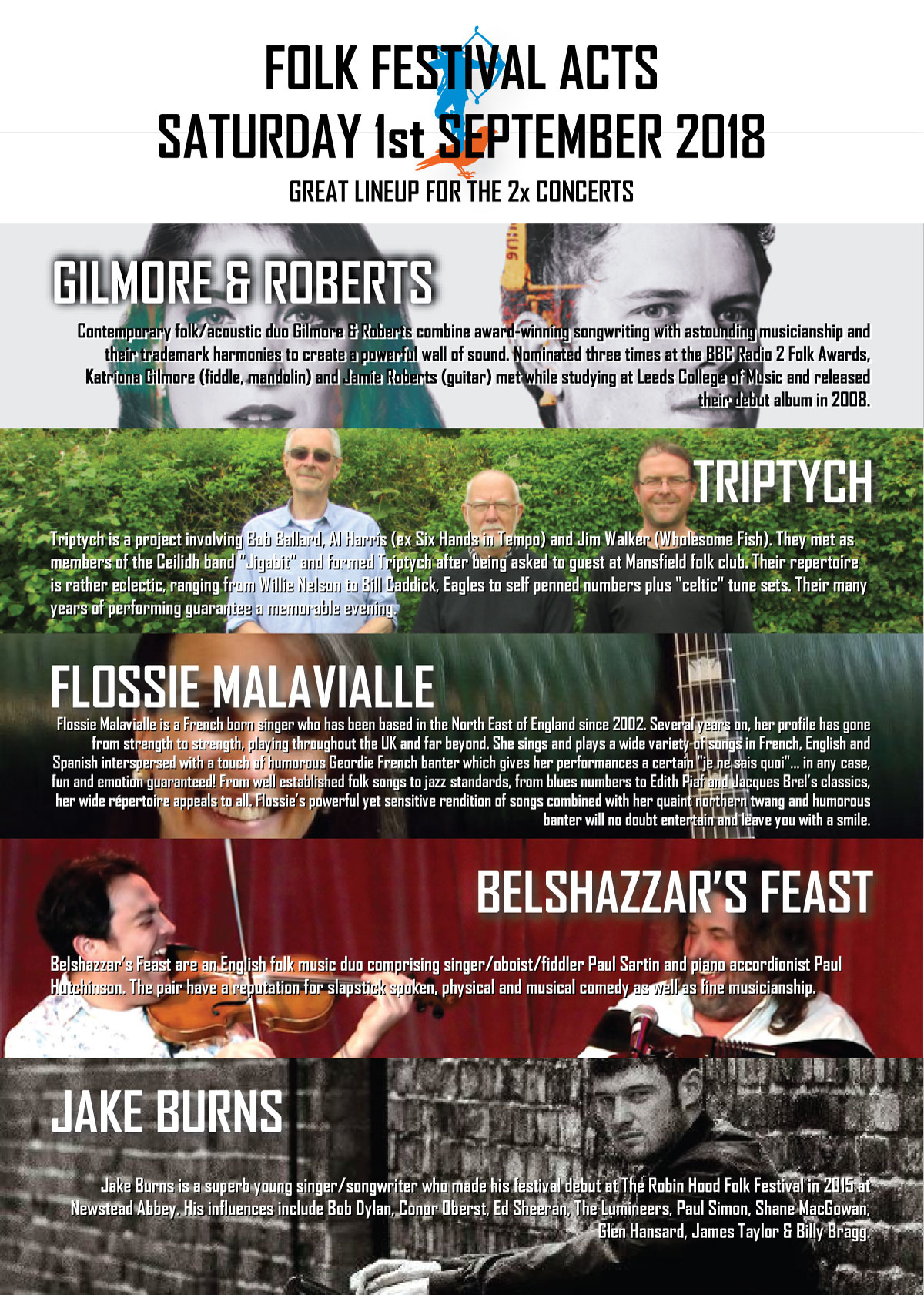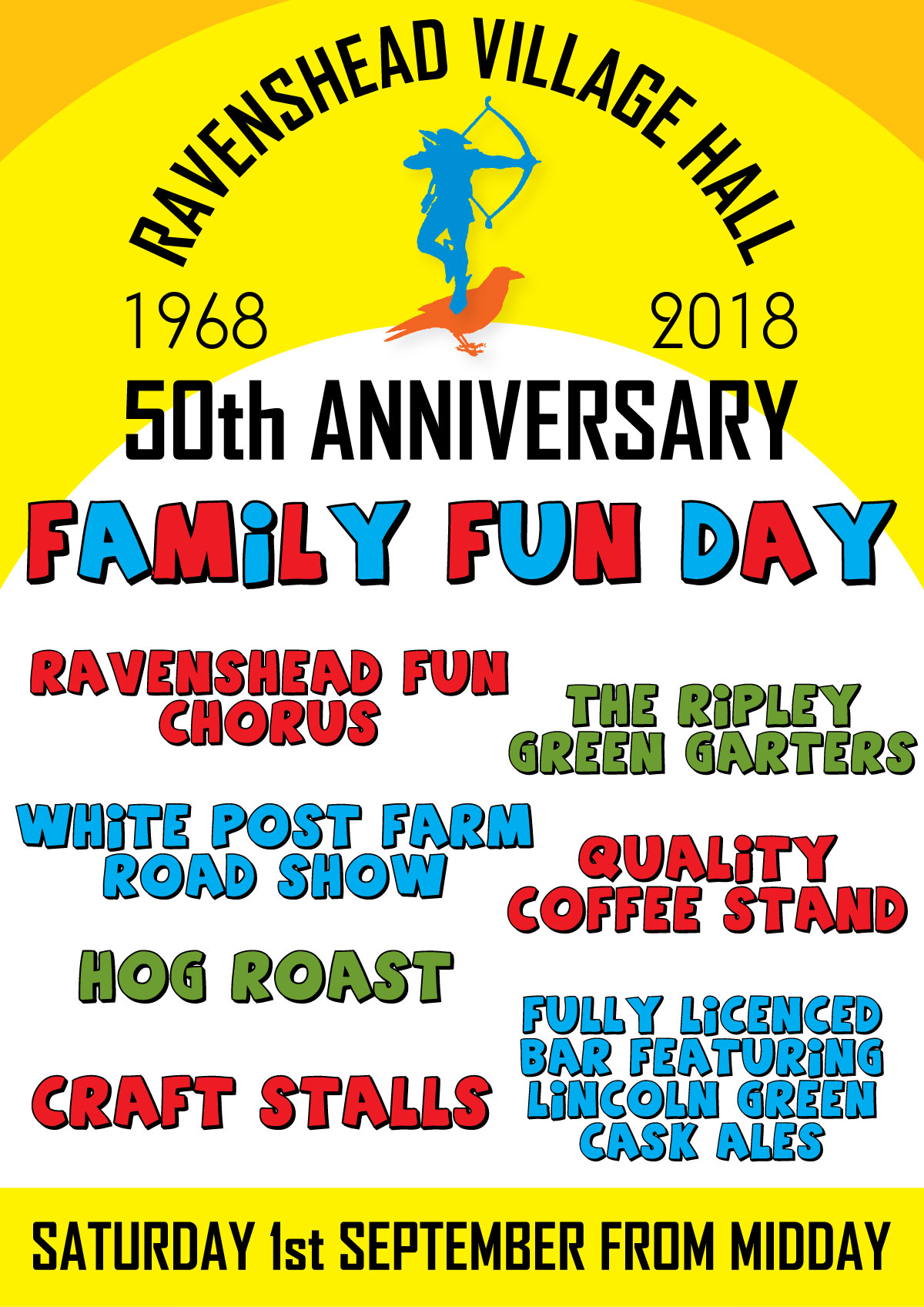 ---
FRIDAY 13th JULY 2018
DEFIBRILLATOR CHARITY DISCO NIGHT - PLUS LEE HUTTON SINGS MICHAEL BUBLE!
JOINTLY ORGANISED BY ABBEY GATES PRIMARY SCHOOL AND RAVENSHEAD VILLAGE HALL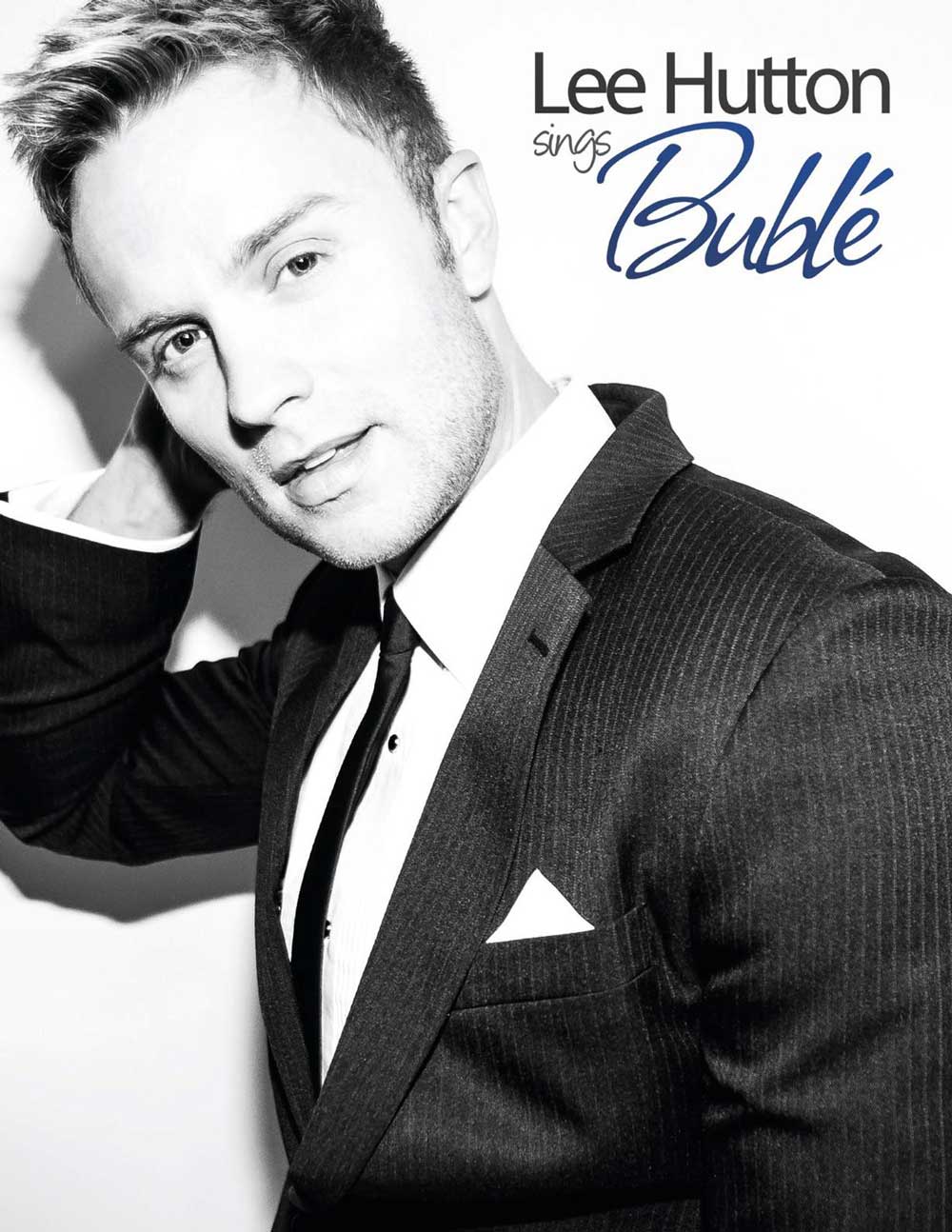 This disco night has been organised by Abbey Gates Primary School and Ravenshead Village Hall to raise funds for a new Defibrillator for the benefit of the Ravenshead community.
Disco provided by DJ Tom from 7.15pm, Bublé's 1st set from 8.15pm-9.00pm, his 2nd set from 10.00pm-10.45pm and disco in between and after!
At 31 years old Lee has been singing professionally since the age of 17. After touring the World as a lead singer of pop bands, securing 2 Irish number 1 singles, and playing to arena audiences supporting some of the worlds biggest acts including JLS, The Pussycat Dolls and Ne-yo, Lee has decided to go solo & dedicate himself to the tribute of Michael Bublé.
Lee will warm up the crowd, starting with some of the more easy listening ballads and mid-tempo numbers, before the set progresses through all the classic hits new and old, climaxing with upbeat party tracks that will get everyone dancing and swinging the night away! A show and night not to be missed! Bring your dancing shoes!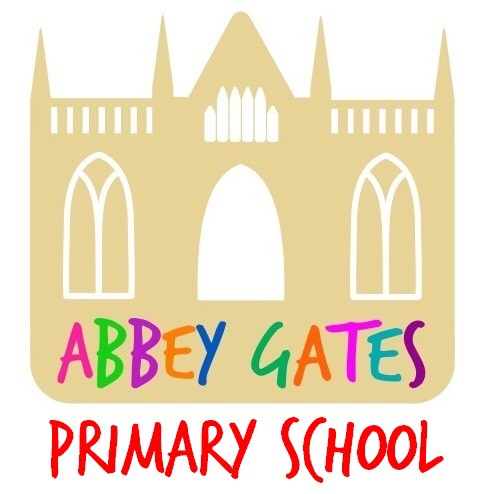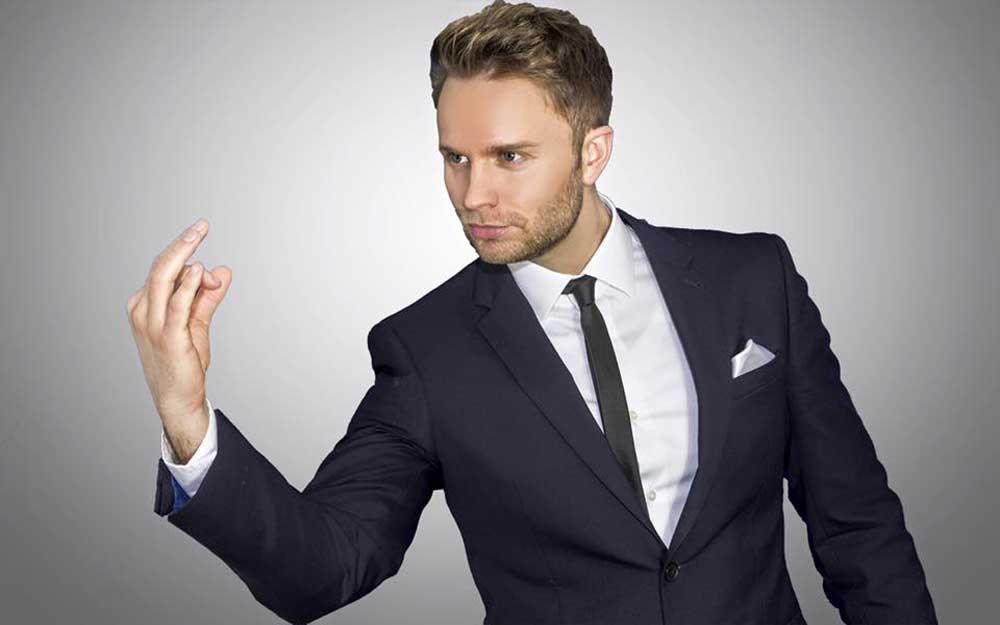 CLICK HERE FOR LEE'S FACEBOOK PAGE
---
FRIDAY 8th JUNE 2018
TALON - THE ACOUSTIC COLLECTION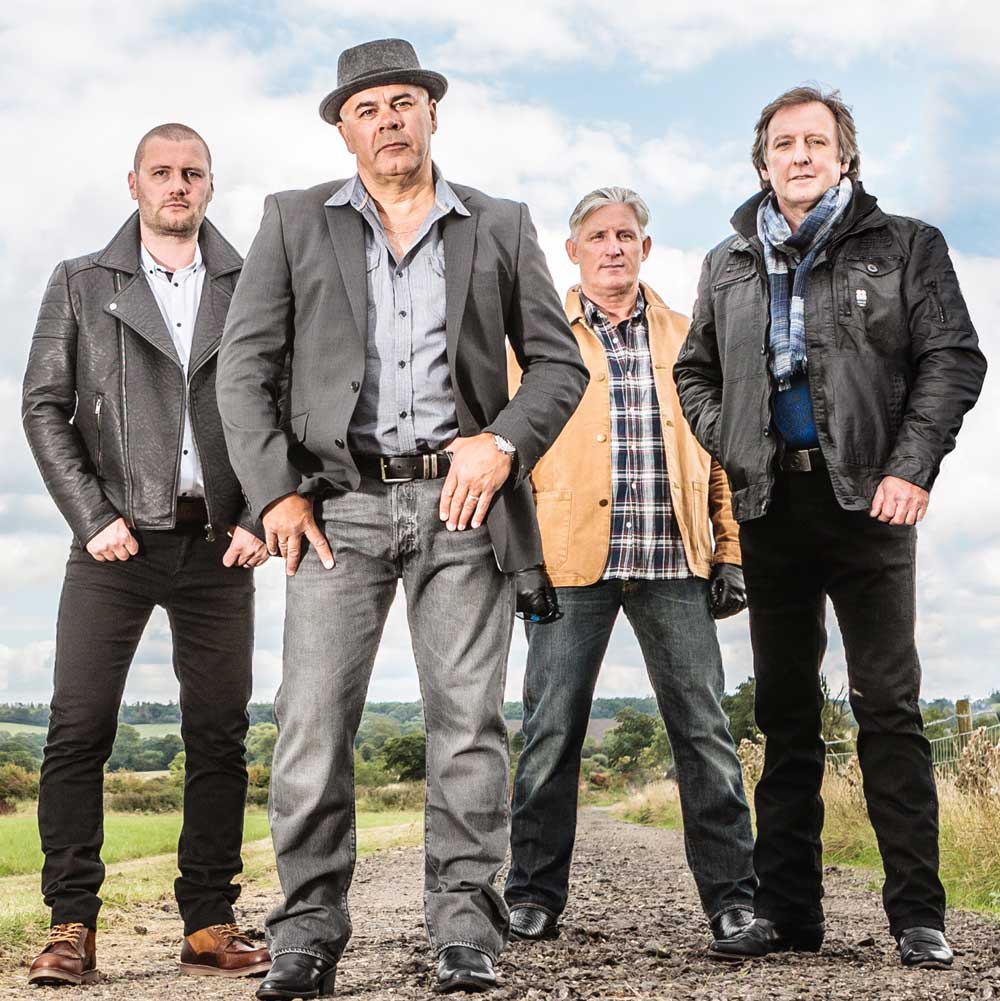 Back in 2009, Jonny Miller, Chris Lloyd, Peter Anderson and Keith Buck began a labour of love. Now in 2018 with the release of their critically acclaimed studio and 'LIVE' acoustic albums, 'Talon - The Acoustic Collection', has to their amazement, taken on a life of its own and this year will be enjoying their most extensive tour ever. If you have not seen this show before then you are in for a real treat.
Sat on bar stools and armed with no more than their trademark four part vocal harmony, acoustic instruments and laid back banter, Talon will leave you spellbound. Come and experience the other side of Talon as they perform a wide and varied selection of their own arrangements of contemporary acoustic classics.
"Essential listening if you appreciate great musicianship, major label production standards and the tightest harmonies you will hear this side of Crosby, Stills & Nash" ***** - MAVERICK (The UK's Leading Country Music Magazine)
CLICK HERE FOR THE BAND'S WEBSITE
---
FRIDAY 18th MAY 2018
MARI WILSON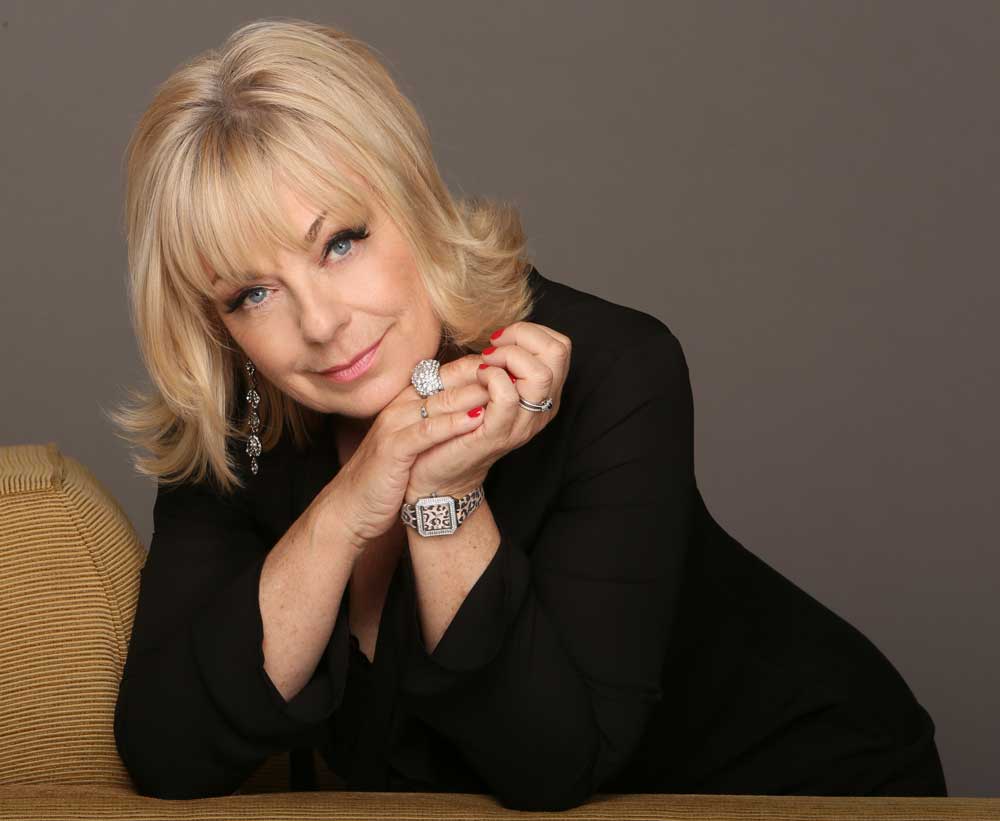 Mari Wilson – Pop Deluxe
For the past 18 months, Mari has been touring her show, "Ready Steady Girls" to sell out crowds and rave reviews. The show features Mari's unique interpretations of the songs of Dusty Springfield, Petula Clark, Sandie Shaw, Cilla Black and more, the Brit girls who inspired her as she was growing up in North London. Mari played Dusty Springfield in "Dusty The Musical" which toured venues throughout the UK in 2000.
Mari's new album "Pop Deluxe", which has also been met with rave reviews, features her interpretations of classic hits such as "Don't Sleep In The Subway", "You're My World", "Always Something There To Remind Me", and "24 Hours from Tulsa". Mari will perform these songs alongside some of her classic hits, including the 80's classic "Just What I Always Wanted".
---
FRIDAY 13th APRIL 2018
LOS PACAMINOS feat. PAUL YOUNG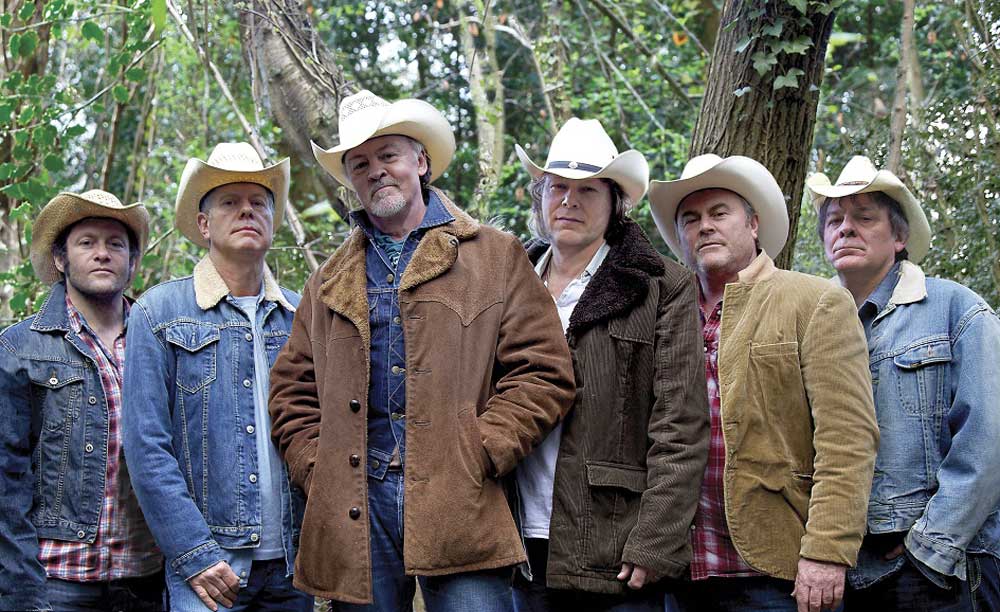 Los Pacaminos features Paul Young, Drew Barfield, Mark Pinder, Steve Greetham, Jamie Moses and Melvin Duffy (UK's premier pedal steel player).
One of the UK's most popular Live touring bands, Los Pacaminos play the very best in Tex Mex Border music from The Texas Tornadoes and Ry Cooder to Los Lobos and even Roy Orbsion.
This is a Tequila fuelled Tex Mex party night, as each venue becomes the perfect cantina setting for a great night's rocking with the cactus sharp, tequila filled, stetson wearing, magnificent 6, Los Pacaminos!!!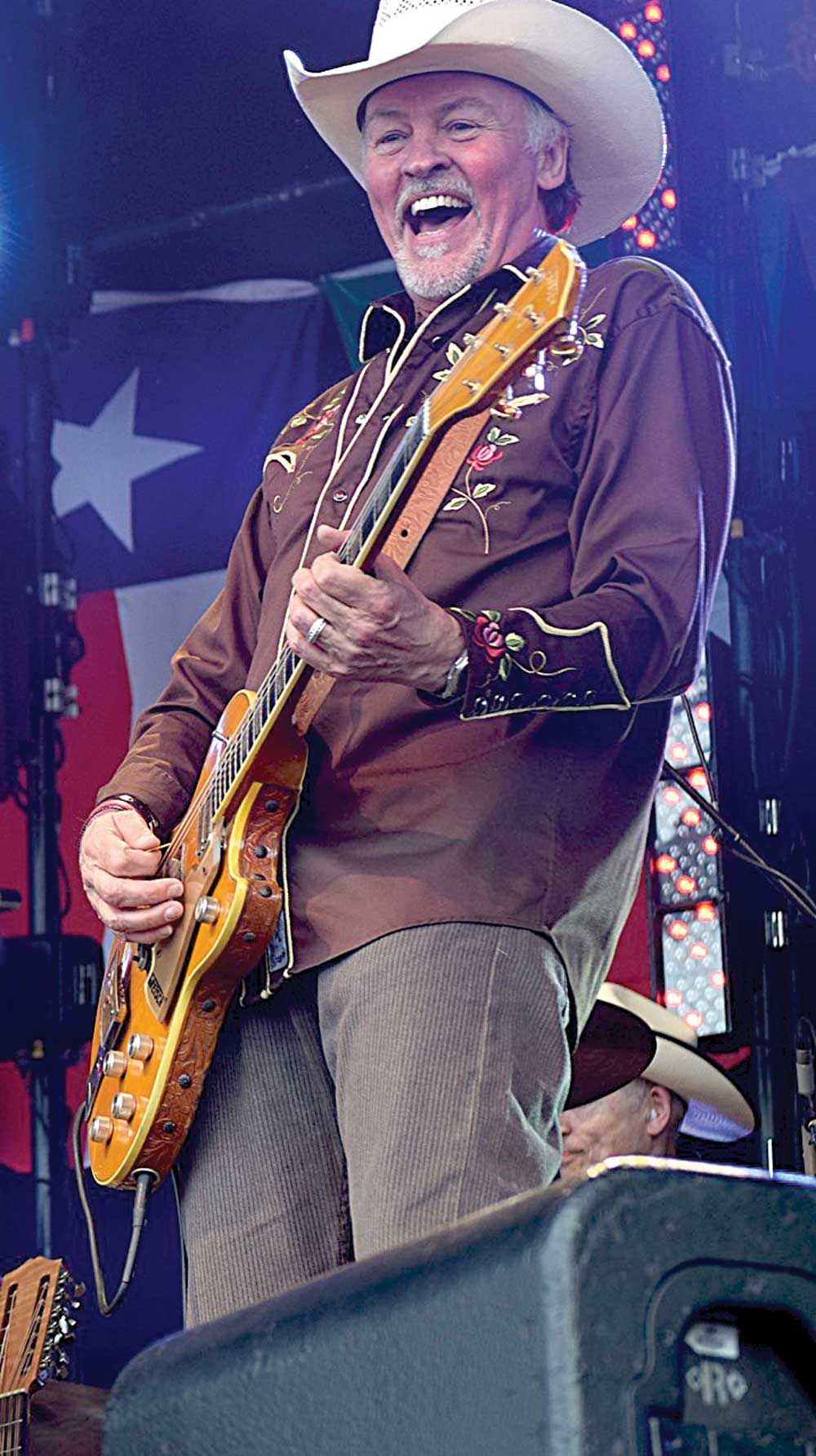 CLICK HERE FOR THE BAND'S WEBSITE
---
FRIDAY 23rd MARCH 2018
DOMINIC KIRWAN (PLUS SUPPORT ACT)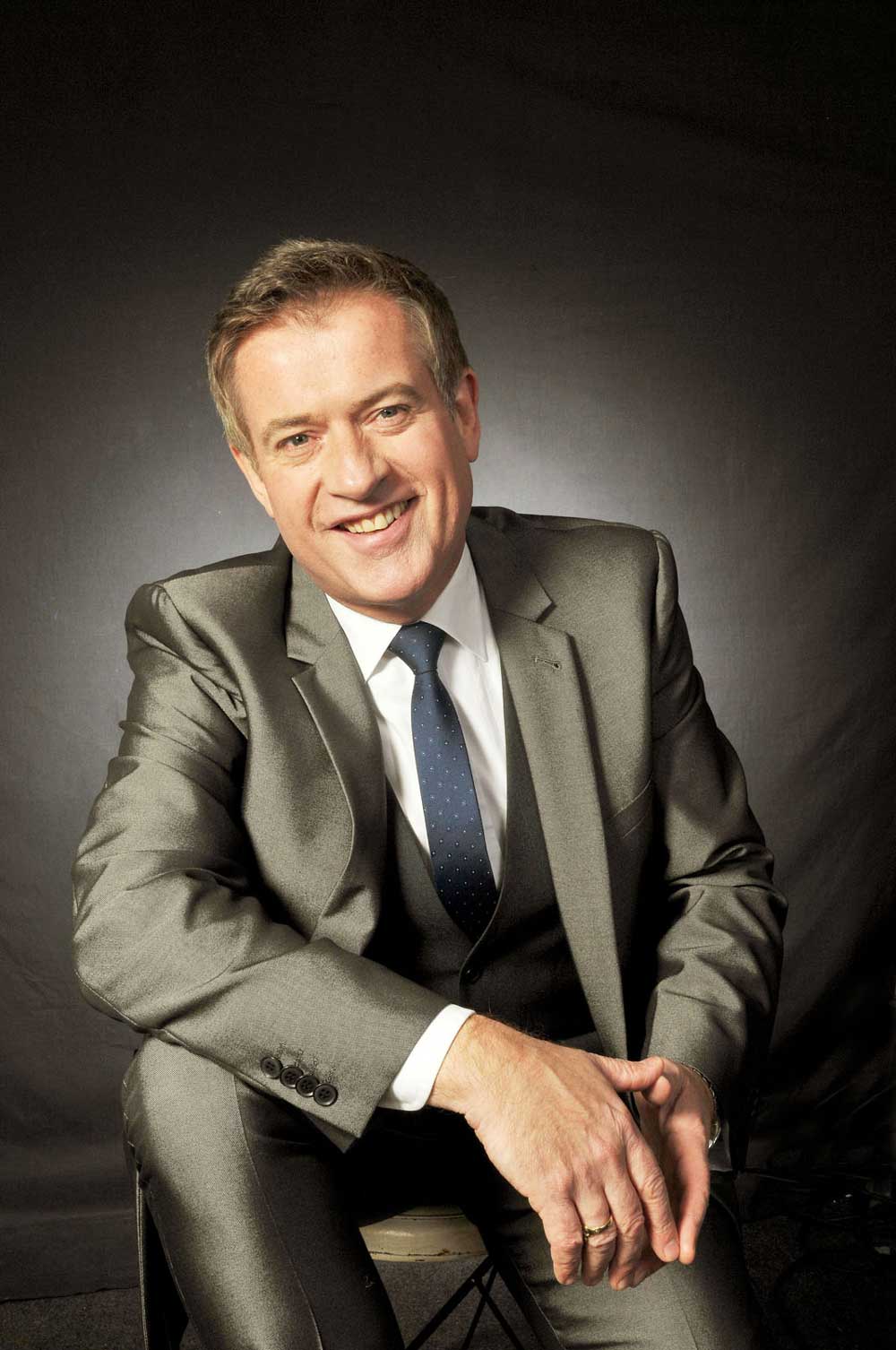 2014 marked a massive milestone in the career of Omagh singer Dominic Kirwan, 25 years since the talented entertainer signed a record deal with Ritz records and gave to the public his debut album "Try a Little Kindness". 25 years plus now and the story continues Dominic remaining one of the most popular singers touring, performing and recording with a fan base of all ages throughout the world who enjoy his wonderful stage presence and performances. He took to the stage of Omagh Town Hall to dance in a Feis at six years of age and that has been his home basically ever since. From playing the pubs and clubs of his homeland to the cream of the UK's concert Halls and Theatres its been a stunning rise, a magical journey indeed through the ranks of this business we call "show" for Dominic.
Impossible to pigeon hole since he broke on to the circuit as a professional singer, Dominic from the County of Tyrone where some of Ireland's greatest names in music have come from, has been entertaining professionally since 1989. Audiences big and small of all ages have enjoyed the genial talent that is Mr Kirwan, from the Shetlands to Lands' End, from Malin to Mizzen with the USA, Australia, New Zealand and a fair bit of everywhere else in between thrown in for good measure. Dominic has been a constant on the stages of dance halls, clubs and theatres with a brand of show that has ebbed and flowed but never let the loyal fans that have followed the former car parts salesman, down. Dominic has been described as the ultimate entertainer, at ease with songs such as "Like Father Like Son" to "Noreen Bawn" from "Absent Friends" to "Some Girls". The show is an eclectic mix of songs that just sit begging to be sung in Kirwan's own style.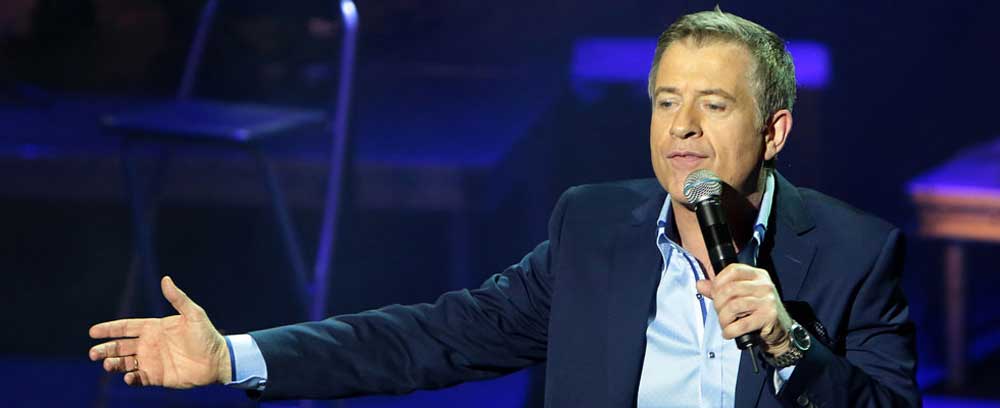 ---
FRIDAY 2nd MARCH 2018
TAKE THAT TRIBUTE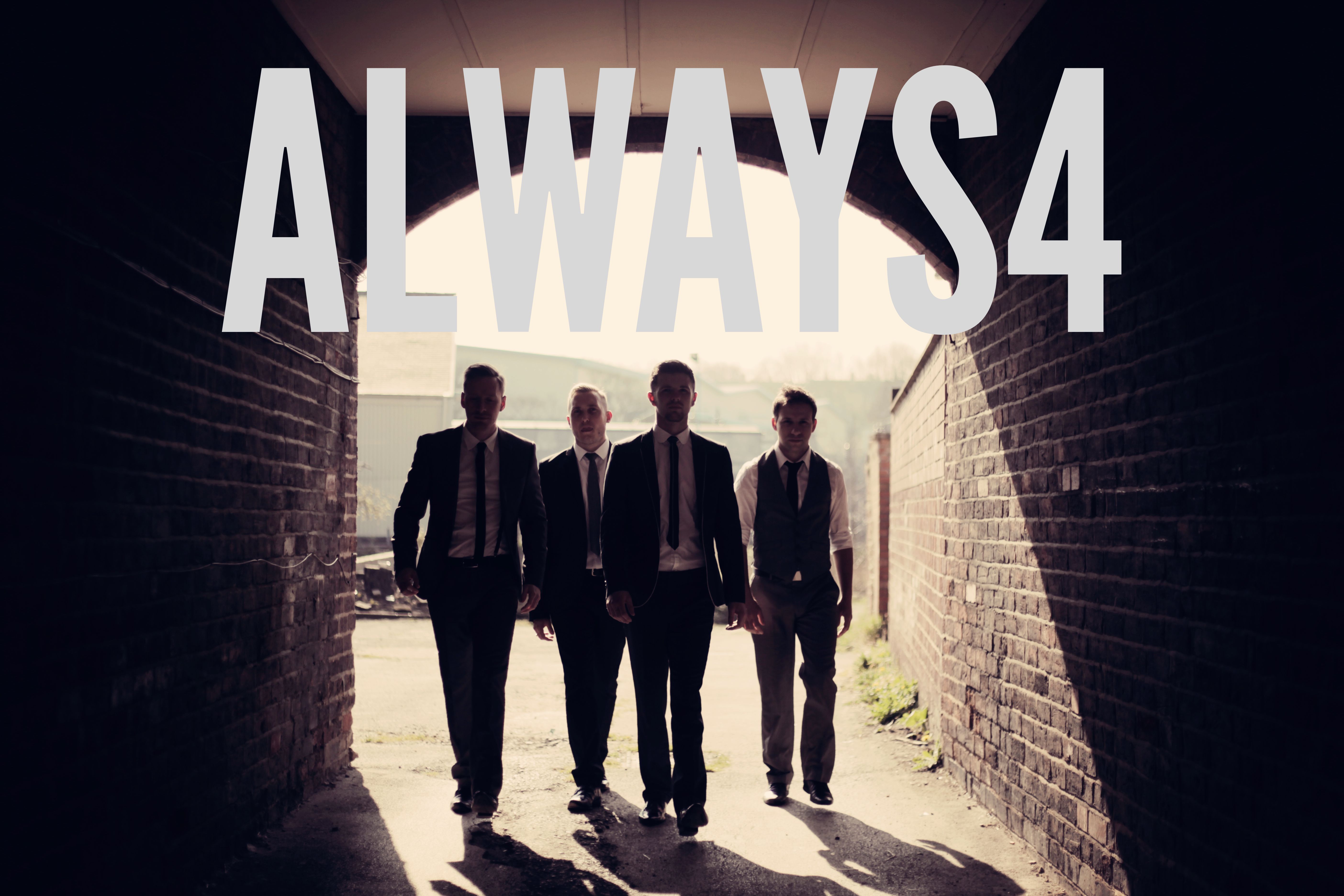 ---
FRIDAY 16th FEBRUARY 2018
MARTIN & ELIZA CARTHY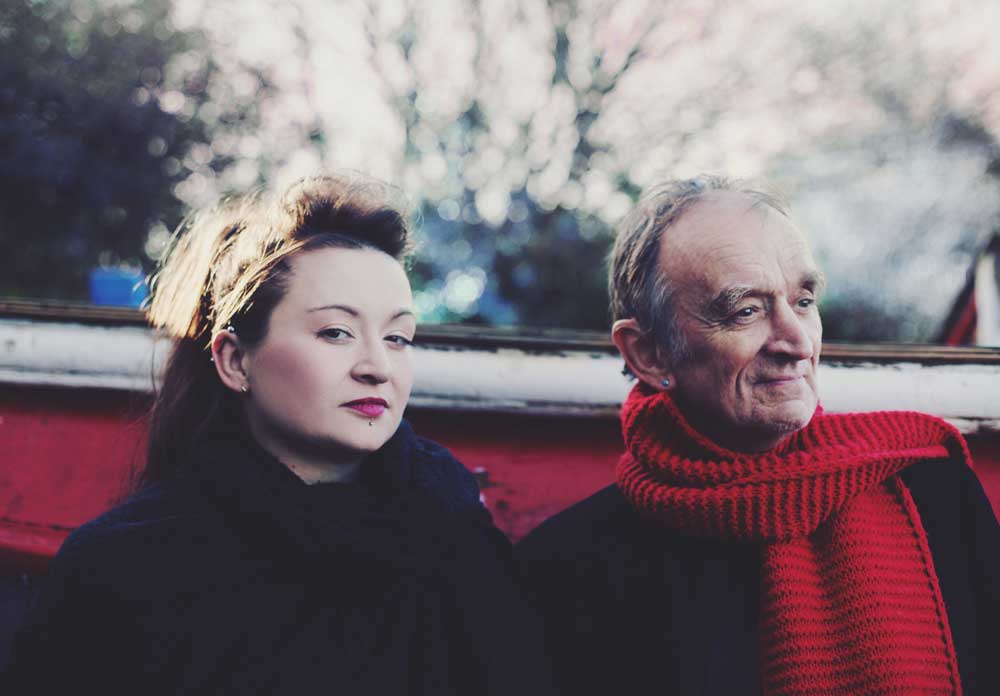 The good Doctor Martin Carthy and his twice Mercury nominated daughter Eliza Carthy, join forces to perform songs from their first duo album ever, a new CD of traditional material entitled "THE ELEPHANT", released in May 2014 on Topic Records.
Martin is a legendary ballad singer and guitarist who has influenced a generations of artists, including Bob Dylan and Paul Simon, while Eliza has been twice-nominated for the Mercury Music Prize and a multiple-award winner at the BBC Radio Two Folk awards.
For more than 50 years Martin Carthy has been one of folk music's greatest innovators, one of its best loved, most enthusiastic and, at times, most quietly controversial of figures. His skill, stage presence and natural charm have won him many admirers, not only from within the folk scene, but also far beyond it. Trailblazing musical partnerships with, amongst others, Steeleye Span, Dave Swarbrick and his award-winning wife (Norma Waterson) and daughter Eliza Carthy have resulted in more than 40 albums, but Martin has only recorded 10 solo albums, of which the much anticipated Waiting for Angels (Topic TSCD527) was the latest. Whether in the folk clubs (which he continues to champion), on the concert stage or making TV appearances (he was the subject of the acclaimed "Originals" music documentary strand on BBC 2) – there are few roles that Martin Carthy hasn't played.
He's a ballad singer, a ground-breaking acoustic and electric-guitarist and an authoritative interpreter of newly composed material. He always prefers to follow an insatiable musical curiosity rather than cash in on his unrivalled position. Perhaps, most significant of all, are his settings of traditional songs with guitar, which have influenced a generation of artists, including Bob Dylan and Paul Simon, on both sides of the Atlantic.
"Arguably the greatest English folk song performer, writer, collector and editor of them all" - Q Magazine
Eliza Carthy is undoubtedly one of the most impressive and engaging performers of her generation. Twice nominated for the Mercury Prize and winner of innumerable other accolades over a 20 year career, Eliza has performed and recorded with a diverse array of artists including, Paul Weller, Rufus and Martha Wainwright, Patrick Wolf and Bob Neuwirth. More than most, Eliza Carthy has revitalised folk music and captured the most hardened of dissenters with intelligent, charismatic and boundary-crossing performance.
Eliza grew up immersed in the world of traditional music. She still divides her time between touring and recording with her legendary parents, Martin Carthy and Norma Waterson as well as engaging in numerous pioneering solo and band projects, including work with Pere Ubu and Melanie Challenger, an artist in residence in Antarctica. In what has become something of a parallel career, Eliza has co-presented the BBC Radio 3 World Music Awards, been a regular guest-presenter on the BBC Radio 2 Mark Radcliffe Show and has made many appearances on BBC TVs "Later with Jools". In her own right, Eliza has been the subject of an hour long ITV documentary ("Heaven & Earth") and "My Music" on Channel 5. Comedian and writer Stewart Lee describes Eliza as "Not the Messiah, but a very naughty girl".
"Eliza Carthy is one of the figureheads of the English folk revival - compelling" – Evening Standard
"A gloriously natural singer" – Q magazine
"Seriously impressive" – Telegraph
"...brave and anything but predictable" **** 4 Stars - The Guardian
---
FRIDAY 2nd FEBRUARY 2018
THE BLACKHEART ORCHESTRA - VILLAGE HALLS TOUR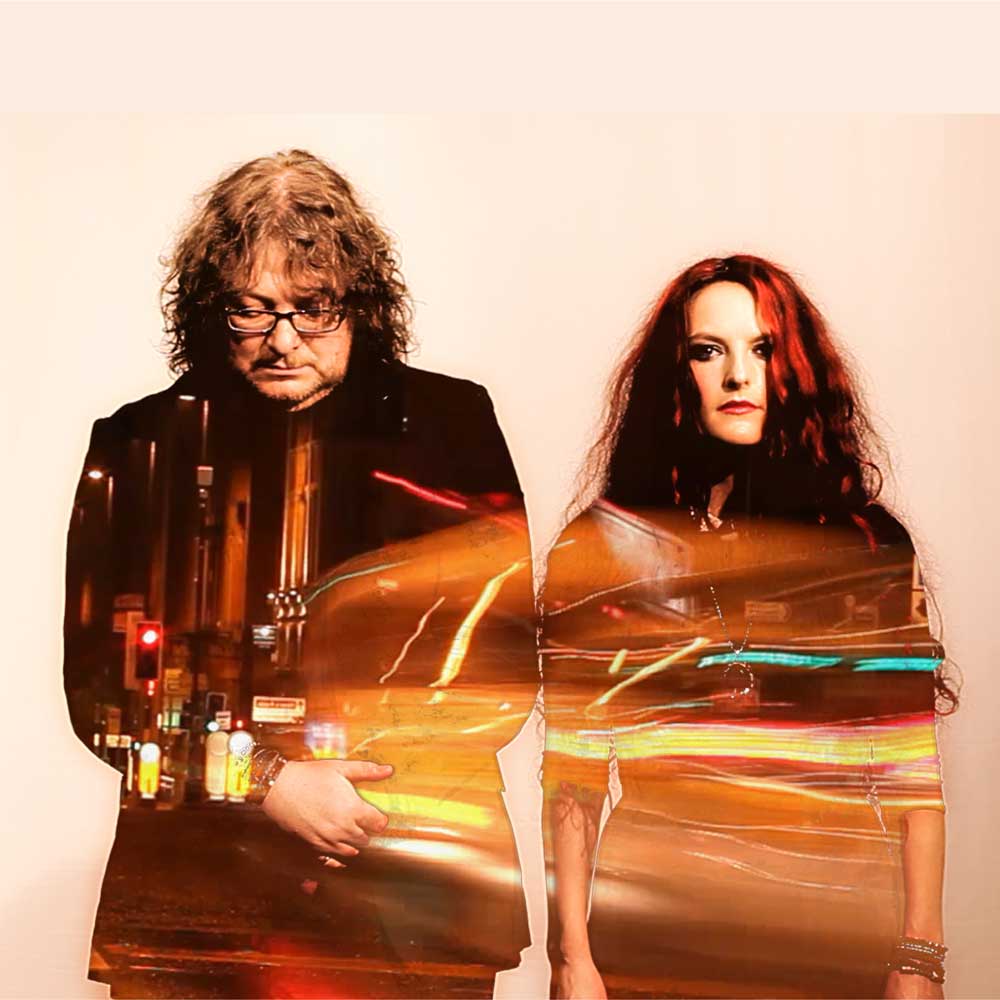 Award-winning British songwriters, composers and multi-instrumentalists Chrissy Mostyn and Rick Pilkington are The Blackheart Orchestra.
One of the must-see bands of 2018, the pioneering folktronica duo blend musical styles seamlessly sidestepping boundaries to create music huge enough to fill a cathedral. Always producing something beyond all easily marketed genres, their multi-instrumental sonic landscapes have always been too unpredictable and adventurous for the mainstream.
Fusing acoustic fragility and pulsing electronica, The Blackheart Orchestra bring together stringed instrument dexterity with 80's synthesisers and clear classical influences. Often mistaken for an 8-piece band on first listen, they are found on stage continuously changing from electric and acoustic guitars, bowed guitar, piano, organ, bass and electronic percussion to vintage synthesisers, omnichord and melodica in a complex choreographed weave of musical moods and textures. One moment their sound is minimal and molecular, the next a mountain-like wall of sound with vast symphonic climaxes.
Their four critically acclaimed albums and mesmerising live shows have won them obsessive worldwide fans, plaudits from musical giants and placements on TV commercials and films. Chrissy Mostyn's haunting vocals, the Mike Oldfield-like multi-instrumental playing of Rick Pilkington plus their fearless combination of conventional and unconventional all reflect their self-created universe where art meets sound and words paint pictures that take you with them on their deep musical journey into the human psyche.
"A special and singular voice" - Highclouds
"Supremely gifted" - Nottingham Post
"Undoubtedly one of the best things to come out of England in recent years" - Fatea Music Magazine
"They remind us why music lifts us up" - Dalton Delan, American Broadcasting (USA)
"From heartbreaking to uplifting in a single song" - Western Star (Australia)
"Absolute brilliance" - A Journal of Musical Things (Canada)
"Beautiful, powerful and inspiring" - Steve Hackett, Genesis
"An ethereal musical landscape, an enchanting masterpiece" - Purple Revolver (UK)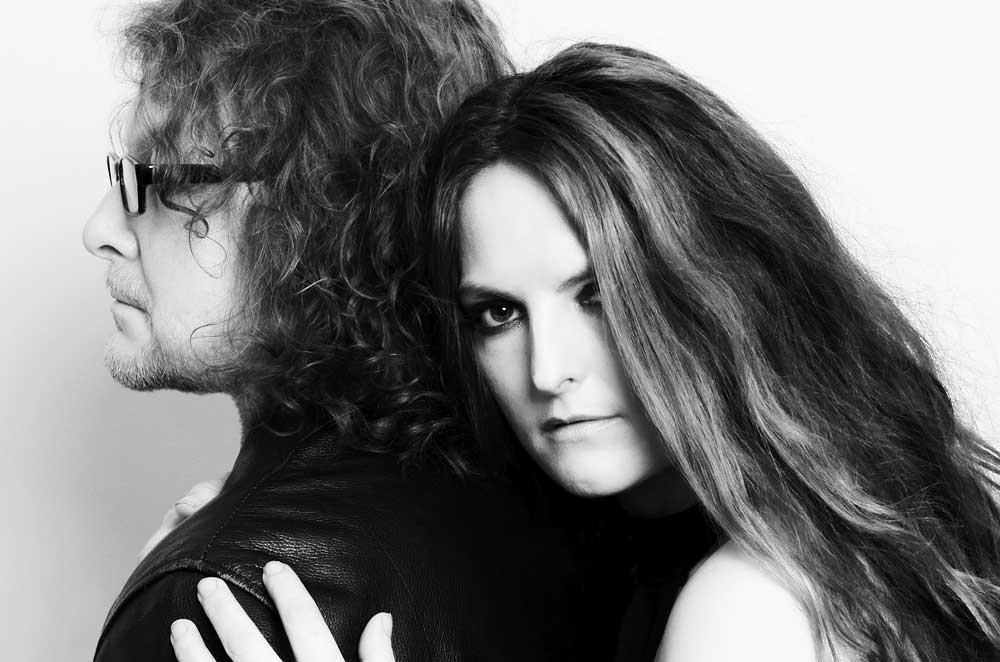 ---
FRIDAY 19th JANUARY 2018
SNAKE DAVIS & BAND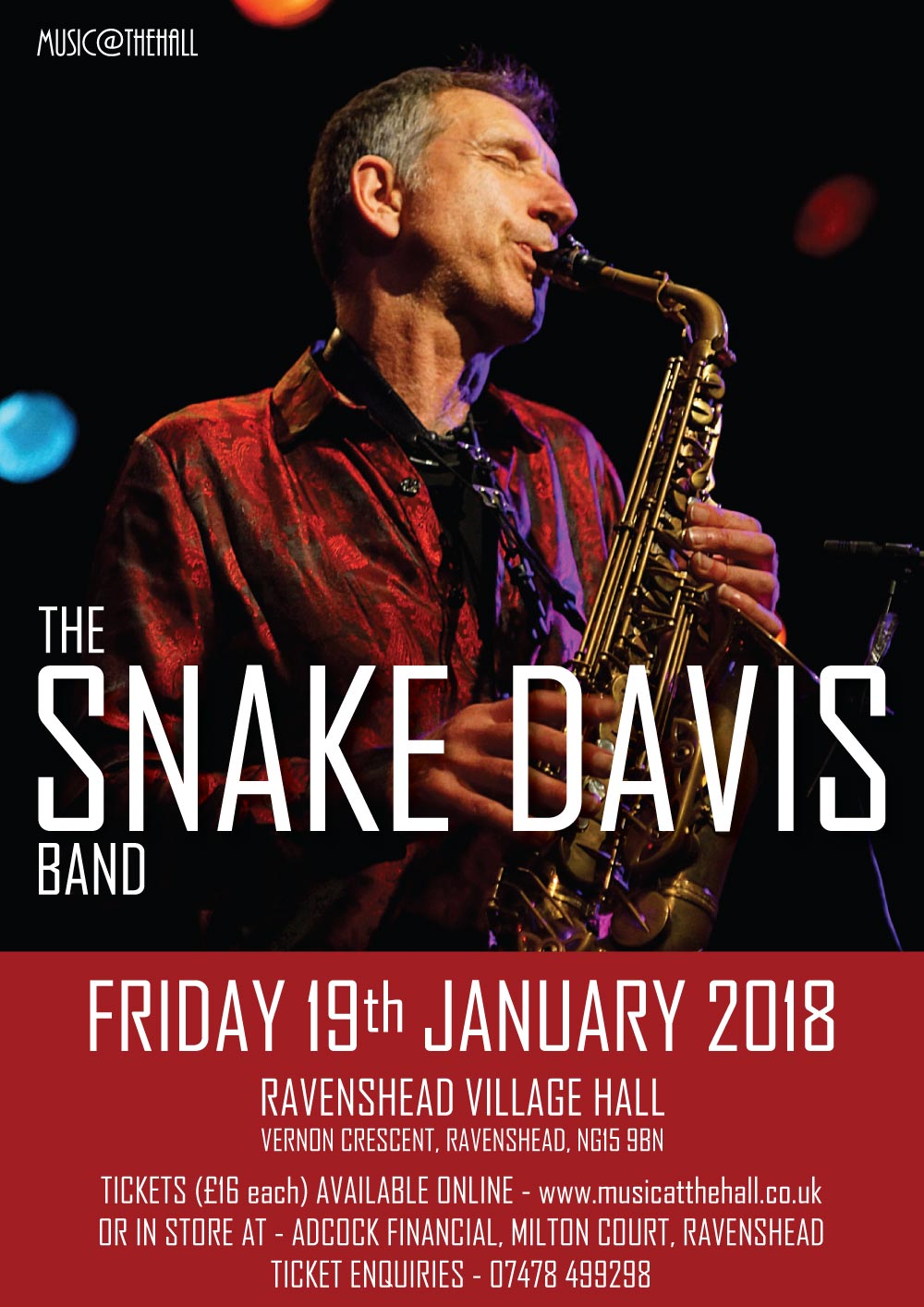 Snake Davis is one of the music world's best kept secrets. He is a saxophonist of almost unparalleled gifts who has played with the best in the business through a career spanning three decades.
Yet it wasn't until he reached the age of 20 that he picked up his first saxophone. He enrolled on the diploma course in jazz and light music at Leeds College of Music funded by busking and gig money. It was here that he met and made many of his life long friends and gained the great experience of disciplined ensemble playing. The much loved "Snake Davis and his Alligator Shoes", the nine piece soul band were formed, playing 60's soul music with the sax taking the vocal parts.
After college, Snake spent several years travelling, playing on cruise boats briefly setting up home in Brooklyn getting tuition from hot players and visiting some of the best jazz clubs in America.
Back in England, he joined the soul revue band "Zoot and the Roots" started his long career as a session musician and first met Lisa Stansfield. The rest, as they say, is history.
To date, Snake Davis has recorded on more than 400 tracks for over 60 artists and the list keeps growing. That's not even counting all of the live performances! These are some of his career highlights to date:-
Sax Solo on cult television show "The Tube"
World Tour with Lisa Stansfield
"Tonight with Jonathon Ross"
1993 The start of his long association with M-People
Plays himself as band leader in "The Paradise Club" ITV series
Presents a Masterclass on Tyne tees, Granada and Yorkshire TV
World "Peace" tour with The Eurythmics
Saxophonist on Paul Hardcastle JazzMasters Series
First Solo album commercially available released – Snakebites
First of many tours with Japanese rock star Eikichi Yazawa
Digital single "Human Nature" record of the week on JazzFM
Human Nature No.1 on smooth jazz single charts with CDBaby
World Premiere of SnakeStrings
Appearance on BBC1 "The One Show" with Chris Evans, Alex Jones and Gary Barlow – feature on The Solo's The Star for his sax on "A Million Love Songs"
Two of his students were BBC Young Musician of the Year finalists in 2014 and Jess Gillam was runner up in 2016
Klingande and Faul & Ad Wad used his sax riffs on three European chart hits, reaching number 1 in the dance charts in the summer of 2014.
Snake will be performing as part of the City of Culture in Hull in 2017
CLICK HERE FOR SNAKE'S WEBSITE
---
FRIDAY 15th DECEMBER 2017
MUSIC @ THE HALL'S CHRISTMAS SPECIAL... FEATURING MARMALADE!!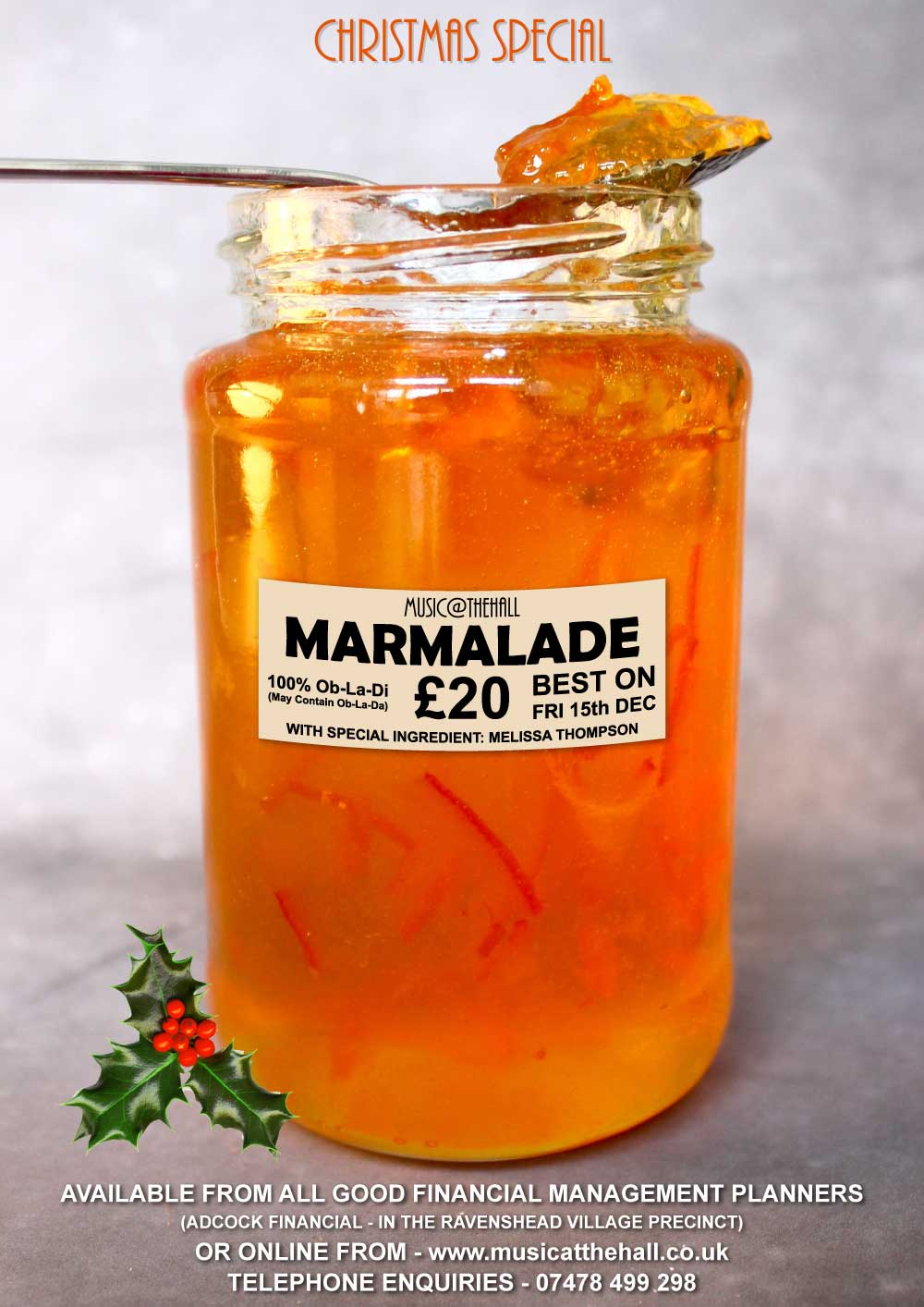 ---
FRIDAY 1st DECEMBER 2017
MULLED WINE & MINCE PIE EVENING FEATURING... THE BACHELORS!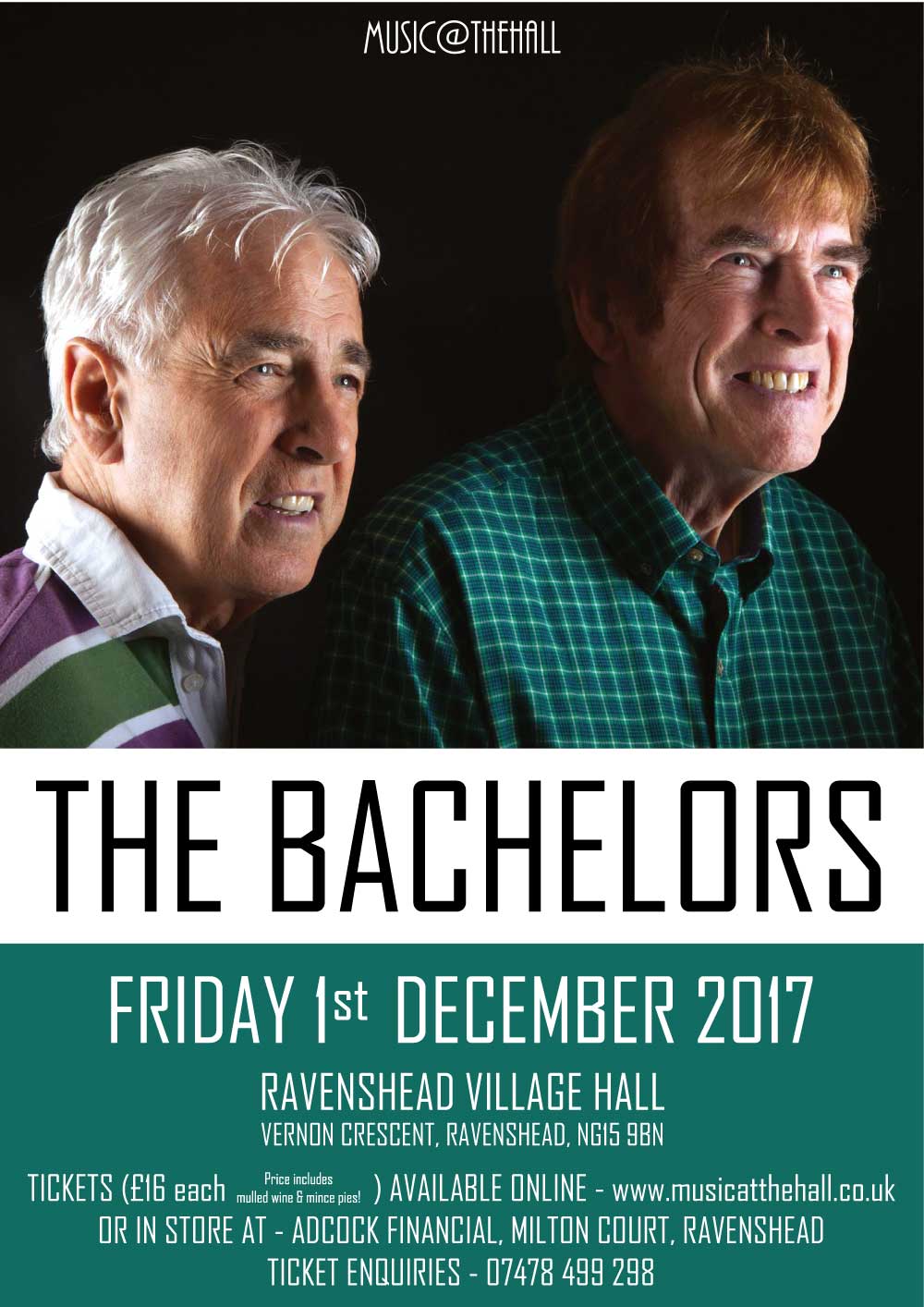 ---
FRIDAY 13th OCTOBER 2017
THE RAGDOLLS PART 2 - THE ULTIMATE FRANKIE VALLI AND THE FOUR SEASONS TRIBUTE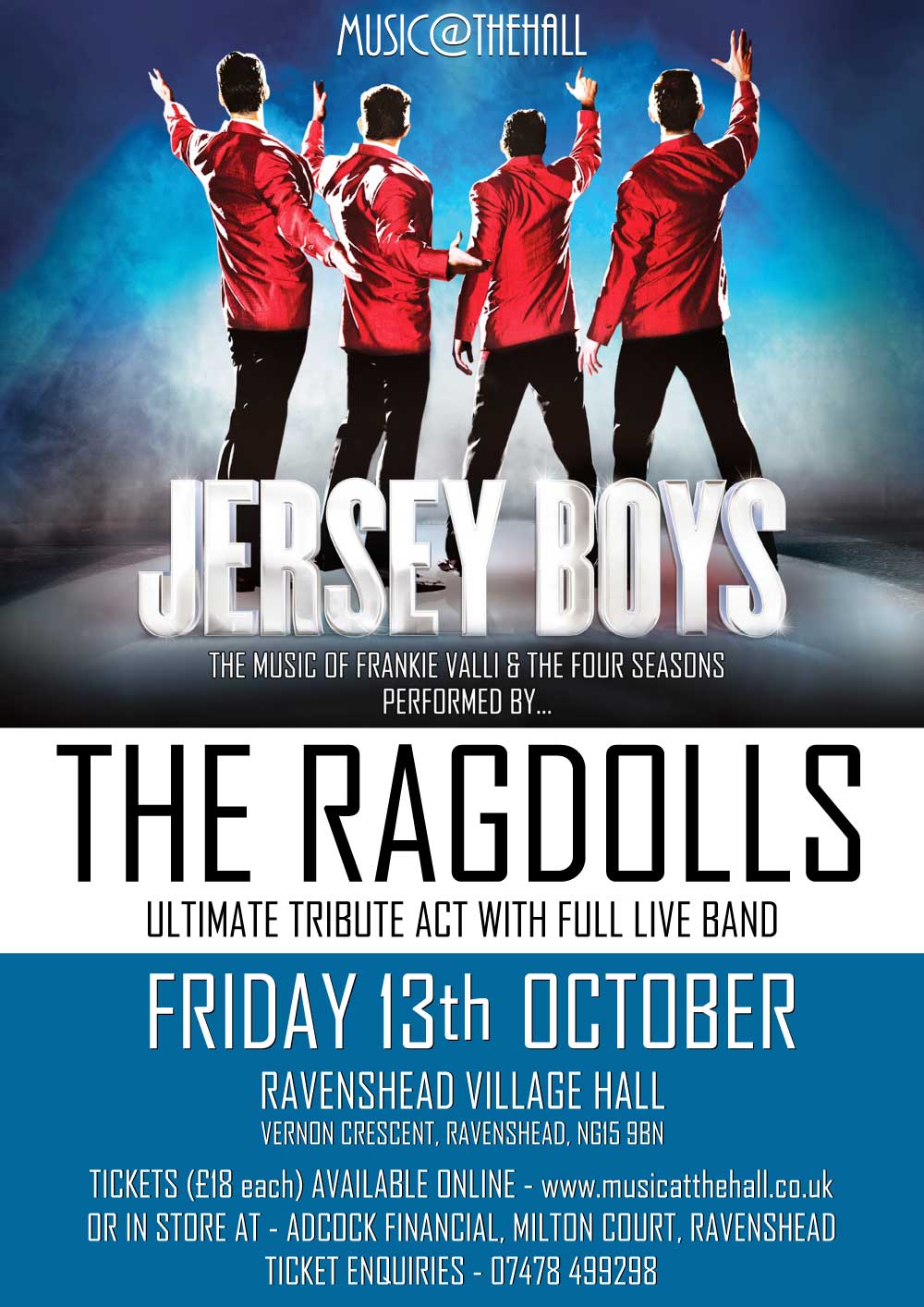 ---
FRIDAY 15th SEPTEMBER 2017
HIGH ON HARMONY - THE HALEY SISTERS FEATURING JESTER B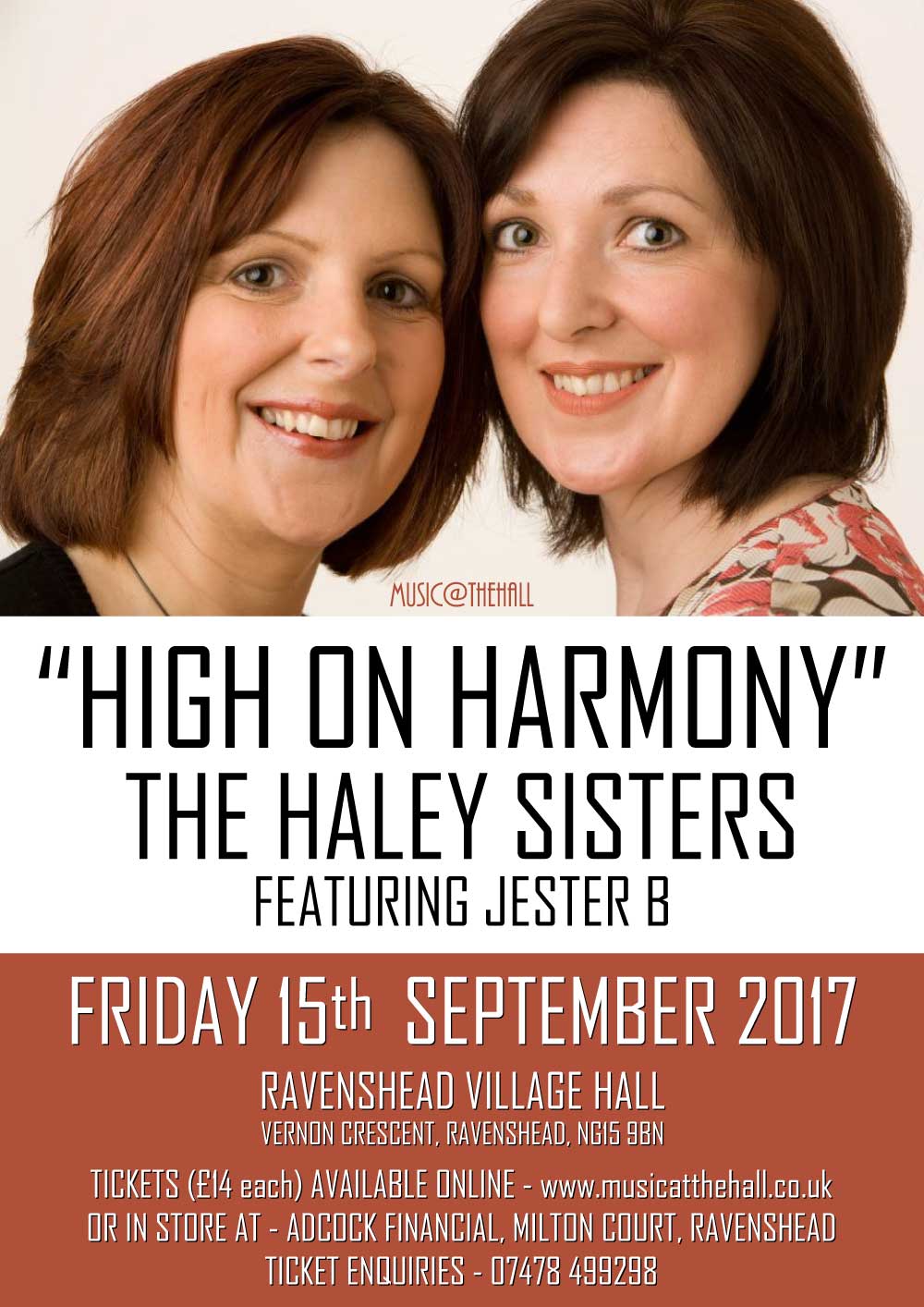 ---
FRIDAY 1st SEPTEMBER 2017
THE DUNCAN McFARLANE BAND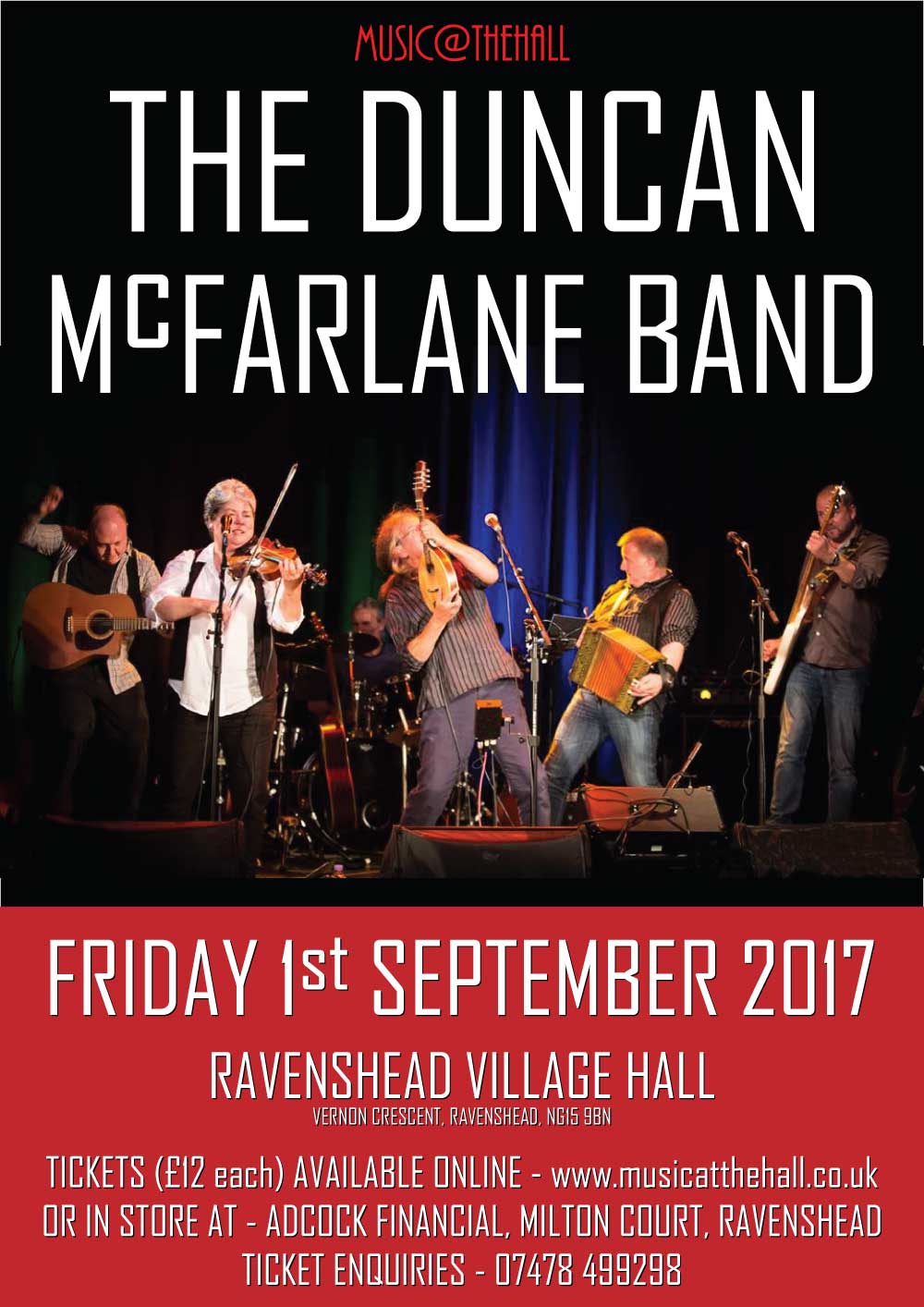 ---
FRIDAY 9th JUNE 2017
TRAVELIN' MAN - THE RICKY NELSON ROCK N ROLL SHOW
Travelin' Man is the 1st ever tribute show in the UK dedicated to rock n roll pioneer Ricky Nelson.

2nd only to Elvis in record sales between 1957 and 1962 this show features all the hits of this rockin legend inc. Hello Mary Lou, Fools Rush In, It's Late, Never Be Anyone Else But You, I'm Walkin, Just A Little Too Much, Travelin' Man and many more inc. classics from other artists.

Starring Dave B as Ricky Nelson as seen in Buddy (West End) Rock n Roll Paradise, Buddy Presley Show and featuring an all-star band of the best rockin' musicians from the UK rock n roll scene.

A show not to miss as it's sure to be a party, celebrating the best music of a legend!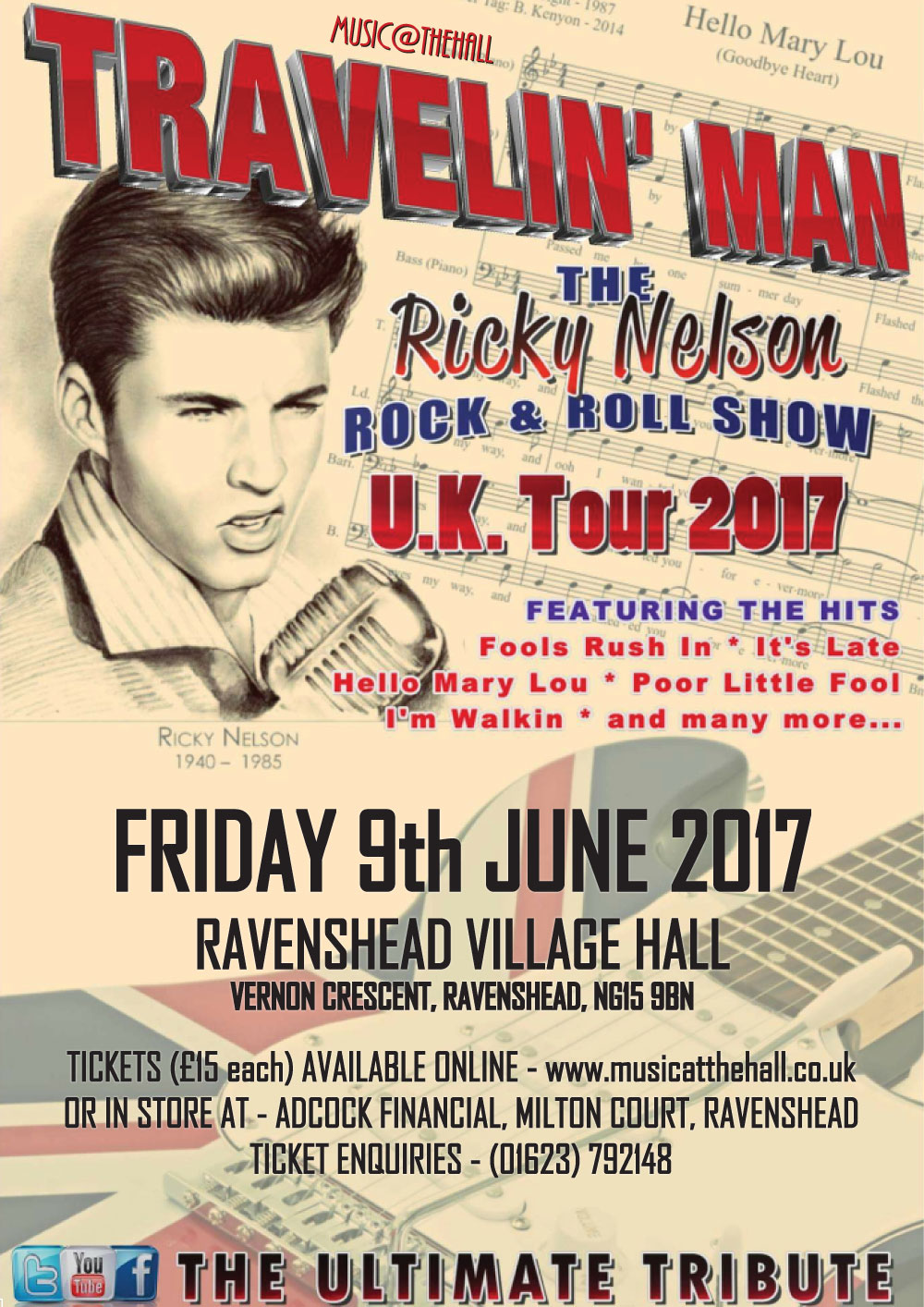 CLICK HERE FOR THEIR FACEBOOK PAGE
---
FRIDAY 12th MAY 2017
GAVIN POVEY & THE FABULOUS OKE-SHE-MOKE-SHE-POPS
NEW ORLEANS STYLE - PIANO - RHYTHM AND BLUES.

Gavin Povey plays Piano and sings an eclectic style of Rythmn & Blues, including Boogie-Woogie, Swing, Stride, Funk and Rock & Roll. Mixed in with this elixir are hints of Jazz, Country and Blues.

Gavin has recently toured with Albert Lee and Hogan's Heroes. He has also toured, performed and recorded with such artists as Dave Edmunds, Kirsty MacColl, Van Morrison, Dion, Kim Wilson, Graham Parker, Shakin' Stevens, Steve Cropper, Together with The Fabulous OKE-SHE-MOKE-SHE-POPS:

Simon Farrell, Bass; Shane Atlas, Drums; Felim Gormley, Sax.

They play songs from all eras of New Orleans style music, including their own material.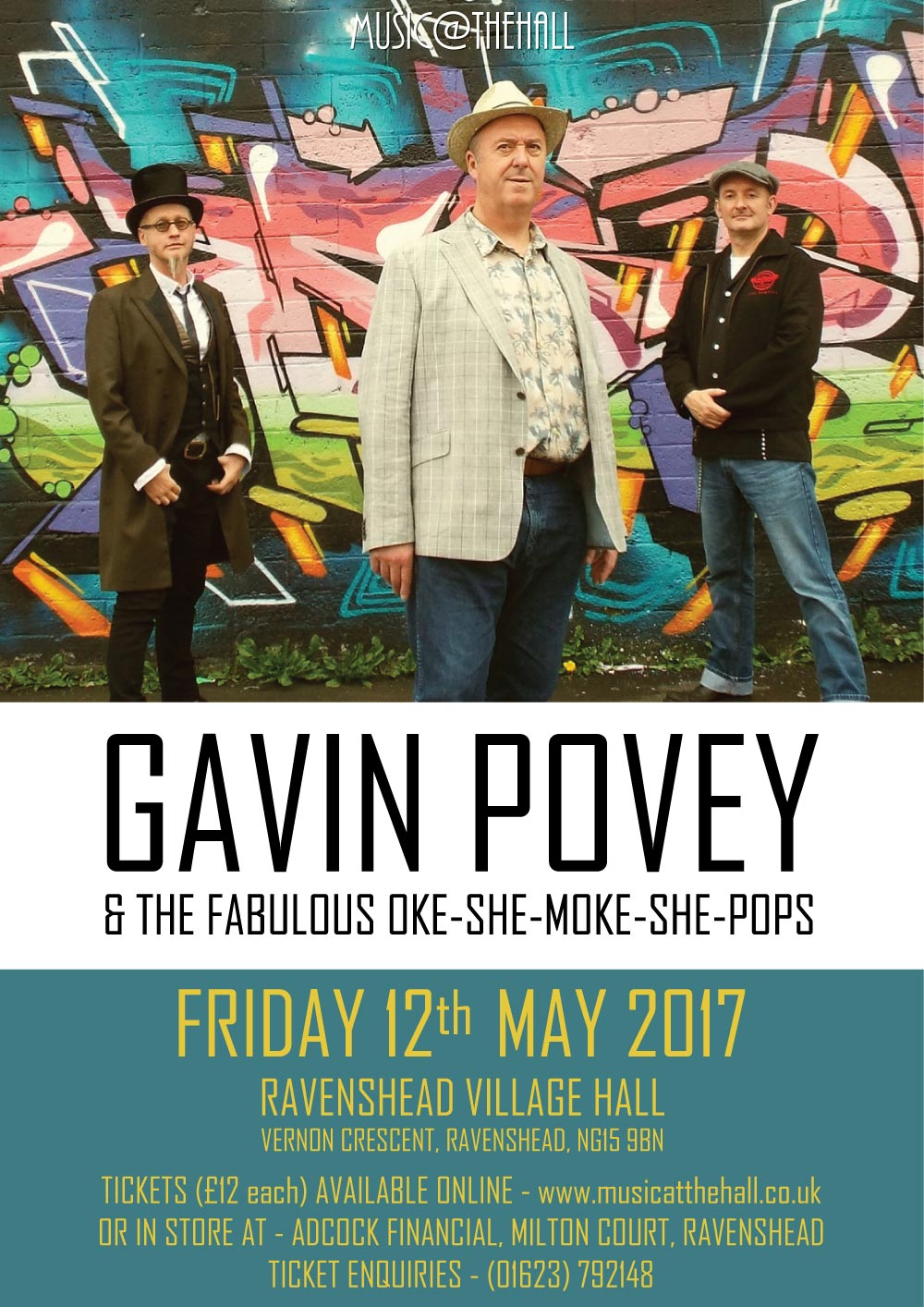 CLICK HERE FOR THEIR FACEBOOK PAGE
---
FRIDAY 7th APRIL 2017
BEVERLEY CRAVEN
After a massive 40 night tour of the UK in 2014, BRIT-Award winner Beverley Craven will be back on the road performing a handful of select venues in 2016 & 2017 as she continues to promote her acclaimed latest album 'Change of Heart'.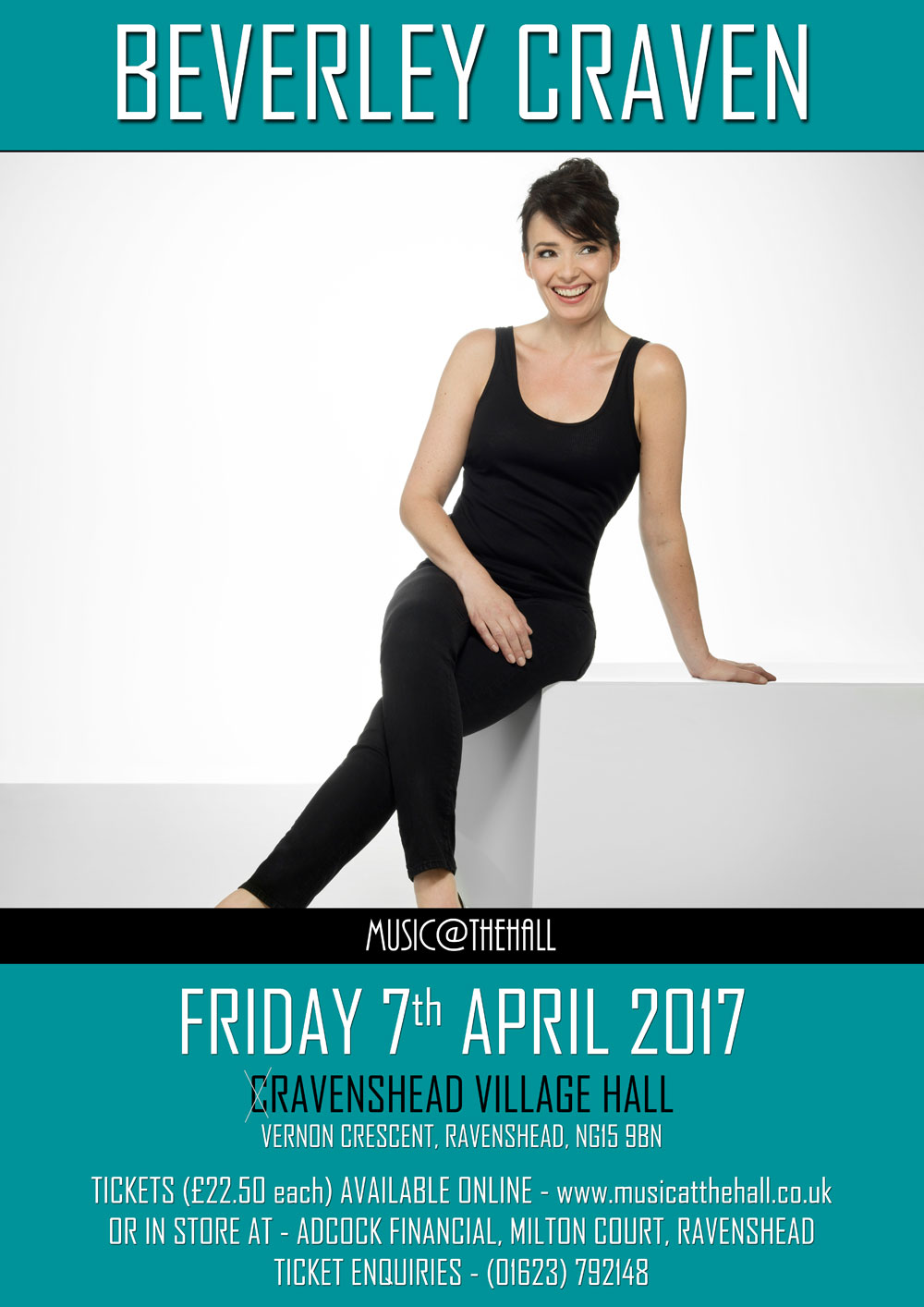 Beverley is looking forward to performing her new songs live alongside timeless classics Promise Me, Holding On, Woman To Woman, Love Scenes and many more. With a witty narrative and unforgettable melodies, her poignant sentiments will leave you with a warm glow of nostalgia, or maybe even the odd tear.
CLICK HERE FOR THE BEVERLEY CRAVEN OFFICIAL SITE
---
FRIDAY 24th MARCH 2017
ALBERT LEE
"Albert was born on December 21, 1943 in Herefordshire, England, before moving and growing up in Blackheath, London. He was first introduced to music with the piano, taking lessons aged seven, learning the classics and pop tunes before the likes of Jerry Lee Lewis inspired him to take up guitar.

Albert was treated one Christmas to a Hofner President acoustic arch-top, and from there he never looked back. Spurred on by the recordings of Jimmy Bryant, Buddy Holly and The Crickets, Gene Vincent and The Everly Brothers, Albert left school at sixteen and turned pro, getting regular gigs at the 2 i's Coffee Bar and The Flamingo Club in London - first with Bob Xavier's band, and then with The Jury. He replaced Jimmy Page in The Crusaders before joining Chris Farlowe and The Thunderbirds in '64.

He soon found his favoured guitar of choice, the Fender Telecaster, whilst everyone else was playing Gibson Les Pauls and Stratocasters. Albert admitted to feeling like the odd man out as his appreciation for American country artists grew, and he formed the band Country Fever. He began working with Poet & The One Man Band, who later turned into Heads, Hands & Feet when Jerry Donahue and Pat Donaldson (of Country Fever) were replaced by Albert and Chas Hodges. Their self-titled debut album featured the original "Country Boy", now synonymous with Albert's trademark picking style.

The U.S eventually beckoned, and Albert began doing session work and briefly toured with The Crickets in 1973. He moved to Los Angeles, where he met his idols Phil and Don Everly, and Don invited Albert to play with him and pedal steel legend Buddy Emmons. After working on Don's second album, Albert left to join Joe Cocker's band and was replaced by Lindsey Buckingham."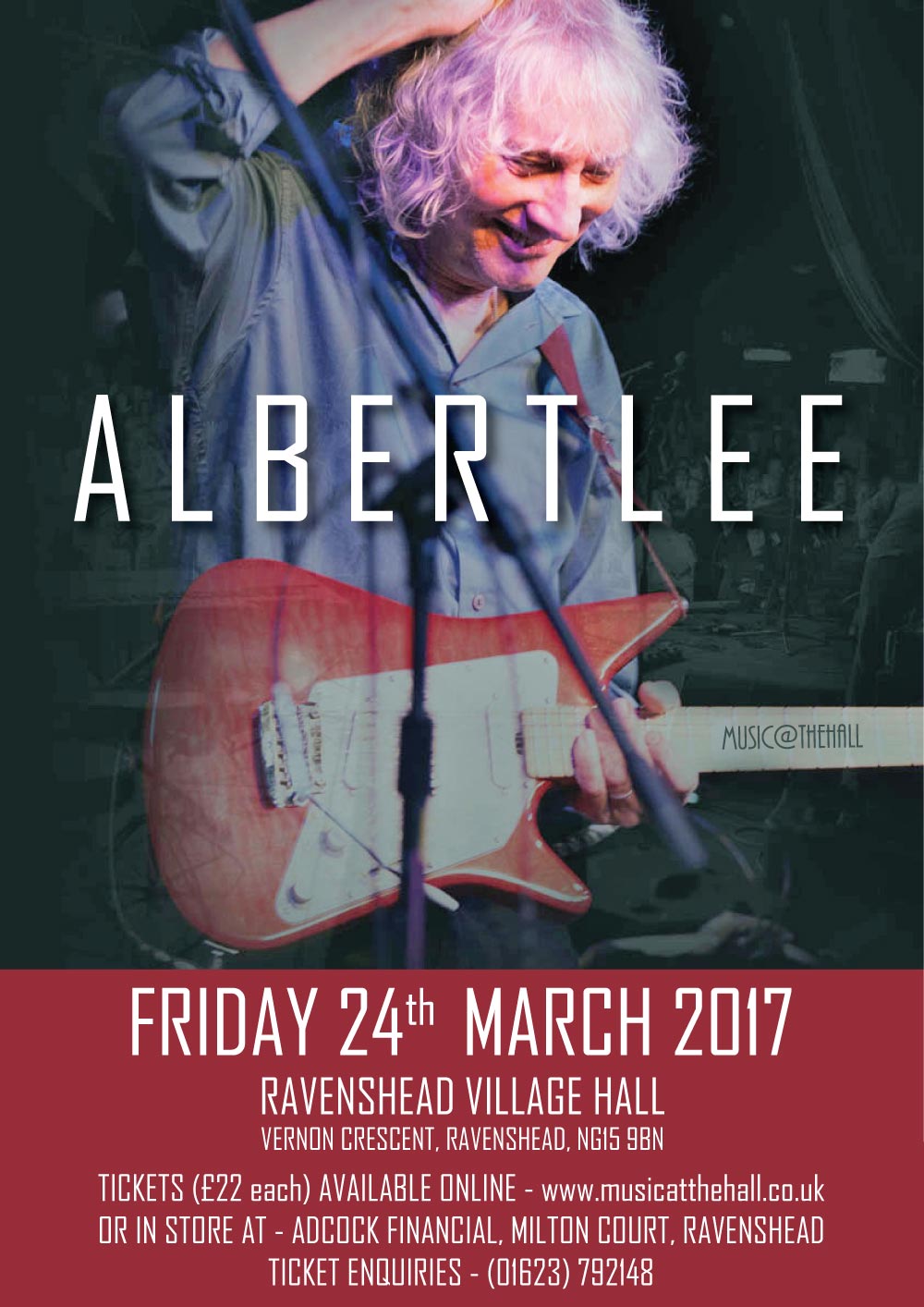 CLICK HERE FOR THE ALBERT LEE OFFICIAL SITE
---
FRIDAY 3rd MARCH 2017
AN EVENING WITH MIKE d'ABO
Give Mike d'Abo a piano and microphone and he'll keep his audience enthralled for hours on end!

Calling upon a wealth of musical memories, sensational stories, and perhaps the odd revelation, he takes his audience on a fascinating musical journey recalling his early musical influences... The Everly Brothers, The Beatles, Fats Waller, Ray Charles, Jerry Lee Lewis and, not forgetting, his triumphant years as 'front man' with the 60's hit makers, MANFRED MANN.

No evening with Mike d'Abo would be complete without him performing his two best known compositions, HANDBAGS & GLADRAGS and BUILD ME UP BUTTERCUP, songs which, even today, figure prominently in the sountrack of our lives. Expect him also to recall some of his award winning TV jingles from the 70's such as Cadbury's Finger Of Fudge, along with the huge hits of Manfred Mann... MIGHTY QUINN, JUST LIKE A WOMAN, SEMI-DETACHED SUBURBAN... the list goes on and on...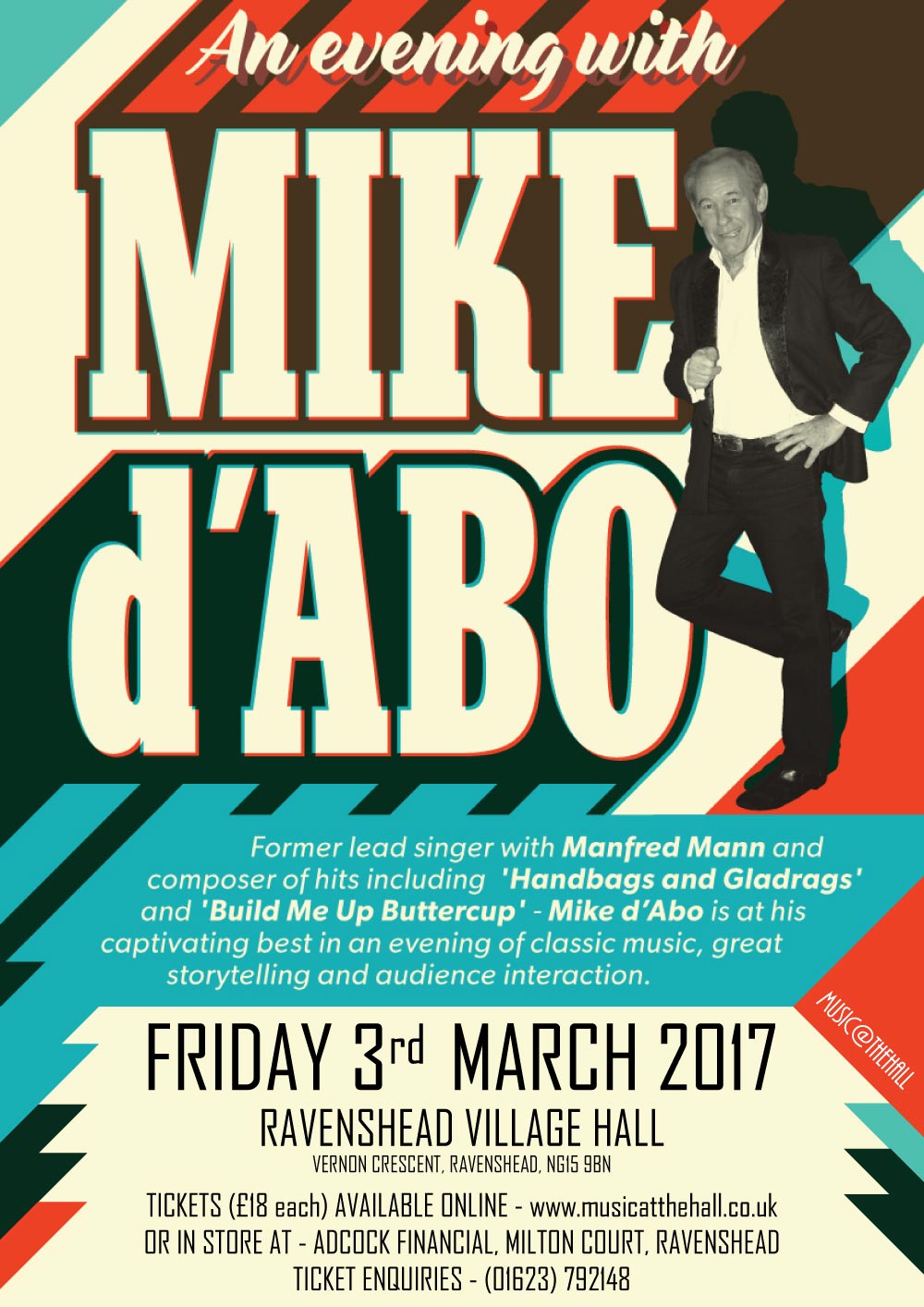 CLICK HERE FOR THE MIKE d'ABO OFFICIAL SITE
---
FRIDAY 10th FEBRUARY 2017
CHIQUITITAS (ABBA SPECIAL)
Melissa Thompson and Nikki Johnson have been working within the live music industry for many years. Having worked in bars and clubs alike they were finally brought together working within another Abba tribute band, the girls decided they wanted the opportunity to do things their own way and so Chiquititas was born.

With many years of Abba impersonation under their sequined belts, combined with glamorous costumes and the ability to hold an audience captivated with stunning harmonies and dance routines, Chiquititas promises to be an audio and visual splendour.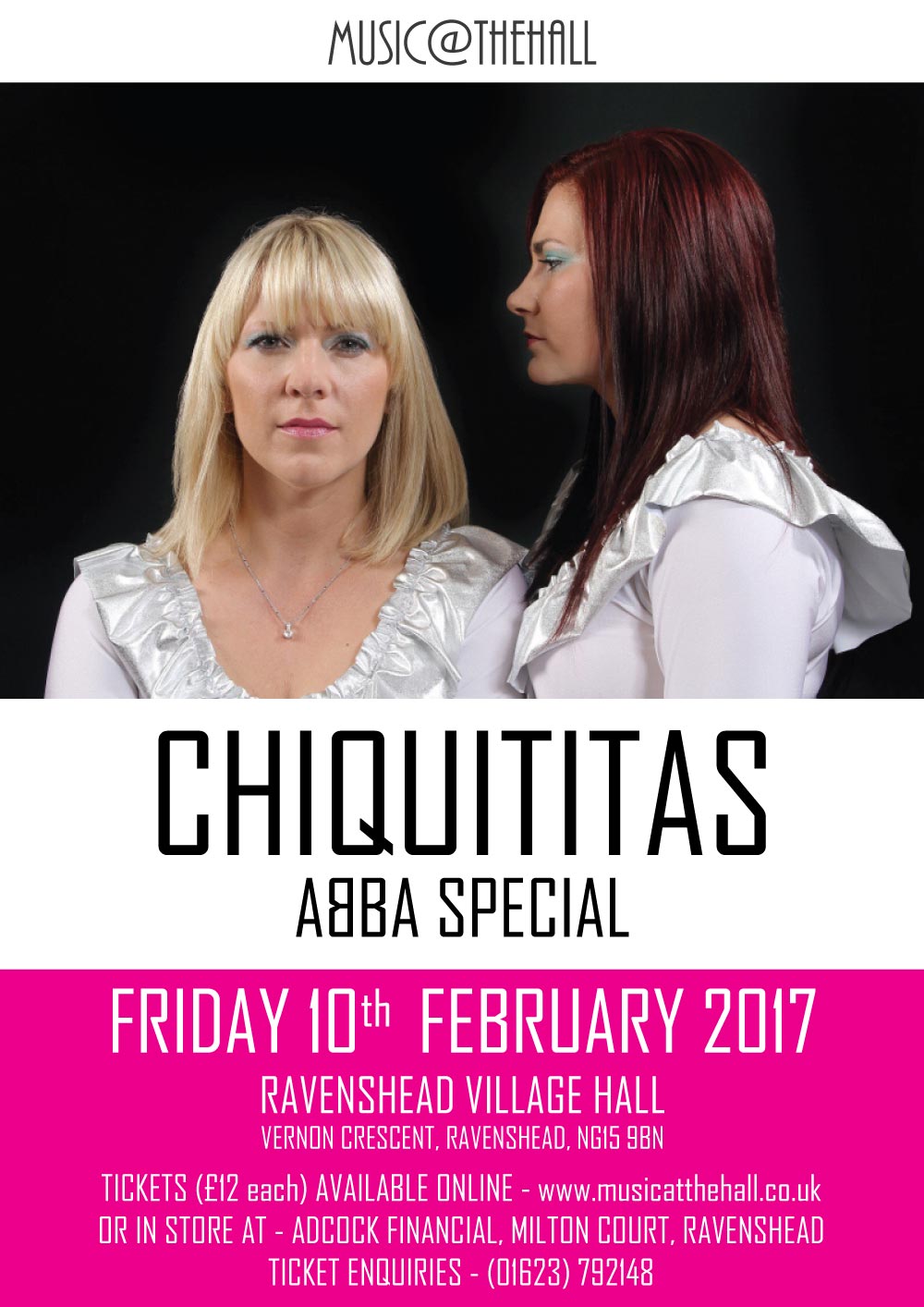 Appearing with live band - Chiquititas are a dynamic and enchanting Abba duo.
CLICK HERE FOR THE CHIQUITITAS OFFICIAL SITE
---
FRIDAY 11th NOVEMBER 2016
ANDY FAIRWEATHER LOW AND THE LOW RIDERS
"Andy was born in 1948 in Cardiff, S.Wales and rose to prominence in the 1960's as the front man and guitarist for chart topping teen idol band Amen Corner. His vocals and his distinctive voice were the perfect lead for the group. Amen Corner scored 6 memorable hits between 1967 and 1969 with ( If Paradise is ) Half As Nice reaching number 1 in January 1969 and their shows were always full of excitement and they were regular fixtures on package tours at the time."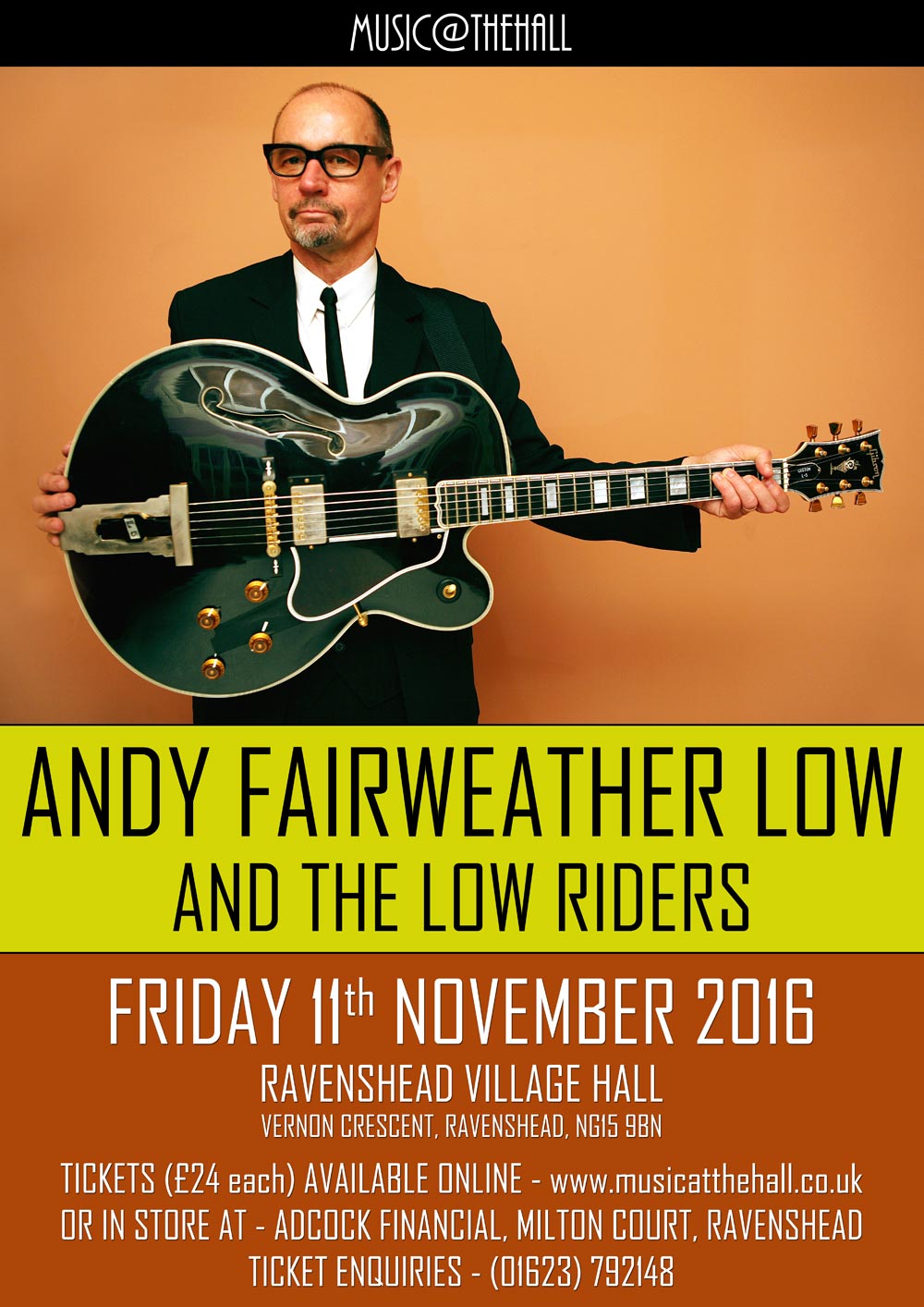 We welcome Andy Fairweather Low & The Low Riders back to the hall!
CLICK HERE FOR THE ANDY FAIRWEATHER LOW OFFICIAL SITE
---
FRIDAY 28th OCTOBER 2016
THE MERSEYBEATS
"Teenagers, Tony Crane and Billy Kinsley formed a group called "The Mavericks and played most of the major venues around Liverpool. Bob Wooler, famous booking agent and disc jockey at the Cavern saw The Mavericks perform, he approached Tony Crane asking if they would like a residency at the Cavern. Bob Wooler thought their name sounded too country and western, suggesting a change of name, Tony and Billy were happy and agreed this idea. After consultation and agreement with Bill Harry, owner of a Liverpool music paper titled Mersey Beat, Bob Wooler Re-named the group The Mersey Beats.

The Mersey Beats then became resident at the Cavern alongside The Beatles and still hold the record of appearing with The Beatles more than any other artistes."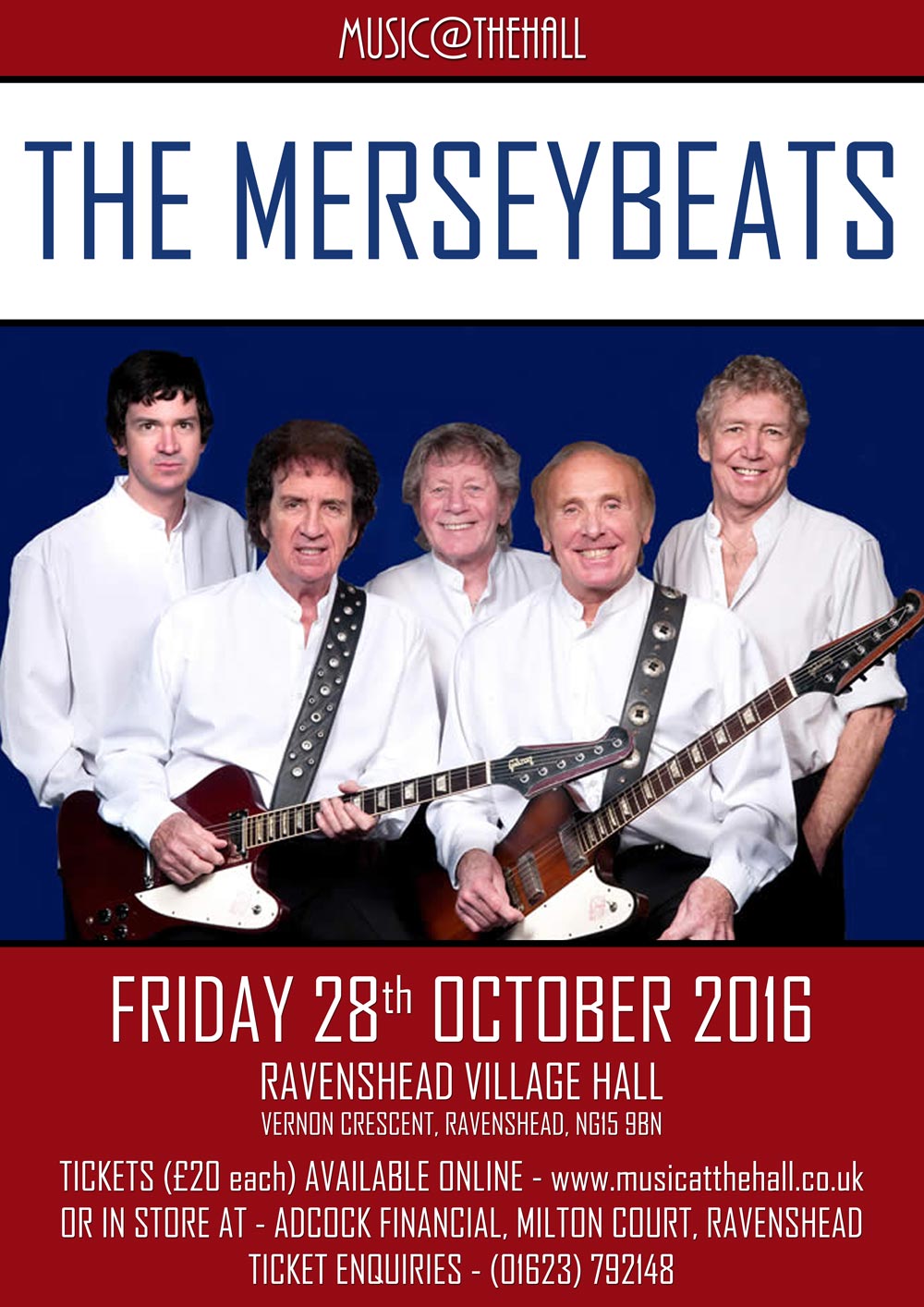 The Merseybeats today....
Tony Crane - Lead Guitar / Lead Vocalist (Original Founder member 1961)
Billy Kinsley - Rhythm Guitar / Lead Vocalist (Original Founder member 1961)
Bob Packham - Bass Guitar / Backing Vocals (Joined 1974)
Lou Rosenthal - Drums & Percussion (Joined 2000)
CLICK HERE FOR THE MERSEYBEATS OFFICIAL SITE
---
FRIDAY 30th SEPTEMBER 2016
PETER DONEGAN AND THE LONNIE DONEGAN BAND
Peter Donegan with The Lonnie Donegan Band is as the name suggests. Peter, son of Lonnie is a talented musician in his own right. He has joined force with the band that toured with the legend for the last 30 years. For those of you who saw Lonnie Donegan perform in more recent years, then you will instantly recognise them.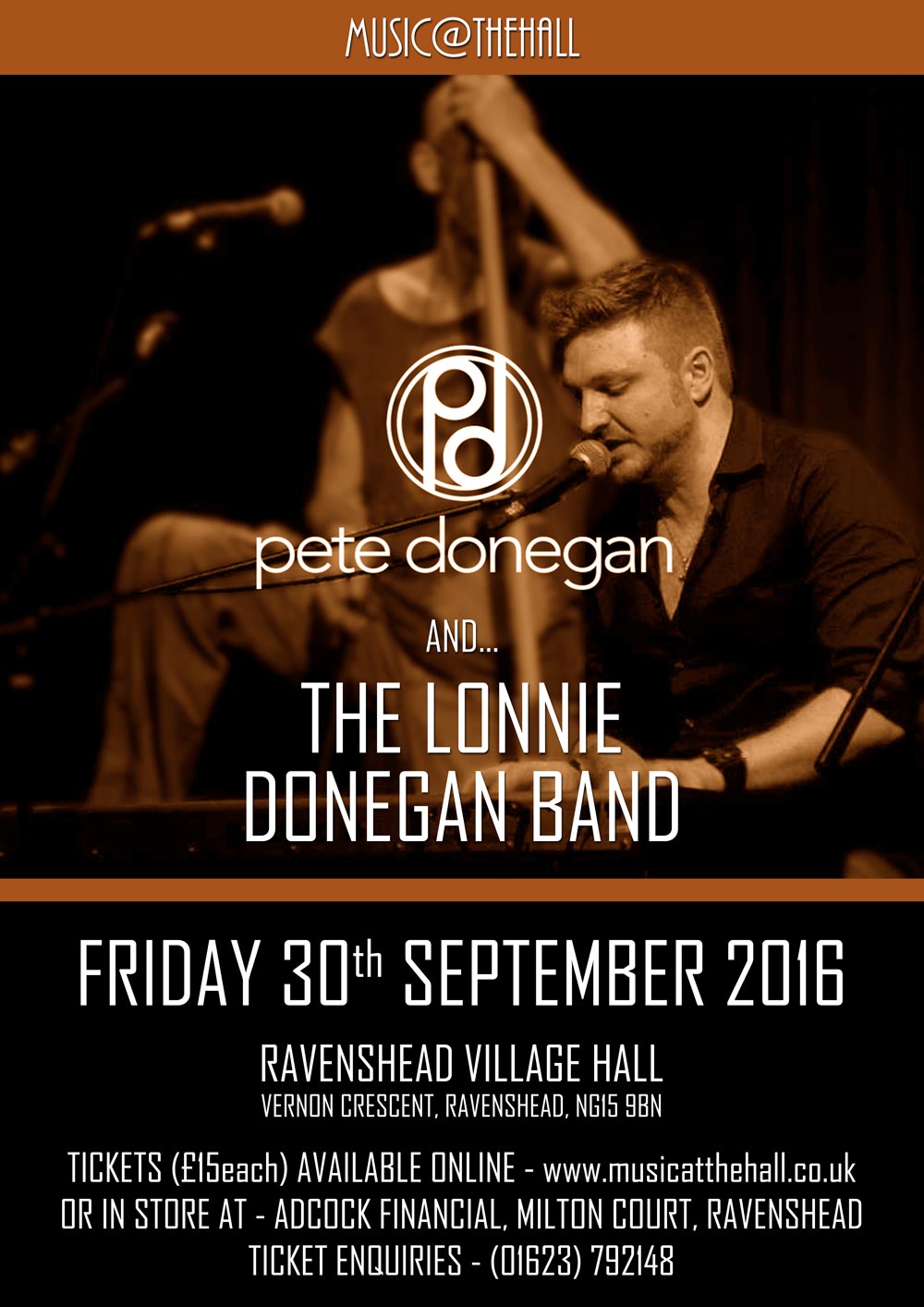 Peter is not only a talented performer but also a talented songwriter. Having developed his own style, Peter accompanied by the Lonnie Donegan Band will perform some of Lonnie's classics such as "Putting On The Style", "Have a Drink On Me", "Rock Island Line", and "Pick a Bale of Cotton" to name just a few. But they also delve into some of Lonnie's lesser, known recordings. This combined with original numbers written by Peter adds up to a great night of Skiffle, Blues, Jazz and a lot of foot-stomping fun!
CLICK HERE FOR THE PETER DONEGAN OFFICIAL SITE
---
FRIDAY 20th MAY 2016
THE BUDDY PRESLEY SHOW
"We are a Buddy Holly and Elvis Presley tribute act based in London...

In 1959 Buddy Holly found an inexperienced pilot to fly him into a deadly blizzard... he never touched down. When, Elvis Presley left the army he fulfilled his 30 film movie contract with Paramount which kept him out of live stage performance for another eight years.

Two of the greatest rock n roll performers of all time never graced the local, municipal stages in the early 60's. A tragedy and a business deal deprived their fans of the intimate, raw performances, they so dearly craved.

Until now...

If Buddy had not got on that plane and Elvis had walked away from that contract, things would have been very different. For the first time, see the music of Buddy & Elvis the way it might have been.

A bare bones scratch band of seasoned backline players are joined by The Harmonaires, session backing vocalists with a love and feeling for the music. Add the amazing performance of Dave B, an aficionado and fan of these two musical greats and you have the ultimate musical experience.

For the first time ever, see the two greatest influences on rock and roll touring together. Ladies & Gentlemen, I give you; The Buddy Presley Band!"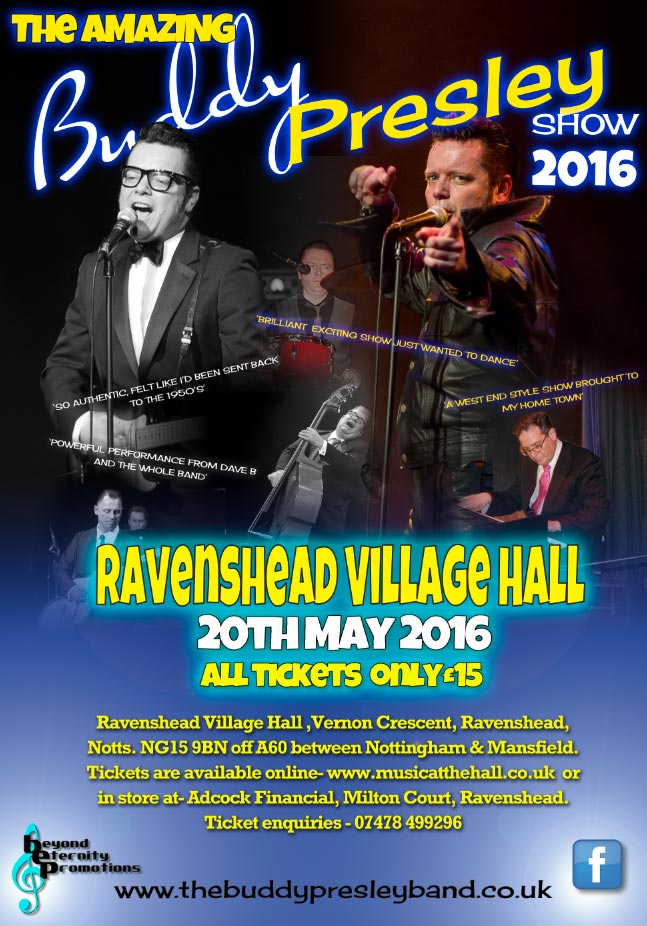 CLICK HERE FOR THE BUDDY PRESLEY SHOW OFFICIAL SITE
---
FRIDAY 6th MAY 2016
THE RAGDOLLS
A Celebration of Frankie Valli and the Four Seasons presented by Europe's number 1 tribute "The Ragdolls"

"The Ragdolls" will take you on a musical journey through the sounds of one of the most successful bands of all time.

Classic songs such as "Sherry, Walk like a man, oh what a night and many more..... "The Ragdolls" recreate the iconic sound of the "Four Seasons"

The first part of the show the Boys will take you back to where it all began, performing the classic 50's songs as the "Four Seasons" once did. Hits included; Still of the night, Oh Carol, Teenager in love and Why do fools fall in love.

With slick choreography and the recognisable falsetto this really sets the scene for a great night. Acoustic versions of songs are a highlight in this part of the show which demonstrate the diversity and harmonic sounds as once done by the great band themselves.

By the end of the first half you will definitely be "hanging on" to your seats and "beggin" for more.

The second half of the show is truly party time, where all the famous hits come out, such as, Can't take my eyes off you, let's hang on, Ragdoll, Grease, Working my way back to you and many more.....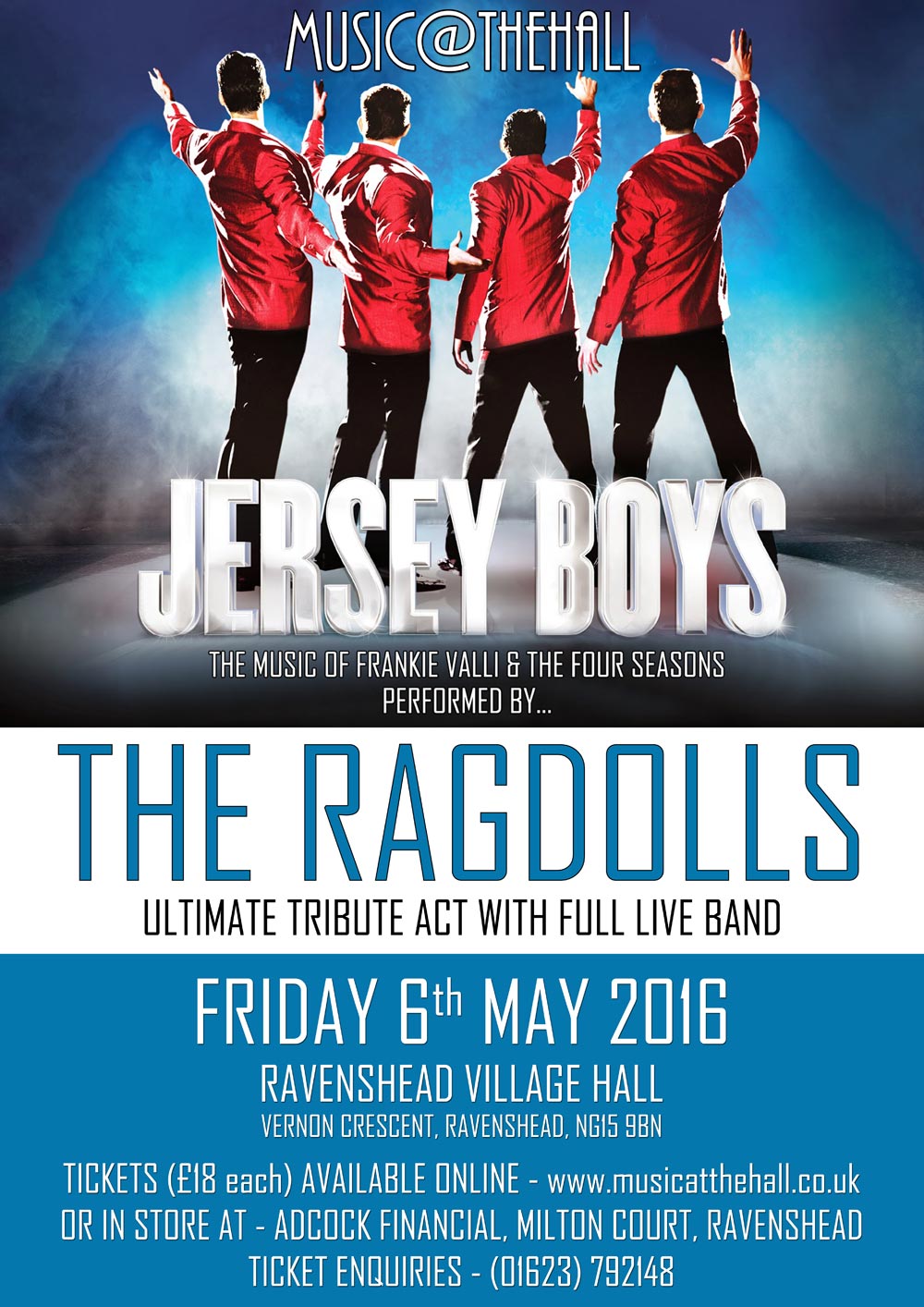 CLICK HERE FOR THE RAGDOLLS' TWITTER PAGE
---
FRIDAY 22nd JAN 2016
SAM KELLY TRIO (AND SPECIAL GUEST JAKE BURNS)
"Sam has such a beautiful voice and sings with so much soul. I've seen him perform live a few times and he's amazing!" - Cara Dillon

"One of the most interesting voices on the folk scene...He has a fine and powerful voice but with subtle delicacy too...I think this guy is absolutely brilliant!" - Mike Harding

"Really fabulous stuff" - Mark Radcliffe

"A captivating performer, Sam Kelly has one of the best young male voices in British acoustic roots music. Seriously...Check him out!" - Sean Lakeman

"The Lost Boys is an outstanding debut album." - Bright Young Folk

"This is the album that the folk world has been awaiting... The Lost Boys is going to be huge." - Folking.com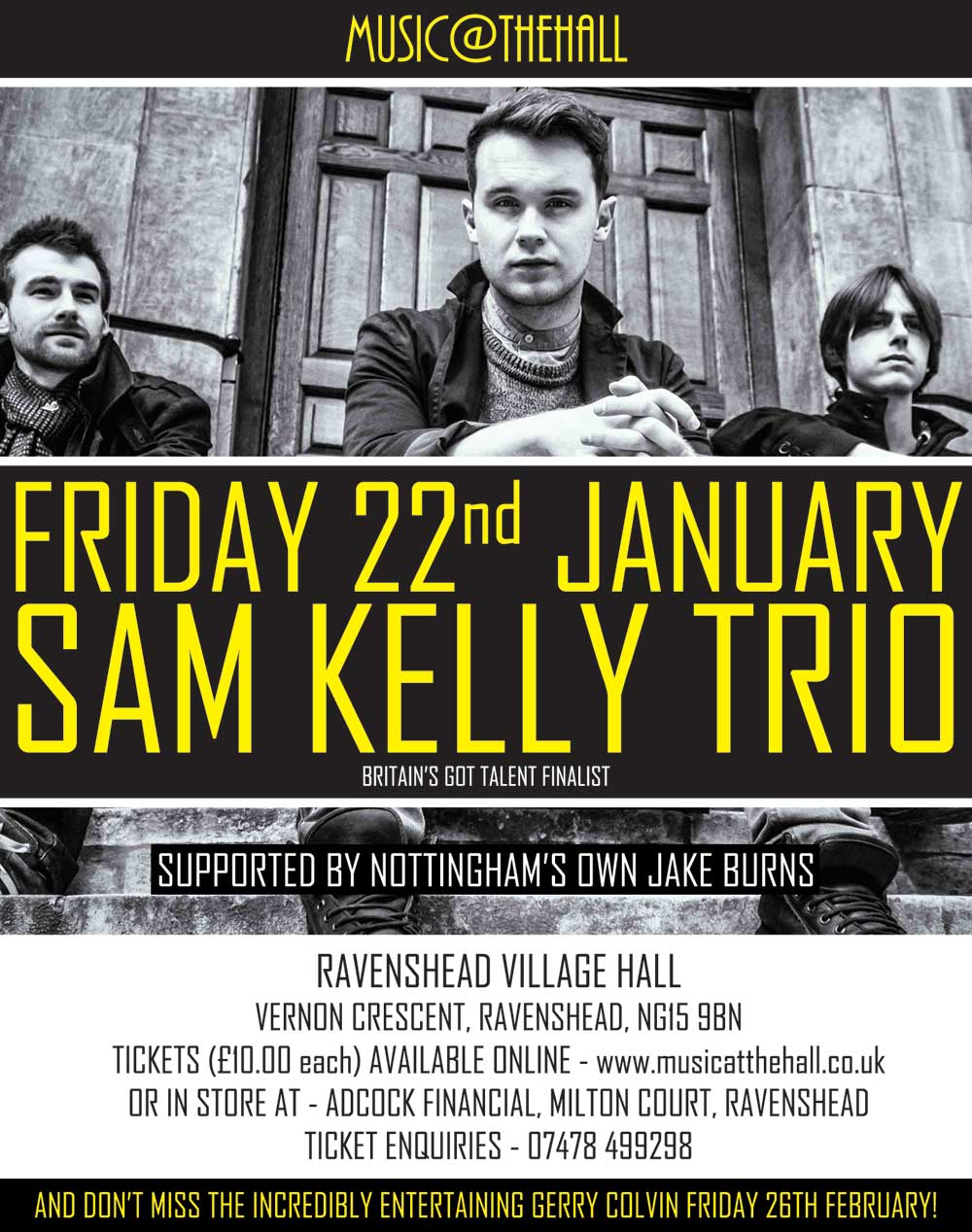 CLICK HERE FOR SAM KELLY'S OFFICIAL SITE